FDI Music Competition
The Frederick Douglass Institute at Kutztown University presents:
Celebrating Black Female Composers contest winners (2020-2021)
_______________________________________________________________________________________________________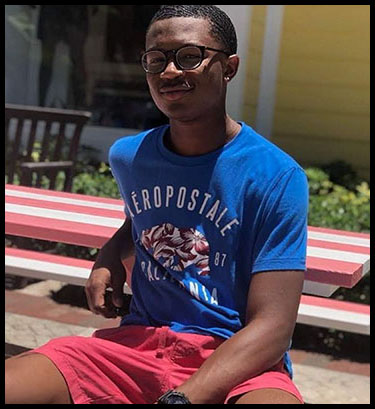 First Prize Winner: Aaron Springer
for his composition, "Waste of Time"
Aaron Springer is an international student from the Bahamas majoring in Marketing. He is musically influenced by the Bahamian artist and composer, Lady E. Aaron says, "She has been a mentor and did a lot in helping me reach some of my goals as it pertains to music."
Second prize winner: Center city drive
for their number, "Sugar Pie"
Center City Drive band includes: Tony Destin, Bryan Rojas, Michael Mester, Kevin Almanza, and Dylan Langschwager.
Center City Drive is an alternative band that originated from Kutztown University in 2016.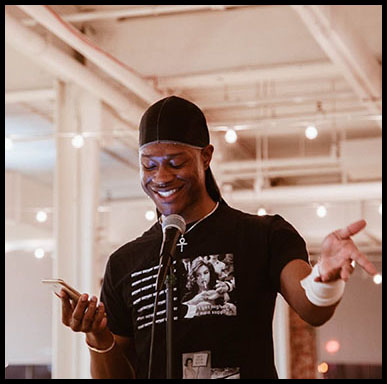 Third prize winner: Khalid Akeel-guiden
for his composition, "Black Consciousness"
Khalid Akkeel-Guiden is a poet and an activist. He is majoring in communication studies with minors in performance and storytelling and Women's, Gender, and Sexuality studies. He has been inspired by the rich history that poetry has had in the fight for Black liberation, as it vividly paints the struggles that Black people endure.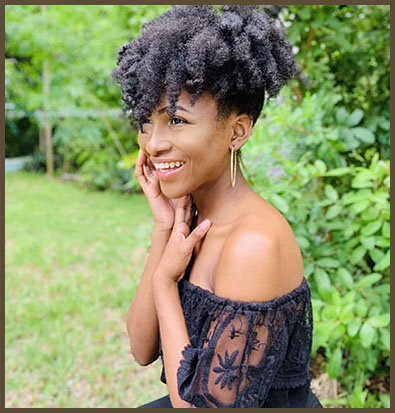 Honorable Mention: Jodi Dorsett
for her performance, "If I Ain't Got You" (Alicia Keys)
Jodi is majoring in Applied Mathematics with a minor in Actuarial Science. She is an avid music listener and is passionate about music composition. As an international student, she prides herself on promoting diversity on campus through her position as President of the International Student Organization.
Honorable Mention: Ishmail Ebo
for his composition, "The Low-Hanging Fruit"
Ishmail Q. Ebo, a Psychology major at KU, is a Philadelphia native, a musician, spoken-word artist, poet and an advocate for Black culture. Ishmail believes wholeheartedly in the long-term benefits of education, mentoring and programming in advancing culture, diversity, resiliency and student success.
"Frederick Douglass wasn't just an abolitionist leader, author, and statesman-he was also a music lover"
Narrative of the Life of Frederick Douglass
CONTEST OVERVIEW
Coming at the end of Women's History Month, this concert will be a celebration of music by black female composers and artists. From the 18th century to the present day, virtuosos and composers of African descent have risen to the heights of fame in Europe and the U.S. in every established genre. To encourage the awareness, preservation, and celebration of this music, the FDI presents a music competition in three categories:
(A) High school student performers
(B) Kutztown University student performers
(C) Young Composers
A 1st, 2nd, and 3rd prize will be awarded for each category. Awards will be cash prizes, and the opportunity to perform at KU's beautiful Schaeffer Auditorium on March 27th, 2020.
1. ELIGIBILITY
· PERFORMERS (categories A and B) of any background are invited to enter the contest below by submitting audio and/or video demonstrations of performing ability. Pieces must have been authored by a black artist (composer, songwriter, rapper, etc.). Performers can be individuals or groups. Accompaniment, if needed, may be performed live or be pre-recorded. Preference will be given to live performances.
· YOUNG COMPOSERS (category C) must (1) identify as black, and (2) be under age 30 by the date of submission.
· GENRE: Submission may be from ANY MUSICAL GENRE, including (but not limited to) Classical, Contemporary, Musical Theater, Jazz, Rock, Pop, or Hip Hop. There are many examples of black composers throughout history. Examples of classical composers include Avril Coleridge-Taylor and Florence Price.
2. HOW TO ENTER
Click "APPLY" at the bottom of this page to (1) fill out an entry form and (2) upload files and/or provide links to audio/video recordings or scores. Complete submissions are due by February 2nd, 2020, at 11:59 PM EST. No late entries will be accepted.
Guidelines for PERFORMERS (categories A and B)
· Performers must submit at least one recording of a performance, can be audio or video. Applicants can (1) submit link(s) to YouTube, Vimeo, Soundcloud, or other media hosts, or (2) upload mp3 audio files on the contest website.
· Recordings (audio or video) must demonstrate the complete piece/song.
· Performance-enhancing edits (such as pitch correction) in submitted recordings is not allowed.
· The video recording cannot be older than one year prior to submission.
· If submitting hip hop music, include complete lyrics.
· Appropriate dress attire is required in any submitted videos (see 7 below).
Guidelines for YOUNG COMPOSERS
· Young Composers (category C) may submit either a recording (audio or video), a notated score, or both, depending on the style of the submitted piece/song.
· Pieces can be of any musical genre but must be performable. For example, a track alone will not be considered, but a backing track for a vocal/instrumental performance will be considered.
· If a recording (audio or video) is submitted, it must demonstrate the piece/song in its complete form.
· If a notated score is submitted it must be legible and in its final form by submission.
· Works for groups must not exceed 8 musicians.
· If musicians are needed, composers must identify what instruments are required at the time of submission. Kutztown University will try to accommodate realistic requests. Smaller ensembles are more likely to be accommodated.
3. JUDGING CRITERIA
A panel of judges from KU music department will evaluate the submission on a number of criteria, such as performing ability, artistic ability, technique, interpretation, phrasing and presence, style representation, among others. The scores from all judges will be averaged and the average score will determine winners. Please note that the decision of the judges is final. Judges reserve the right not to select a total of nine winners.
4. AWARDS
Winners will each be awarded (1) a CASH PRIZE, (2) a PERFORMANCE opportunity, and (3) professional photos of performance on stage at Schaeffer Auditorium. Prizes will be awarded to the top three submissions in each of the three categories, for a total of nine prizes. Applicants may not win more than one award. To receive an award, winners must perform in person at the concert on March 27, 2020, taking place at Kutztown University. Awards will not be sent by mail. If you are selected as a winner and are unable to accept the prize, you cannot transfer the prize or designate someone else as the winner.
| | | | |
| --- | --- | --- | --- |
| | High School Performer (A) | KU Student Performer (B) | Young Composer (C) |
| 1st Prize | $750 | $750 | $750 |
| 2nd Prize | $500 | $500 | $500 |
| 3rd Prize | $250 | $250 | $250 |
5. CONCERT
A will be held on March 27th, 2020 at Kutztown University's beautiful Schaeffer Auditorium. Up to six PERFORMERS will perform the pieces that were submitted. Up to three COMPOSERS' original works will be performed by musicians provided by Kutztown University. Composers who desire to have their piece performed by themselves and/or an ensemble of their choosing must request to have this approved by the KU concert committee.
<image003.png>
6. ACCOMPANIST: An accompanist will be provided by Kutztown University. Sheet music will need to be submitted with the application.
7. DRESS CODE: Proper dress attire is required to attend the concert. So, please no dress shorter than a knee level, flip flops, open-toe shoes, shorts, or tank tops.
8. GENERAL TERMS AND CONDITIONS: The Frederick Douglass Institute and Kutztown University is not responsible for and shall not be held liable for (a) lost, late, delayed, damaged, incomplete, illegible, unintelligible, or misdirected entries; (b) telephone, electronic, hardware or software program, network, Internet, or computer malfunctions, failures, or difficulties of any kind; (c) failed, incomplete, partial, garbled, or delayed computer transmissions; (d) any condition caused by events beyond the control of the Kutztown University that may cause the competition to be disrupted; (e) any printing or typographical errors in any materials associated with the competition; (f) any claims, suits, actions, liabilities, injuries, losses, or damages of any kind in connection with the competition or resulting from acceptance, possession, or use of any prizes and awards. By entering this competition, each entrant, parent or legal guardian (if such entrant is a minor) agrees to accept these rules and be bound by the decisions of Kutztown University, its judges and staff. By submitting an entry form, each entrant, parent or legal guardian (if such entrant is a minor) authorizes the use of competitor's name, photo, audio and/or video recording for the publicity and advertisement purposes related to the competition by the FDI and Kutztown University. All rules and regulations are governed by the laws of the State of Pennsylvania and are subject to change without notice.