The Amazing Academic Race
Welcome Week Dean's Meeting :
The Amazing Academic Race is a scavenger hunt/orienteering course for the incoming students at KU.
Sunday, August 27 from 2:30-4:00 pm
Majors in each college meet at the following locations:

College of Liberal Arts & Sciences
Schaeffer Auditorium
College of Business
Academic Forum 201, 202, 203
College of Visual & Performing Arts
Academic Forum 101, 102
College of Education
Beekey Education Building 218, 240
Exploratory Studies
McFarland Student Union 218
Not sure of your college? Find it here on the Checksheet and Planners website.
Get To Know Campus
This is the first time since you've arrived that you've been given some freedom to walk into the buildings that you will call your academic home for the next several years. Many of the places we are sending you may be important to for you to know. They are the offices of staff, important services, and things to do or to know on campus to help you get involved.
Meet People In Person
Practice saying hello and getting to know other people going to school here for the first time. Walking around together gives you this common experience. It's ok to get lost on campus.
Creative Solutions and Teamwork
There are 20 questions, which are too many to travel to all the spaces. This is on purpose. As students in college, you will often face tasks that seem impossible but are accomplishable in a team or with creative solutions.
Instructions for the Amazing Academic Race:
Team up (groups of 4-5 people works best)
Read the clues
Go to locations
Write answers on score card
Return score card to starting location
Prizes:
For each college, the first three teams with the quickest returned score cards and with the most correct answers will win Paw Pass Gift Cards!
Use this Amazing Academic Race North Campus Map PDF to help find your way!
Tag us on your photos on Instagram and Facebook for a chance to be featured on our socials!
#amazingacademicrace
The Amazing Academic Race 2022
Students on North Campus
The Amazing Academic Race 2022
Students on North Campus
The Amazing Academic Race 2022
Students out front of Old Main
The Amazing Academic Race 2022
Students in Old Main
The Amazing Academic Race 2022
Students in Old Main
The Amazing Academic Race 2022
Students out back of Old Main
The Amazing Academic Race 2022
Students in Boehm Science Center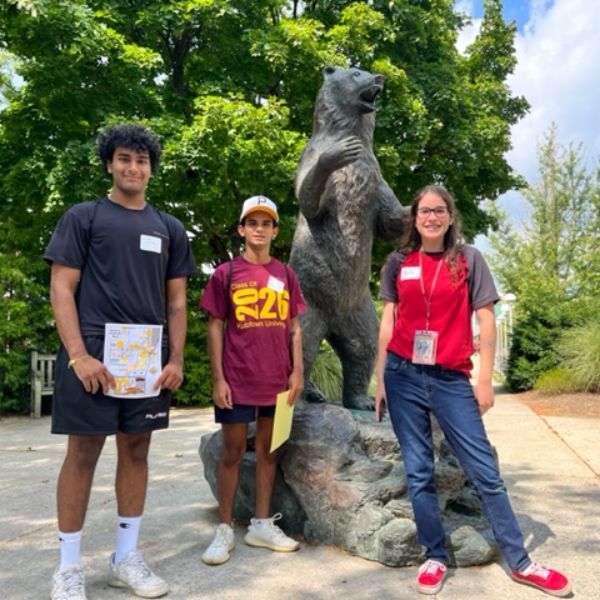 The Amazing Academic Race 2022
Students at the Bear on North Campus
The Amazing Academic Race 2022
Students in Lytle Hall