Bear Essentials
April 12, 2023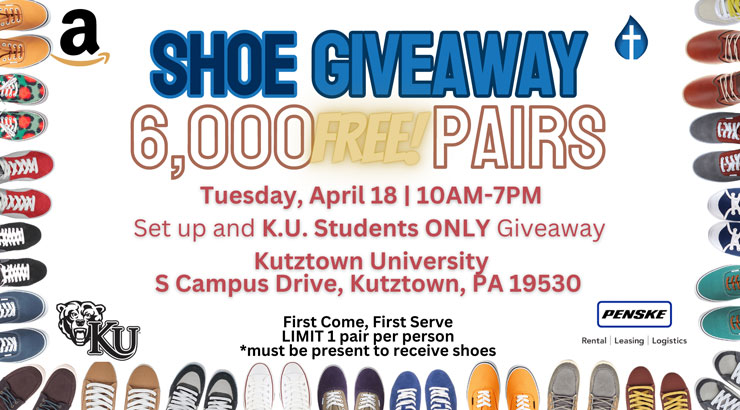 Shoe Giveaway
Tue. April 18, 10 a.m.-7 p.m. Free shoes for students. First-come, first-serve. Limit one pair per person. Student Recreation Center, East Gym. Enter through parking lot entrance (Door 9).
Campus Clothing Drive - Help Hope for Reading by donating clothes that will go to men, women and children of Reading. Drop off your donation to MSU 281 until April 21.
Enrollment and Certification Form - Reminder to submit your form for the Fall 2023 semester if you are using military benefits. This must be completed every semester.
Focus Group Participation Sign-Ups - Participate in a 1-hour Zoom focus group to discuss your experience of inclusion and power-sharing in higher education and receive a $20 Amazon e-gift card.

Digital Spoken Word Poetry - Wed. 3-6 Online - COM/MUS 217 Music and the Spoken Word offered synchronistically Fall 2023. Contact: johnson@kutztown.edu.

Drop-In Tutoring Labs Available Until May 3 - Labs available in Business, CRJ, Computer Science, Math, POL-PHI and STEM. No appointment necessary.
Student Success & Academic Excellence - The Center offers academic skills workshops every Tuesday at 11 a.m. in AF 203.
Tutoring Positions Available for Fall 2023 - Positions available for Peer Tutors, Academic Peer Mentors and First-Year Experience Guides.

Mail Services - The mail services website has been updated with important information. Please let those who send you mail know how to properly address mail and packages.
Last Call to Apply: APSCUF-KU Student Scholarships - $500 scholarships and $250 scholarships available to undergraduate students returning for Fall 2023.
Events
Wed. April 12
Guess What Day It Is? - Hump Day! MSU Lawn, 10 a.m.-2 p.m.
Internship & Job Search Strategies - 10 a.m. Discover the ways to find jobs and internships as well as learning the art of networking and tips to locate "hidden jobs." BH 145.
Writing Your Resume & Cover Letter - 2 p.m. Learn the basics on how to write your resume and cover letter to best market your skills and obtain that interview. BH 145.

Radical Self Love Body Painting - 6 p.m. Rec Center North Studio. RSVP on Engage for this painting event to practice self love and care. It's On Us Spring Week of Action.

Bystander Training: It's On Us Spring Week of Action - Noon, MSU 183. We are excited to partner with the APSCUF Social Justice Committee to bring you Bystander Training during the IOU Spring week of Action.
Men's and Women's Tennis vs. Millersville - 2 p.m. Keystone Courts.
Thu. April 13

Test of KU Alert System - 10:50 a.m. Test includes text messages, email, campus loudspeakers, website, social media and desktop popups. Information about KU Alert System.
Dinner with the Golden Bears - Join us at 5 p.m. to network with alumni in your field of study. This event is FREE & all attendees will be entered into a gift card raffle. Pre-registration required.
The Dinner Detective: Reserve Your Spot - April 13, 6 p.m., MSU 250. Dinner and an interactive comical crime mystery. This is a free event, but you must sign up to reserve a spot.
It's On Us: Red Flag Campaign - Stop by our tables on the MSU lawn from 11 a.m.-2:30 p.m. to get some great resources, giveaways and info on healthy relationships and "red flags."
DIY Your Own Passion Kit - Thursday Wellness Topics at the Health Center, 5-6 p.m. Variety of free condoms, fun stuff and design your box.

Successful Interviewing - 11 a.m. Jobs are WON in interviews. Find out what you must do before, during and after your interview. Gain an advantage over the competition! AF 101.

Get A Federal Government Job - 1 p.m. This federal government session will introduce you to job searching strategies as well as how to create a federal resume. Via Zoom.

Fri. April 14

Multicultural Book Drive - Last call to help us reach our goal of donating 100 books that feature a diverse main character to the Reading Area School district. Donation bin at MSU 281.
We Got Your Back Well-Being Event - Join us from 10 a.m. to 3 p.m. in MSU 218 & 223 for a day filled with free activities and events designed to support your well-being!

It's On Us: Consent Fries - 11 a.m. - 1 p.m. - We are hosting an event with Aramark during the lunch hour at the Cub Cafe, where we are giving out fries and will share resources about consent.
Breaking Pressures at Boxwood House - 2 p.m. Event designed to help minorities let go of the pressures they experience by writing things we would like to let go on plates and breaking them. All are welcome.
Teen Library Day Featuring Author Candice Iloh - 9:30 a.m.-noon. Hosted by the Elementary, Middle Level, Library and Technology (EMLT) community at Schaeffer Auditorium.

Baseball vs. Mansfield - 2 p.m. North Campus Field (Live Stats | Video)
Sun. April 16

Women's Golf Spring Invitational - 11:30 a.m. Moselem Springs Golf Club.

Mon. April 17
Resume Review Table - 11 a.m. - 1 p.m. Stop by the table in Old Main Lobby to get your resume reviewed on the spot! No appointment needed.
Designing Your Career Path - 1 p.m. Learn to access the latest career info and resources and discover the value of career exploration in making informed career decisions. Via Zoom.

Career Development Center Mini-Workshop Marathon - 5 p.m. - 6:30 p.m. Soft Skills 5 p.m.; Internship & Job Search Strategies 5:30 p.m.; Thinking About Grad School 6 p.m. Via Zoom.

Tue. April 18

Shoe Giveaway - 10 a.m.-7 p.m. Free shoes for students. First-come, first-serve. Limit one pair per person. Student Recreation Center, East Gym. Enter through parking lot entrance (Door 9).
Campus Clean-Up - Help the Community Outreach Center and Student Volunteer Coalition in keeping our campus beautiful. Link to register.
Virtual Internship and Job Fair - 11 a.m. - 2 p.m. in Handshake. There will be 30 employers attending. You can only attend sessions you registered for in advance. For a list of employers coming to the fair, log on to Handshake. Questions? Call 610-683-4067.
Make-N-Take Tote Bags - Make your own customizable tote bags. 2 p.m. MSU lobby.
Tuesday Tea Party - Please join the residence life office at 11 a.m. in MSU 223. Spill the tea with professors, build your own terrariums and win a raffle prize.

Connect with Your Inner Child at Boxwood House - 4-5 p.m. Join us for fun activities and snacks that will throw you back in time! Learn how to incorporate these practices into your daily life.

Growth vs Fixed Mindset - AF 203 - 11 a.m. Learn how to shift your mindset.
SGA Day on MSU Lawn - 11 a.m. - 3 p.m. Free food, DIY activities, raffle prizes, goat therapy.
KU Campus Store Sidewalk Sale - $1/$5/$10 items. Campus Store 10 a.m.-3 p.m., Dixon Marketplace 3-7 p.m. In-store only, while supplies last.
Wed. April 19

Open Hour with the Provost - 1 p.m. in Old Main concourse. Students are invited to drop by and chat with the Provost, Dr. Lorin Basden Arnold, during her open office hour.

Can U Dig It? - Join us on the MSU lawn from 10 a.m. to 2 pm. for a fossil hunt and plant make and take.

Soft Skills: What Employers Want - 10 a.m. Employers want you to have soft skills. What are soft skills you ask? Communication, professionalism, critical thinking and many more. Via Zoom.

Get Yourself STD Tested in the MSU, Near Cub Cafe - 9 a.m. - 3p.m. Free and confidential STD testing done by the KU Health Center nursing staff. No appointment necessary.