Bear Essentials
May 3, 2023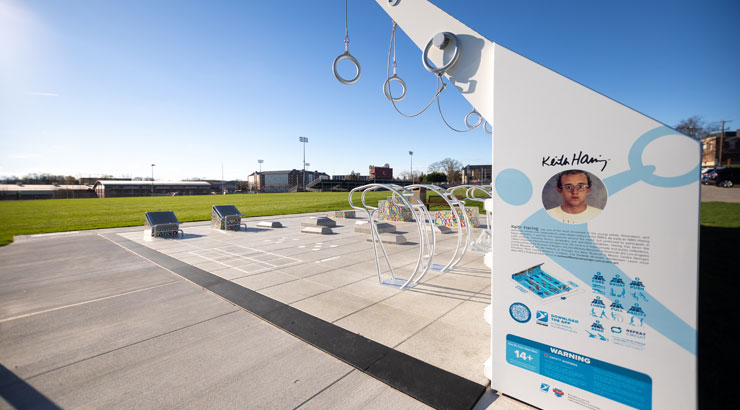 Fitness Clinic, Competition and Art Walk for Keith Haring Day
Thursday, 11 a.m. at the Keith Haring Fitness Court.
Events
Wed. May 3
Last Day to Get STI Testing at Health Center - STI testing will stop at noon. If you have any STI questions or concerns please call the Health Center at 610-683-4082.
Last Day of Tutoring for the Spring 2023 Semester - The last day of tutoring for the spring 2023 semester is today at 11:59 p.m.
Softball at PSAC Championships - at Quakertown. Continues through Saturday.
RSVP for Keith Haring Day Fitness Event - Fitness Competition on Thursday at Haring Fitness Court. Email Jordan to register today.
Thu. May 4

Keith Haring Day Fitness Event/Art Walk - At Haring Fitness Court (corner of Baldy St./Normal Ave.). Fitness Clinic at 11 a.m. Demos include instructions for appropriate training and sklls. Fitness Competition at noon. Keith Haring Fitness Walk to see artwork in Kutztown by Keith Haring.
Stress Management at Health Center, Beck Hall - 11 a.m.-1 p.m. Enjoy green tea and chocolate as you de-stress with bean bags, Play Doh, coloring and Autonomous Sensory Meridan Response technique.

Fri. May 5

Final Feminist Friday - Join us at 2 p.m. for the Feminist Friday Wrap Up at Boxwood House.
Honors Formal - Join Honors Club for their formal night (6 p.m. Old Main Georgian Room). All students and guests are welcome. Tickets will be sold online and at the door.
Butterfly Garden - Relax in a serene butterfly garden. Participants will be able to sit and watch free flying butterflies, as well as feed them nectar. 11 a.m.-2 p.m., MSU Lawn.
Baseball vs. West Chester (DH) - Noon at North Campus Field. (Live Stats | Video)
Women's Lacrosse at PSAC Playoffs - The nationally ranked Golden Bears will travel to West Chester for the PSAC Semifinals vs. Seton Hill at 4 p.m.
Mon. May 8
"Finals De-Stress, Make Time" in the Health Center - May 8-11. Relax with us from 10 a.m.-3 p.m. Puzzle, color, pop and hydrate. DIY study kits in an environment designed for relaxation.