Clements and Scheuing Honored as 2020 KU Coaches of the Year
President Hawkinson and Coach Clements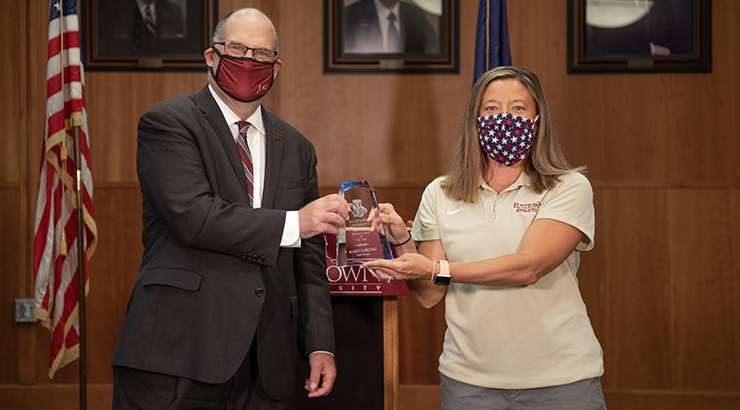 President Hawkinson and Coach Scheuing
(8:05): Coaches of the Year
KUTZTOWN, Pa. – Jim Clements, football, and Marci Scheuing, field hockey, were honored as Kutztown University's 2020 Coaches of the Year as part of KU's virtual Faculty and Staff Convocation and Celebration Friday, Aug. 21. Clements was named the Dr. Dennis Roth Men's Coach of the Year, while Scheuing was awarded the Dr. Dorothy Moyer Women's Coach of the Year.
It is the second career Coach of the Year awards for both Clements and Scheuing.
Clements finished his sixth season at KU in 2019. The Golden Bears matched a program single-season record with 11 wins, won their fourth Pennsylvania State Athletic Conference (PSAC) Eastern Division championship - and first since 2016 - while going a perfect 7-0 in divisional play for just the second time in program history. Clements-coached teams have accounted for half of the program's division titles all-time. He's compiled a 48-20 career record at KU, which includes consecutive trips to the NCAA Division II Championship tournament in 2018 and 2019.
The Golden Bears experienced plenty of team and individual success along the way, setting program single-season records with 14 All-PSAC East selections and nine Don Hansen Football Gazette All-Super Region 1 honorees.
Clements, who earned PSAC and American Football Coaches Association (AFCA) Regional Coach of the Year honors this past season, owns the highest win percentage of any head coach in program history (.706) and has a 34-9 record in PSAC games (.791). He's already ascended to second among Kutztown's all-time winningest coaches and is just 13 wins shy of tying George Baldwin's program-record 61. The Golden Bears have increased their win totals in each of the last three seasons and Clements has never had a losing season in 14 campaigns between head coaching stints at Delaware Valley University and KU.
Scheuing and the Golden Bears field hockey team enjoyed its winningest season in the Scheuing era with a 15-7 record (7-3 PSAC) last fall. The program has seen its win total jump in each of the last three seasons and the 15 victories in 2019 were tied for the third-most in a season in school history.
The Golden Bears have been knocking at the door over the last couple of seasons and pushed their way into the upper tier of the ultra-competitive PSAC with five-straight 10+ win campaigns. A number of signature victories along with stirring runs to the PSAC championship game and NCAA Division II national semifinals took KU to a different level in 2019.
In all, KU defeated six teams ranked inside the national top-10 in 2019. Scheuing's emphasis on all-encompassing student-athlete success was reflected once again in the program's plethora of athletic and academic achievements and community service efforts.
Scheuing, who has averaged better than 11 wins per season since arriving at KU in 2013, has a 78-53 record at the school and currently holds the highest winning percentage by a head coach (.595) in team history.