Lynn Hilbert Named KU Employee of the Month for February 2020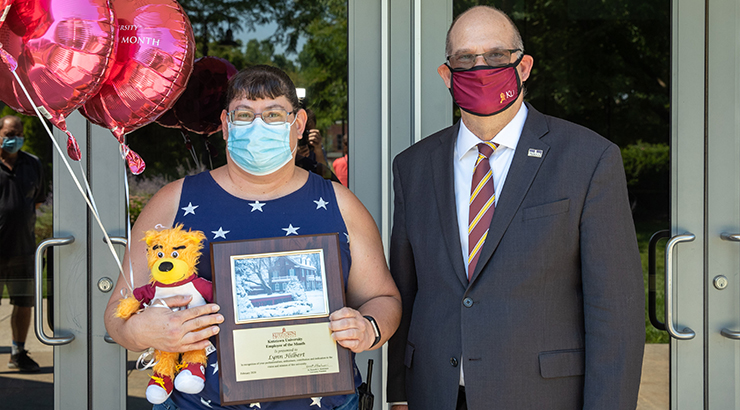 KUTZTOWN, Pa. - Congratulations to Lynn Hilbert, custodial worker in Facilities, on being named KU Employee of the Month for February 2020.
Hilbert's nomination from Julie Smith, chemistry lab manager, reads:
"Lynn is our first shift custodian in Boehm Science Center. From the time I started working at KU, I was impressed by how clean the building and restrooms were, considering how much traffic comes through here in a day. It's very obvious that Lynn takes pride in her work and will always do her job thoroughly and completely.
I appreciate how flexible Lynn is to lend a hand when a sudden custodial-need arises. Her many years of experience at the university have made her a tremendous resource of information in figuring out who to contact for various things, and how to navigate facilities-related issues. She will always go above and beyond as her schedule allows to make sure we have what we need.
One of the stops on all the campus tours is now the Scanning Electron Microscope (SEM) Lab, which is housed in our lobby area. The lobby, lounge and central stairway areas always look neat and clean, which I'm sure leaves an imprint on prospective students and their families as they make their SEM tour stop. Attention to detail by people like Lynn is foundational in creating a positive impression that works in concert with all the efforts being made across our campus to increase enrollment here at KU.
Lynn's presence in my building puts a smile on my face, as we interact on a near-daily basis."
Nominations are collected from students, faculty and staff, and the Employee of the Month is selected by the Human Resources Advisory Council. A winner will be selected each month, and out of the 12 monthly winners one will be selected as Employee of the Year. The Employee of the Month will receive a plaque, reserved parking and a $100 monetary gift sponsored by President Hawkinson.
For more information on the award or to nominate someone, please visit the KU human resources website.