Ice Hockey Team Qualifies for National Tournament; to Compete for Conference Championship this Weekend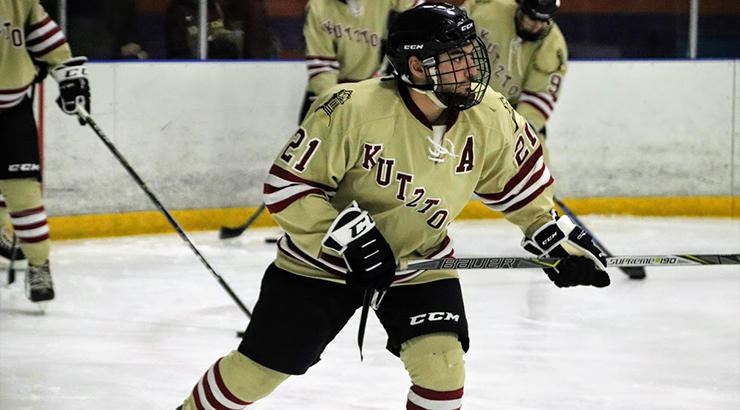 KUTZTOWN, Pa. – The Kutztown University men's ice hockey club received an invitation to compete in the inaugural Federation Cup, hosted by the Collegiate Hockey Federation (CHF), March 10-15 at Ice Line Quad Rinks in West Chester, Pa.
The Federation Cup, held during KU's spring break, will be a 32-team tournament, starting with pool play and culminating with a weekend of playoff hockey. The 32-team national field consists of automatic bids (league champions) as well as the next highest-ranked teams. Kutztown is currently ranked 20th to qualify for the national tournament.
The Golden Bears will play round-robin games March 10-12, with pool-winners advancing to the quarterfinals Friday, March 13. Semifinals are set for Saturday, March 14, with the championship game Sunday, March 15.
KU plays in the Delaware Valley Collegiate Hockey Conference (DVCHC), a member of the CHF. KU finished the regular season with a 18-9-0-1 overall record, 11-3-0-0 and tied for first place in the conference along with Penn State Harrisburg.
The DVCHC playoffs are this weekend, Feb. 21-23. As the No. 1 seed, KU has a first-round bye and will play either Lafayette, La Salle or Alvernia at 6:30 p.m., Saturday, Feb. 22, at the IceWorks in Aston, Pa. The DVCHC championship game is at 5:15 p.m., Sunday, Feb. 23, at IceWorks.
Kutztown has a 24-man roster including 15 who are in their first year with the team. The team is coached by former KU student (and player) Ryan Booth. Booth won the DVCHC Coach of the Year award in 2018-19 in his first season as KU's head coach.
The team practices at the Rink at Lehigh Valley in Whitehall, Pa., at 6 a.m., every Tuesday and Thursday from Labor Day through the first week of March.
Stay up to date on KU ice hockey by following the team's twitter page at www.twitter.com/kutztown19. For more information, contact icehockey@kutztown.edu.