Michael Demetor Named KU Employee of the Month for August 2020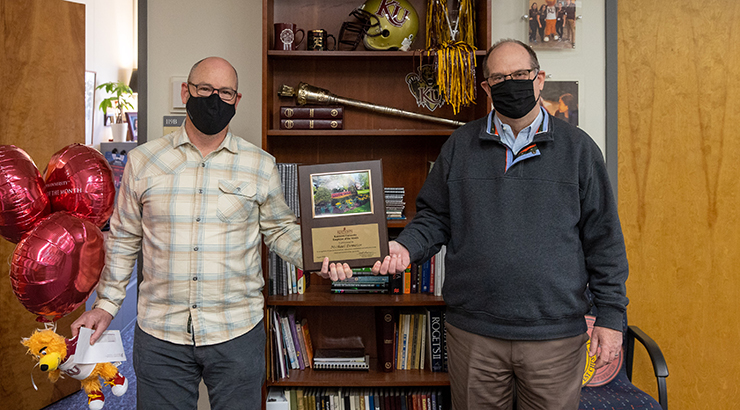 Michael Demetor, associate dean of students, and Dr. Kenneth S. Hawkinson, university president.
KUTZTOWN, Pa. - Congratulations to Michael Demetor, associate dean of students, on being named Kutztown University Employee of the Month for August 2020.
Demetor's nomination from Jenni Rach, associate director of Student Conduct, reads:
"Mike has taken on a large role with new Title IX Final Rules compliance: updating policies, procedures, websites and written materials. The Department of Education gave universities a very tight timeline and the State System passed a new system-wide policy just a few days before we needed to comply. Mike was able to have everything updated and in compliance before the deadline, even with many changes thrown into the mix at the last minute. He has shown a tireless effort to our conduct process here at KU.
Additionally, Mike was tasked with writing the COVID-19 non-compliance policies. This was not an easy task and has seen revisions and changes in a short window of time. This was written while trying to strike a balance between a student's due process and the safety of our campus and surrounding community.
Assessment has always been an important part of the work we do in Student Conduct and at KU. Mike has championed continuous, year-round assessment of learning outcomes using a variety of measures in all of our office functions and routinely shares the results of our assessment and year end data with others. He is a go-to resource for members in the division of Enrollment Management and Student Affairs who have questions about assessment and he is a wealth of knowledge for others within the campus community.
Mike's commitment to Kutztown is unparalleled."
Nominations are collected from students, faculty and staff, and the Employee of the Month is selected by the Human Resources Advisory Council. A winner will be selected each month, and out of the 12 monthly winners one will be selected as Employee of the Year. The Employee of the Month will receive a plaque, reserved parking and a $100 monetary gift sponsored by President Hawkinson.
For more information on the award or to nominate someone, please visit the KU human resources website.