Aston Named KU Employee of the Month for September 2020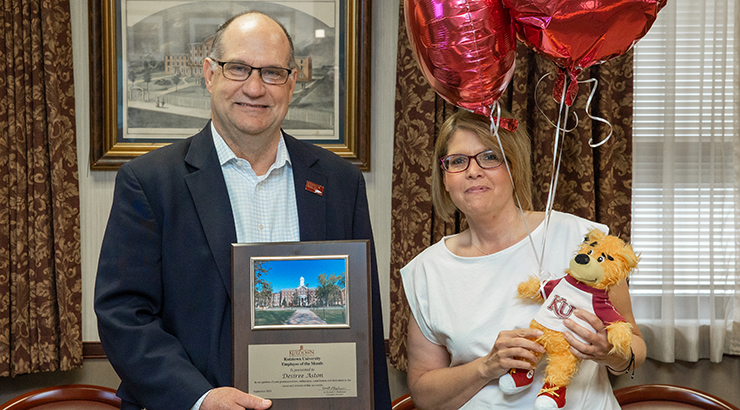 KUTZTOWN, Pa. – Congratulations to Desiree Aston, executive director of Housing, Residence Life and Dining, on being named Kutztown University Employee of the Month for September 2020.
Aston's nomination from Derek Hess, assistant director of Residence Hall Operations and Student Retention, reads:
"I have only been working at KU for a short time, but in that time, I have witnessed no other individual work harder, be more committed and serve a vital role to our university than Desiree Aston. Without her actions, leadership and incredible work ethic, I know our university would have had a more difficult time navigating the current climate.
During COVID, Residence Life, like other departments, have had to shift quickly and develop new procedures. As director, Des is a true leader. She has had to create isolation/quarantine plans, new staff training procedures, all the while being enthusiastic and positive.
She also manages the hiring of our department's student staff. As students decided to live off campus, our department lost community and desk assistants. Desk staffs that normally would have 10 individuals, now had two or four. Some floors did not have a community assistant. She had to develop plans on how to make things work with this reduced staff. Moving responsibilities around and shifting staffs to fill the holes, she has made things work. Like an engineer on a ship, emergencies arise and she keeps the boat moving ahead.
Students in the isolation areas often forget their room key and become locked out of their rooms. Or they need their mail, a towel, medication, etc. Des will not let her staff do something she is not willing to do herself and will almost always be the individual to take care of these needs, or go to Giant to purchase items that are needed for a student in isolation. The needs of the students and staff come before her own.
Juggling all of this, she keeps her staff positive and continues to plan for the next semester. Many others would not be able to keep these tasks organized and running. You would be hard-pressed finding someone more deserving of this honor."
Nominations are collected from students, faculty and staff, and the Employee of the Month is selected by the Human Resources Advisory Council. A winner will be selected each month, and out of the 12 monthly winners one will be selected as Employee of the Year. The Employee of the Month will receive a plaque, reserved parking and a $100 monetary gift sponsored by President Hawkinson.
For more information on the award or to nominate someone, please visit the KU human resources website.