Communication Design Ranks Among Top 10 Graphic Design Programs in Pennsylvania for 2021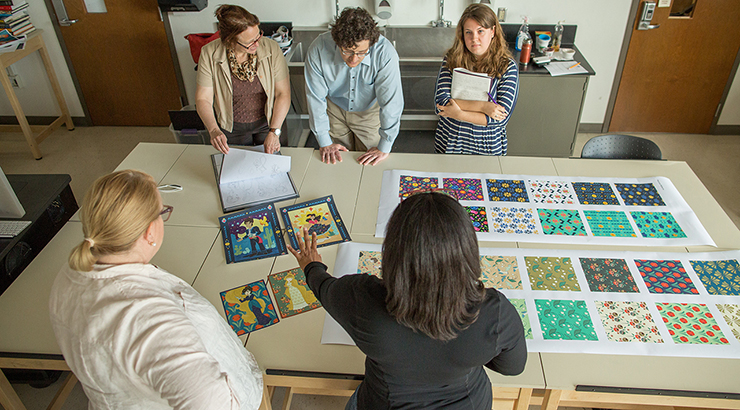 KUTZTOWN, Pa. – Kutztown University's Department of Communication Design was ranked eighth in Animation Career Review's 2021 Top 10 Graphic Design School Programs in Pennsylvania. The 2021 list is Animation Career Review's seventh annual ranking compilation for graphic design. More than 700 schools with graphic design programs were considered in preparation for this year's rankings.
KU was the lone Pennsylvania State System of Higher Education institution recognized.
The KU Department of Communication Design has the largest number of majors within the College of Visual and Performing Arts at Kutztown University. The department attracts students from across the eastern United States as well as from places as far away as China, India, Japan, Iran, Kenya and Germany.
Accomplished faculty ensure that students get a consistent, guided and mentored design education. KU's Bachelor of Fine Arts is the preferred degree program as stipulated by the American Institute of Graphic Arts (AIGA) and the National Association of Schools of Art and Design (NASAD). The program is both Middle States and NASAD accredited.
As freshmen, students take the foundations: drawing, design and digital skills. Sophomores study the foundations of design: typography, visual thinking, illustration techniques and more digital skills courses, along with historical survey of graphic design and studio classes in digital photography or life drawing. As juniors, students learn all aspects of design as required by the industry: graphic design, advertising design, interactive design and illustration. Seniors hone their skills in design specialization areas. They can also choose an internship (if qualified) or a variety of fine art studios or minor courses to complement their major. Courses in professional practices and portfolio development ensure that students are prepared for the real-world.
KU offers the first and only Master of Fine Arts (MFA) in communication design degree within the State System. Students become empowered to evoke meaningful change, develop their strengths and celebrate the future of design—all through individual development and visual expression.
The graduate program encourages students to work one-on-one with faculty to develop their own design voice—whether it's graphic design, interactive design, advertising design, illustration or education. Students are encouraged to think innovatively and use an in-depth investigation to solve design problems and formulate creative expression. The program promotes a well-rounded education through the study of design history, contemporary topics, typography, emerging media and the exploration of personal and professional goals. Students ultimately create an original capstone graduate research project exploring their creative path to professional or academic aspirations.
The criteria used for the animation rankings includes academic reputation, admission selectivity, depth and breadth of the program faculty, value as it relates to tuition and indebtedness, graduation rate, geographic location and employment data.
For more information or to see the full list of schools, please visit the Animation Career Review website.
For more information about KU's communication design program, please visit their website or contact traylor@kutztown.edu for assistance.