State System Universities Collaborate to Create Systemwide Geoscience Learning Ecosystem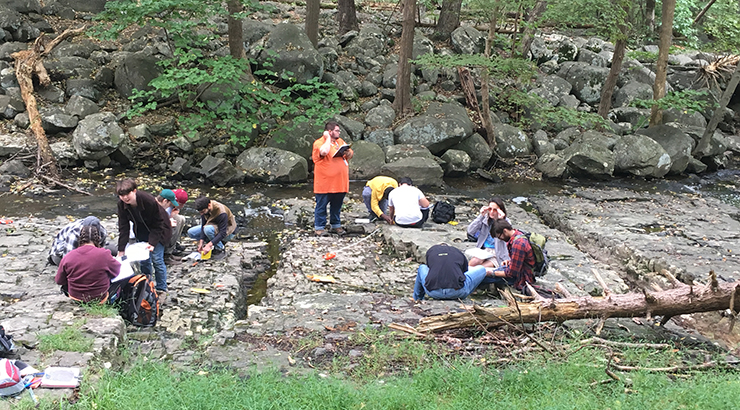 KUTZTOWN, Pa. – Kutztown University has partnered with universities across the Pennsylvania State System of Higher Education to create new ways of teaching geosciences, designed to improve field-based instruction and learning for Pennsylvania students with the goal of increasing their workforce and graduate school preparedness.
KU's Dr. Sarah Tindall, professor of Geology, is a co-principal investigator for a collaborative $397,822 National Science Foundation grant-funded project to create a Geoscience Learning Ecosystem throughout the 14 universities in the State System.
The Geoscience Learning Ecosystem also will introduce geoscience career pathways to pre-college students, with the goal of increasing participation by underrepresented minorities in the geosciences.
Overall, the Geoscience Learning Ecosystem has as its goal to serve as a multi-faceted, sustainable initiative to foster statewide collaboration between faculty, industry partners and all State System universities with geoscience programs through three main components: the geoscience field course; the Geoscience Service Learning in Pennsylvania-STEM Readiness for All Municipalities (GeoSLIP-STREAM), a short course program for high school students; and professional partner participation.
The geoscience field course will be an accessible, affordable summer experience, utilizing faculty expertise, campus resources, diverse regional geology and administrative support within the State System. Learning modules will highlight societally relevant geologic issues including acid mine drainage, soil chemistry, shale gas, karst and water resources in a service-learning context.
GeoSLIP-STREAM is a program for high school students, particularly those from underrepresented minority communities. Through this program, students will be invited to participate in single- or multi-day geoscience service-learning projects, led by State System faculty and industry partners and working with college student mentors in the summer geosciences field course.
These one to three-day short courses for high school students will occur at multiple locations around Pennsylvania to provide learning experiences for a diverse array of communities and to explore a range of geoscience-related problems affecting those communities.
For more information, contact Dr. Tindall at tindall@kutztown.edu.