KUDOS: Office of the Dean of Students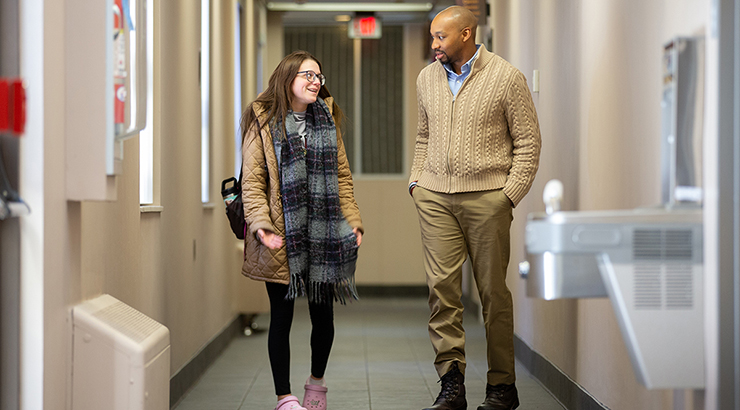 KUDOS: Office of the Dean of Students
KU's University Relations (UR) office has implemented a new staff and department recognition feature. KUDOS, Kutztown University's Dedication to Outstanding Service, focuses on university administrative departments and the individuals within them, giving the campus community a better look inside many of the working areas on campus.
This week, we sat down with the Office of the Dean of Students to get an inside look at the dedicated individuals who provide students, faculty, and staff with the resources to build and maintain a safe community inclined towards student success, self-accountability, and responsible decision-making both personally and academically to enhance the overall student learning experience and environment.
UR: Can you introduce yourselves and tell us how long you've been with KU?
DM: My name is Donavan McCargo, I am the Dean of Students here at Kutztown University, and I've been here almost two years.
MD: My name is Mike Demetor, I'm the associate Dean of Students, and I've been at KU for 24 years.
SM: I'm Susan Mangold, I'm the student assistance coordinator, and I've been at KU for almost 31 years. I initially started in the registrar's office and I've been in the Dean of Students' office for nine years.
ES: My name is Erica Stratton, I'm the secretary in the office of the Dean of Students, and I have been at KU a little more than a year now.
GA: My name is Gina Andersen, I'm the administrative assistant for Student Conduct, and I've been with KU for 22 years.
UR: What is your department's role and mission at the university?
DM: Our department's role is to provide support to students both inside and outside of the classroom, but we focus primarily on out-of-class experiences. We provide oversight to a vast amount of resources here on campus, like the office of Student Conduct, the Student Government Association, New Student Orientation, the Women's Center, the McFarland Student Union and the GLBTQ. Our intentional design is to provide retention, persistence, and graduation support to students. If we are able to accomplish that in support of the other university goals, we believe that we can help create successful KU alumni.
MD: My area is responsible for management of student conduct. The program works with students that get in trouble or make decisions that go against university policy. We try to work with them and make it as much of an educational process for them as possible. We want to hold students accountable so they can learn from the situation or experience instead of repeating it. The goal is for the student to develop as an individual and become more mature so they can be successful personally and professionally.
SM: The department is here to be liaisons for students and to have processes that will help keep them on track. What's really great is that our office doesn't want to punish students, but rather help them grow and take off in a more positive direction.
ES: Our role is to support students from the time they step on campus all the way up through graduation by giving them the support and the services they need.
GA: Student conduct's role is to address students who have had conduct issues either on or off-campus. Our goal is to educate them on the importance of making good decisions in the future, and the outcome is that they get to learn something that will help them in the future. We also get to speak with parents who are going through a transition between high school and college; we help them prepare for their students to step up.
UR: Can you explain your department's staff make-up and responsibilities?
DM: Within our office is the Sue Mangold, student assistance coordinator, who provides support to students who are in a crisis or need guidance in their personal life, as well as our office of Student Conduct, which consists of associate dean Mike Demetor and assistant dean Maggie Monet. They provide oversight to the entire student conduct system of the university. We also have two graduate assistants: one works with the office of student conduct and the other works with the student assistance coordinator and myself, to provide the overlapping support to students in need, as well as work on special projects for our office. Most importantly, we have two phenomenal office support staff; Gina Andersen provides direct support to the office of student conduct and Erica Stratton provides direct support to myself and the student assistant coordinator. Gina and Erica provide significant support to our office and frontline support to our students; students who may have questions or need guidance can go to them, even if the question doesn't relate to our office. Our office really does have a comprehensive lens in terms of oversight, and that's just within our physical office. Beyond the Stratton Administration Building, we have several other offices and resources around the university that report to us and we work closely with them to be as successful and effective as possible.
MD: I review every incident that gets reported at the university, including Title IX investigations and interpersonal violence, and then we work with university conduct boards and other university partners who have various roles in the student conduct process. We do a lot of training and utilize students, faculty and staff members within the community to help us throughout the process. We're trying to identify students who could be at-risk, so the process is used as an opportunity to get students who might be struggling, back on track. Sometimes we'll refer them to counseling, student assistants or other areas that are able to help them with the things they're struggling with.
SM: In a nutshell, I try to be helpful for students. I deal with a lot of students who are going through a variety of different issues that prevent them from functioning well in school or in terms of their own personal health. So, I manage our behavioral intervention team, which looks at ways to best intercede to the student with their struggles. It's always been something that I've been very passionate about; I hate to see students struggling unnecessarily because they don't know who to ask for help or what to do about a situation. I try to serve as an intermediary and nip problems in the bud or help them get to someone who can help them with the problem. The other main part of my job is managing the logistics for commencement. There's a lot of planning and work that goes into it, but it's still a fun thing. The day itself makes me very emotional because it's so great to see students make it to that point, and everybody is happy.
ES: I mainly support Donavan and Sue, as well as fill in for student conduct as necessary. I set up appointments and meetings, make sure Donavan is where he needs to be and help students with problem-solving. I listen to student problems and then point them in the right direction of who can best address their needs, be it Donavan or another department. I also assist Sue with commencement.
GA: I support Mike, Maggie, and Sue. I mainly manage incidents, make sure case details are accurate and get the student together with their appointed case officer so that they can provide input and move the process forward.
UR: How does your department serve students and the campus community?
DM: Beyond providing support services, we are advocates. We advocate for our students regardless of the circumstances; for example, some of our students may be involved in a situation off-campus and need guidance, or they may have academic challenges and need help figuring out their major. Some of them come in asking for help finding job opportunities, or they need advisement for clubs or organizations. Our primary goal and focus is advocacy and support to our students in the classroom.
MD: The first thing we're concerned about is the students, but we also have an obligation to make sure the community is safe. If a student or community member feels as though something bad has happened or someone has stepped outside the lines of proper behaviors, we'll address it so that the community itself is conducive for a living learning environment. We want people to feel safe being here and provide an environment that they feel allows them to be successful personally and academically. So, we're not just working with students who get in trouble, but we're also working with other members of the community who are victims of, or have been impacted by the behavior. It's important for us to address all types of behavior so that the community as a whole can thrive.
SM: We're all about students, and that's what so great about Donavan; he's all about students and meeting them where they are. He works hard to do the knitty-gritty jobs on campus, and we work hard because we don't want to let him or our students down. We're also the office who people call when nobody knows what to do, and I think that we do a good job of trying to help them with their struggles. I truly believe that the Dean of Students is the pulse of the non-academic side of the university.
ES: We're here for anything the student could possibly need. We support all the activities, clubs and groups on campus. We also can assist with academic issues, even if we may not be able to solve them. We're willing to do whatever students need in order for them to be successful.
GA: We're concerned with how the students present themselves to Kutztown residents, so we try to tell them through the sanctions that they could've made or can make better decisions. We get them ready for the world by letting them know what is and isn't acceptable via the student code of conduct.
UR: What are the points of pride in your department?
DM: I think we have a very strong support system for students. We practice advocacy and support, which are two different facets. Advocacy is helping the students find their voice, helping them gain direction for themselves and learn how to make appropriate choices. Support is offering students a helping hand when they need guidance, and looking at all the different entities that report to our office, I think that support is something we do very well.
MD: We have a beautiful physical campus, it's absolutely outstanding.
SM: All of us really care about our students. We want to do our best for them, but we're also kind of like parents - we don't coddle them. We also work really well with other departments on campus and I think that each one of us makes people feel welcome, even if they come here for things that might be scary to them. We're incredibly fair, and I think students leave here with a different perspective of us.
ES: I would say it's our student-friendly office; it used to be very drab and boring, but Donavan helped us update it and change everything out for more modern decor. I also take pride in being able to support the Student Government Board, as well as facilitating communication with the other departments.
GA: Donavan. He's a great leader and has an ear for everybody. He's out there actively engaging the students and is always available to give students connections for ideas. He's a wealth of information to them. I also enjoy talking to students after they've had their incidents; many of them come back and thank us for helping them find success after being in a bad place and finally move forward into their adult lives.
UR: What would you like people to know about your department that they may not know already?
DM: That we're not just student conduct. We're not the principal's office here to suspend students; students don't just come here when they're in trouble. We have a vast array of resources in place to help students get over different hurdles that they might encounter in life, including an emergency fund for students who may find themselves financial distress due to unforeseen circumstances. We care about our students and I think demonstrating that care is the foundation of all the work that we do as an institution. We want students to know that they aren't just a number - they're people and we care about them and want to provide support as much as we can. We're also super excited and concerned at the same time about graduation; we want to work with students to make sure they get what they came here for and cross that stage in the fieldhouse in May or December.
MD: Our main concern is to help educate the students. We're not here to get students in trouble. We're educators, not police or disciplinarians. Getting students in trouble is counterproductive to what we're trying to do here. Our focus is on education, not punishment.
SM: That we like to have fun and we all get along really well. We like to joke and we're all really hard workers, but we don't let the hard work take away from the fun. I think Donavan's leadership has a lot to do with that.
ES: That we're friendly. We welcome all students to come in! I know sometimes they hear student conduct is in our office as well, and they tend to stay away. But, we like it when anyone comes in and visits, even if it's just to pop in and say hi.
GA: We like to send students away with a smile no matter what they're here for.
UR: How can the campus community learn more or become involved with your department?
DM: We're working on our website right now, so that will be one avenue. But they can just stop in! We provide snacks and candy. We try to make it a fun and casual environment so people don't feel intimidated. We recognize that we're in the university's administration building, but people are often deterred from coming here because of the name of the building and what's housed here. We invite students, staff and faculty to come in and talk with us because we're here to work in unity with them.
MD: If they want to learn more, they can visit our website. If they'd like to become more involved, we have student, faculty and staff involvement opportunities on student conduct boards. We just started a new program called the Student Conduct Advocate Program, which allows staff to volunteer to be advocates for students currently going through our process. Students can reach out to someone for support if they have a hearing or a meeting and are worried about it, and then that staff member will help advise them about the process.
SM: We have a Facebook page and a Twitter presence, and Donavan has even made short videos. We're also easy to reach by phone or by email for people who want to reach out.
ES: If students are interested in becoming more involved on campus, they can call us, email us or stop in; we can help them figure out what they'd like to do and contact the right office to get them started. They're also welcome to share their event posters with us and we'll share them on our social media sites or post them on the bulletin boards outside of our office.
GA: Stop by - we'll talk to anybody!
UR: What's your favorite thing about your KU experience?
DM: The students. They're resilient, smart, fun, well-rounded, eager and hungry. I've worked at other great universities, but I think KU is a unique environment, full of so much talent that is sometimes highly understated. They possess the potential to do great things not only in the Pennsylvania space, but also beyond and throughout the world. We've seen our alumni going out and doing great things time and time again. Most of my son's teachers are KU alums, and he loves them! I think it goes without saying that KU has something special and that the students who attend and graduate from KU find that special thing and go on to do special things too.
MD: Seeing students that I've worked with overcome a problem and go on to graduate. Some students leave school when they have these kinds of problems, so working with them, helping them overcome those problems, and then seeing them at graduation gives me the most satisfaction.
SM: When I started at KU, I had slightly less than two years of college experience, so I was able to finish my bachelor's degree and get my master's right away. It made me feel like KU is home. I've had a lot of good experiences here and it's hard to pick a favorite. Currently, I'd say its Donavan coming in because he's just so positive, but ultimately I love the campus setting and that we have a strong relationship with the townspeople too. I love coming in to work and I feel really passionate about trying to help students do the best that they can do.
ES: Everyone is incredibly friendly. They're helpful, they want you to succeed - they're not looking for anyone to fail. There's are largely supportive feeling on campus.
GA: Since I've been here so long, I've been able to see big changes that have taken place on campus, like the doubling of the footprint of the library and the construction of buildings like Sharadin, Boehm and the Academic Forum. The things they offer students now are incredible; everything is much more geared towards the learning aspect. They're using the space on campus really well. I also enjoy being in the campus community because they have so much to offer like theater, films and shows. It's part of the reason why I like working at a university.
UR: What does "It's Good to be Golden" mean to you?
DM: Gold is a precious metal; it doesn't tarnish, so to be golden is to be good forever. If you step foot on this campus, do what you came here to do and graduate, you'll go on to do things that are golden, like changing lives and changing the world.
MD: In knowing that KU is a special place that has unique opportunities and benefits, when you become part of the community, you have access to those benefits. It means that you're getting a special experience that's unique to KU.
SM: For me, I think that it's good to be part of the KU family. It's like my second home.
ES: That no one is perfect, but that they're constantly striving to put their best foot forward. They learn from their mistakes and become the best versions of themselves.
GA: Golden takes on so many more meanings the more you peel it away, but for me it means being part of the KU family.
KUDOS is published twice monthly by the office of University Relations. All issues can be found at www.kutztown.edu/KUDOS. For questions or more information, please contact University Relations at UR@kutztown.edu.