Global Orchestra KUNÉ to Make U.S. Debut at Kutztown University Tuesday, Nov. 12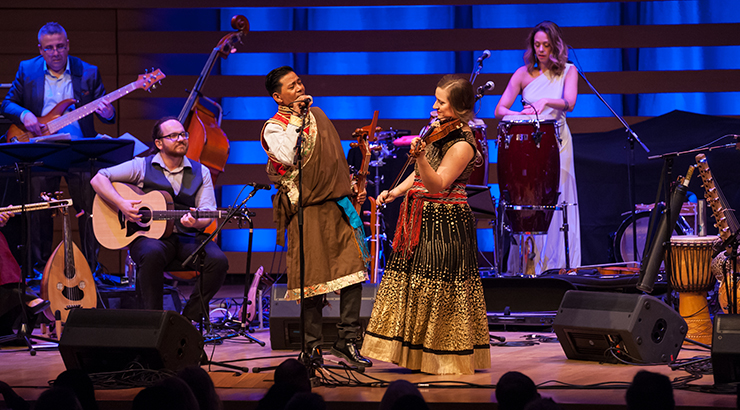 KUTZTOWN, Pa. – The Royal Conservatory's global orchestra, KUNÉ, explores and celebrates the cultural diversity and pluralism of Canada. The 13 virtuoso musicians hail from around the globe and play instruments as diverse as they are, from the tar of Iran to the bouzouki of Greece to the sitar of Pakistan. KUNÉ, which means "together" in Esperanto, shares each musician's cultural and musical traditions to create a band that looks and sounds like Canada. The members of KUNÉ have formed a sound that is at once global yet uniquely individual. They illustrate what's possible when we listen to each other and play together.
Join KUNÉ as they embark on their first-ever international tour, debuting in the U.S. at Kutztown University. KUNÉ takes the Kutztown University stage 7:30 p.m., Tuesday, Nov. 12, in Schaeffer Auditorium. Tickets are $36; $32 for students and seniors and can be purchased at www.KutztownPresents.org, or by calling the KU Presents! box office 11 a.m. to 4 p.m., Tuesday-Friday, at 610-683-4092. Patrons can also join the orchestra for an interactive food experience at 5:30 p.m., Monday, Nov. 11. Food stations representing different cultures from various continents will surround the room while the orchestra and students engage participants in a rewarding celebration of diversity through conversation. Dinner tickets sold separately.
Established to be the center of cultural life at Kutztown University, KU Presents! serves the campus and community by bringing world-class live arts that can entertain, educate and enrich.