KU Arts Society, Global Orchestra KUNÉ to Host Demonstration for K-12 Schools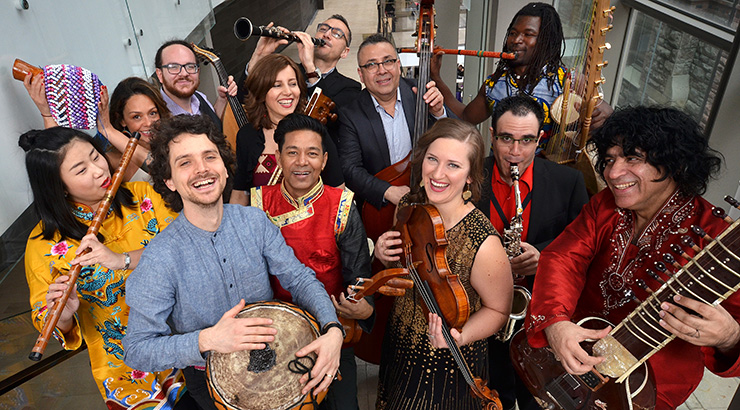 KUTZTOWN, Pa. – The Kutztown University Arts Society and its Promoting the Love of Arts in Youth initiative (PLAY) is sponsoring a youth lecture and demonstration with K-12 schools. KU Arts Society is sponsoring bussing to and from KU Tuesday, Nov. 12, for local youth to meet and interact with upcoming KU Presents! performers from global orchestra KUNÉ. The event is 10-11 a.m. in Schaeffer Auditorium.
KUNÉ is a group of musicians hailing from 11 different countries from around the world. In this assembly performance, the artists will talk about and demonstrate their varying folk instruments, share information about their different cultures, and celebrate multiethnic harmony through their music.
Interested teachers/school administrators should contact Elaine Bonfitto, KU Presents! education and community outreach coordinator, at bonfitto@kutztown.edu or 610-683-1523.
KUNÉ will also perform at Schaeffer Auditorium and make their U.S. debut at 7:30 p.m. Tuesday. Tickets are still available and can be purchased at www.KutztownPresents.org, or by calling the KU Presents! box office 11 a.m. to 4 p.m., Tuesday-Friday, at 610-683-4092.
The KU Arts Society includes community and university volunteers who are both patrons of the arts and who are dedicated to advancing arts programming at Kutztown University and in the surrounding community. The Society raises funds to support arts programming to include its PLAY initiative, KU Presents!, university art galleries, the President's International Quintet, Kutztown Arts Academy, arts programming grants to Kutztown University students, faculty and staff and other important arts-centered programming.