Egan Named KU Employee of the Month for August 2019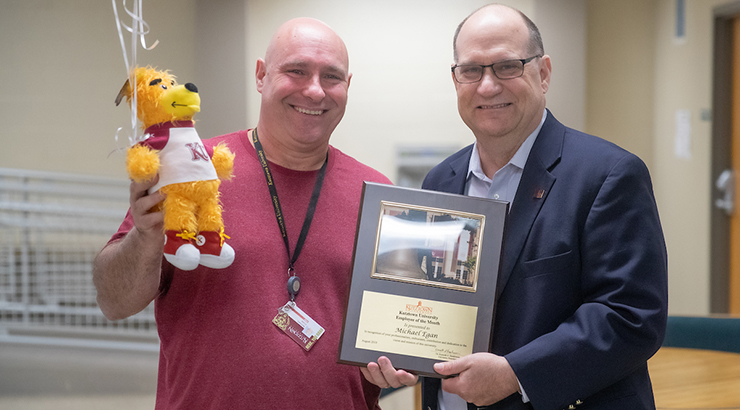 KUTZTOWN, Pa. - Congratulations to Michael Egan, custodial supervisor, on being named KU Employee of the Month for August 2019.
Egan's nomination from Amanda Smith, custodial worker, reads:
"Mike is my supervisor and I am always happy to see him. He puts the needs of his employees and the needs of Kutztown University before his own. If an employee has run out of toilet paper (for example) and it is close to his lunch break, he does not push it off or make people wait. Mike always gets back to people in a timely manner and when we need something, he is always there for us. He likes to make sure his employees have everything they need to keep the campus wonderful for our students.
Mike has really stepped up as our new boss and taken the lead in every situation. I'm very proud to call him my boss; and I truly believe that all of my co-workers feel the same way that I do about his work ethic and dedication. I believe he makes our jobs easier by doing such a good job himself and having such dedication to the students and his employees.
Should an issue arise, Mike really deescalates the situation by sitting his employees down and calmly having a conversation about what steps are available to fix the issue and also what can be done to prevent these issues in the future. I believe that he treats his employees with such respect because he knows that an optimistic attitude is contagious and he hopes to spread that positivity around the entire campus of Kutztown University. Mike is a great guy and an awesome part of the KU family."
Nominations are collected from students, faculty and staff, and the Employee of the Month is selected by the Human Resources Advisory Council. A winner will be selected each month, and out of the 12 monthly winners one will be selected as Employee of the Year. The Employee of the Month will receive a plaque, reserved parking and a $100 monetary gift sponsored by President Hawkinson.
For more information on the award or to nominate someone, please visit the KU human resources website.