Celebrating Over a Decade of Father Rich's Services to Local Community at the St. Christopher Catholic Newman Center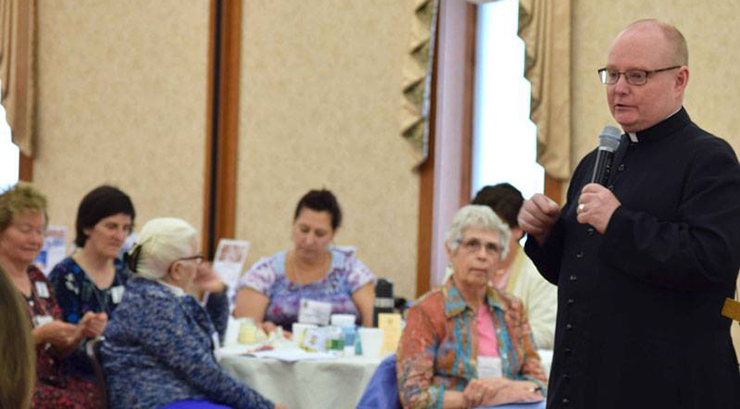 KUTZTOWN, Pa. - Father Rich Brensinger has been a mainstay in the local community for a decade. Brensinger served as the chaplain at the Saint Christopher Catholic Newman Center on the campus of Kutztown University since 2011, and recently announced his retirement and held his final service this past July.
Brensinger was born and raised in Berks County and has helped increase the visibility of the area's Catholic Center, even with a subtle change in signage.
"In 2011, there was relatively little activity at the center across from Old Main," Brensinger said. "After the first year, I asked the Bishop to change the name of the building from Christopher House to Saint Christopher, because new students on campus didn't know who we were. Within two hours after putting up the new signage, a family touring the campus stopped in because "Catholic" was on the sign. That was the first time in more than a year that a family came in."
Before entering the seminary, Brensinger taught fifth-grade in Allentown. He spent three years in high school ministry, so college ministry felt inevitable and Brensinger felt it was a natural fit with his prior experience. While at Saint Christopher, Brensinger became certified by the Catholic Bishops of the United States as a Campus Minister.
Following his retirement, Brensinger reflected on his fondest memories on campus.
"Besides all the students I met during my time there, the witnessing of weddings of graduates and watching the blessing of them having children, the fondest memory I have is when Matthew Kuna (Class of 2016) entered the seminary. Matthew will be ordained a priest in 2022," Brensinger said. "Another affirmation came in 2015, when Saint Christopher was awarded the title of one of the 50 Best Newman Centers in the country. We were ranked No. 22 – an impressive accomplishment."
Brensinger received his master's degree from Borromeo Seminary in Philadelphia, Pa. He was appointed as associate pastor in 1992 to several parishes in the Diocese of Allentown, director of Spiritual Activities and professor at two diocesan high schools and chaplain at Saint Christopher Catholic Newman Center at Kutztown University.
In August, Brensinger was assigned as Administrator to Our Lady Help of Christians Parish in Allentown.