Kutztown University and Johnson College Sign Dual Admission Transfer Agreement for Information Technology Programs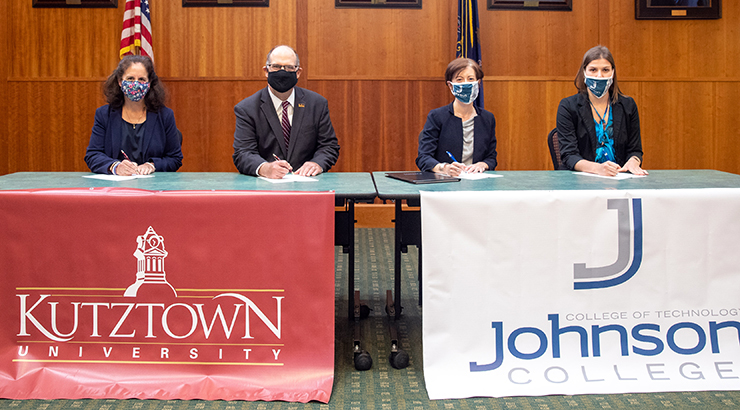 KUTZTOWN, Pa. - Kutztown University and Johnson College signed a dual admission transfer agreement Wednesday, Sept. 30, to facilitate the transfer of Johnson College graduates to Kutztown University. Dr. Kenneth S. Hawkinson, KU president, and Dr. Anne Zayaitz, provost, signed the agreement with Johnson College president and CEO, Dr. Katie Leonard.
Under this dual admissions agreement, Johnson College students will be guaranteed admission into a Bachelor of Science in information technology degree program with third year (junior) status at Kutztown University. Students must graduate from Johnson College with an Associate in Applied Science in computer information technology with a minimum cumulative GPA of 2.0 and satisfy all other Kutztown University transfer requirements.
Full-time students admitted with third year (junior) status to Kutztown University will be able to complete a Bachelor of Science in information technology at Kutztown University within four regular semesters, provided that the student completes the appropriate associate degree program at Johnson College and completes and appropriately sequences their remaining course work at Kutztown University, while maintaining full-time status.
KU will provide a $500 book award to all Johnson College students who transfer to KU with an associate's degree, as well as $2,000 – over two years – in housing scholarships, should these students choose to live on campus. KU will also waive the application fee for students who apply to Kutztown University pursuant to this agreement.
Kutztown University's Bachelor of Science in Information Technology programs were recently accredited by the Computing Accreditation Commission of ABET, the global accreditor of college and university programs in applied and natural science, computing, engineering and engineering technology. ABET accreditation assures that programs meet standards to produce graduates ready to enter critical technical fields that are leading the way in innovation and emerging technologies and anticipating the welfare and safety needs of the public, as well as being well prepared for graduate study.
"Our computer science and information technology program recently received accreditation from ABET, which places it among the best programs in the country," Hawkinson said. "We are delighted to be signing this agreement wherein the excellent students from Johnson College will be able to participate in a dual enrollment program with our department. This new agreement will allow us to work together to change students' lives."
"We are very excited to come together to sign this dual admission transfer agreement that will give Johnson College's computer information technology graduates a new pathway to a bachelor's degree," Leonard said. "Today is a day of celebration for Johnson College. This agreement is Johnson College's first agreement with a Pennsylvania State System of Higher Education school – we are gaining a strong partner in Kutztown University."
Johnson College provides real-world, hands-on learning in a caring environment and prepares graduates to enter into or advance in their careers. Our degrees become essential careers. Johnson College was founded in 1912, and is the region's premier technical college, offering associate degrees in 15 programs. An emphasis on hands-on instruction is supported by a low student-to-teacher ratio. Located in Scranton on a 44-acre campus, Johnson is an accredited, private, non-profit, co-educational institution with a strong tradition of working with regional business and industry to ensure a skilled and qualified workforce. For additional information on Johnson College, please call 1-800-2-WE-WORK, email enroll@johnson.edu, or visit johnson.edu.
Comprising four colleges - Business, Education, Liberal Arts and Sciences and Visual and Performing Arts - Kutztown University of Pennsylvania offers a wide range of outstanding academic programs to prepare individuals for successful careers. Located on 289 acres, the campus is adjacent to the Borough of Kutztown in Berks County, Pennsylvania. As of fall 2020, enrollment at the university includes 7,892 students.
For more information, please visit the KU website at www.kutztown.edu or contact the Office of Undergraduate Admissions at 610-683-4060 or admissions@kutztown.edu.