The Marlin and Regina Miller Gallery
Gallery Exhibition Schedule : Fall 2022 - Summer 2023
Dan Welden, "Hairy Hare", 2022. 33" x 33", zinc etching with mixed media
Spectrum SiNfonia : The Art of DAn Welden

September 8 – October 16, 2022
Opening reception, Thursday September 8, 4-6pm
New York based master printmaker Dan Welden will exhibit his paintings and prints made during 2020-21. Aside from his previous accomplishments as a printmaker, Welden's new paintings display a knowledge of color and composition that challenges the best of his well-known contemporaries. Curated by Ron Schira.
For more info : www.danwelden.com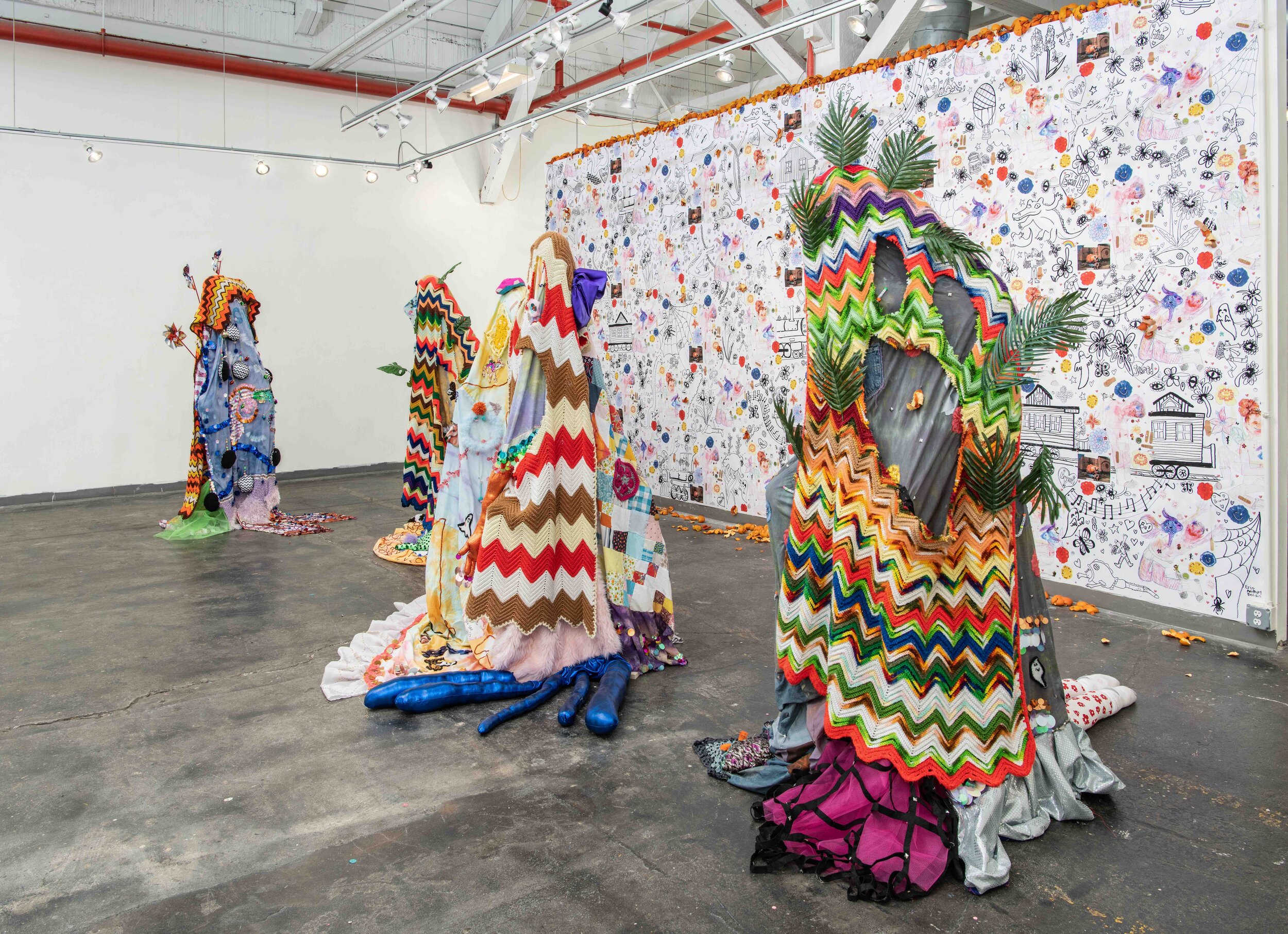 Eric Anthony Berdis, installation image, 2019, Illinois State University
Artist in Residence : ErIc Anthony Berdis
"THese Ones Are Going to Grow Big Someday"
Dates of residency: Oct 17 – November 3, 2022
Dates of exhibition: November 3 – December 16, opening reception Thursday Nov 3, 4-6pm
Art Education conference workshop: Friday November 18, 1pm
Derived from childhood fantasies, Eric Anthony Berdis' work explores the metamorphosis of a becoming. Incorporating gallery sized quilts, collaboratively designed wallpaper, and the imagery of queer historical icons, Berdis will transform the gallery into a world that is both familiar and inherently strange. Berdis will work with KU students transforming the gallery for 3 weeks prior to the exhibition opening on November 3.
For more info: ericanthonyberdis.com
2021 Scholastic Gold Key winner Sadie Kennedy, Emmaus High School, teacher : Tracy Maley
East Central PA Scholastic Art Awards
Dates of exhibition in the Miller Gallery February 18 – March 5, 2023
Dates of Award Ceremony in Schaeffer Auditorium : Sunday March 5, 2-3pm
Join us as we celebrate 100 years of the Scholastic Art Awards! KU welcomes the winners of this highly competitive juried award program for students in grades 7-12 in Berks, Carbon, Lehigh, and Northampton counties.
For more info : www.artandwriting.org/regions/PA008A
Jocelyn Belisle, 2021 Studio Art graduate. "the break-down of old systems", 2021, 29" x 29" x 4" , concrete, steel, charcoal.
SEnior Exhibition Cycle
March 25 – May 13, 2023
Graduates in Art Education : March 25-April 2, reception Sunday March 26, 2023, 2-4pm
Graduates in Communication Design : April 8 – April 16, reception Sunday April 16, 2023, 2-4pm
Graduates in Studio Art : April 22 – April 30, reception Sunday April 23, 2023, 2-4pm
Graduates in Animated Arts : May 6 - May 13, reception Sunday May 7, 2023, 2-4pm
"Best of 2023"
June 4 - August 5

selected works from all visual arts graduates