Happenings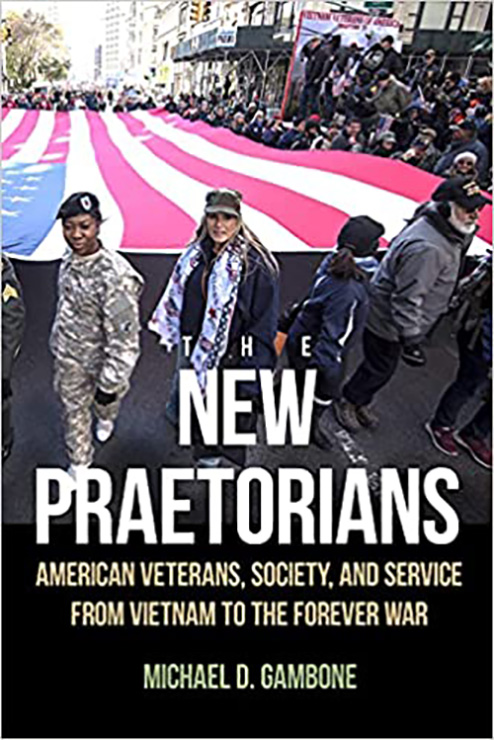 Dr. Michael Gambone recently published The New Praetorians: American Veterans, Society, and Service from Vietnam to the Forever War
Contemporary veterans belong to an exclusive American group. Celebrated by most of the country, they are nevertheless often poorly understood by the same people who applaud their service. Following the introduction of an all-volunteer force after the war in Vietnam, only a tiny fraction of Americans now join the armed services, making the contemporary soldier, and the veteran by extension, increasingly less representative of mainstream society. Veterans have come to comprise their own distinct tribe ― modern praetorians, permanently set apart from society by what they have seen and experienced.
Dr. Gambone is the author of eight books, including Long Journeys Home: American Veterans of World War II, Korea, and Vietnam (2017) and The Greatest Generation Comes Home: The Veteran in American Society (2005). He is currently a professor of history at Kutztown University of Pennsylvania and a veteran of the 82nd Airborne Division. In 2006, he deployed to Iraq as a Department of the Army contractor and served in the city of Mosul.
2022 National History Day was February 26, 2022. Congratulations to our winners who will go on to State competitions.
2023 National History Day is scheduled for Saturday, Feb. 25, 2023. If you would like to be a judge, contact Eric Johnson for more information.
More Information on National History Day

NHD engages students in grades 6-12 in the process of discovery and interpretation of historical topics. Students produce dramatic performances, imaginative exhibits, multimedia documentaries, websites, and papers based on research related to an annual theme. Individually or in teams of two to five, students research a historical topic, develop a thesis, and create a project to present their argument. Students enter their projects in local and regional competitions and compete for the opportunity to advance to higher levels of competition.

The NHD program teaches students important literacy skills and engages them in the use and understanding of museum and library resources. The program inspires students to study local, regional, or state history and challenges them to expand their thinking and apply that knowledge to the national or even worldwide scene. The program also teaches students to become technologically literate through the use of computer and Internet research methods and the use of technologically advanced applications in their presentations.
Dr. Michael Gabriel recently published Physician Soldier, The South Pacific Letters of Captain Fred Gabriel from the 39th Station Hospital through Texas A & M University Press. It is a compilation of letters that his father, Dr. Fred Gabriel, wrote home during World War II while he was serving in the Pacific Theater as a physician.