Bear Essentials
Feb. 8, 2023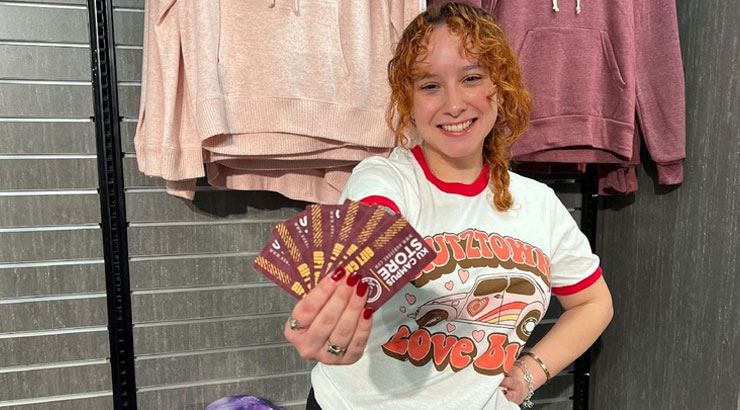 Want a Chance to Win a KU Campus Store Gift Card?
Check out this post on Instagram to find out all the details. Winners will be announced on KU's Instagram on Friday, Feb. 10.
Become a Summer Conference Assistant - KU's Office of Conference & Event Services has opened up their summer job applications that provide summer housing, a food stipend and payment. Apply now!
Happy Hearts: Candygram and Carnation Sale - Order Candygrams and Carnations for your significant other this Valentines Day. Pre-order using this form.

Science Olympiad Needs Help - Fun day to volunteer during Spring Break. March 16. Great for clubs, service hours & resume. No science background needed. Free t-shirt. Email for info.

Student Organization Support Office Hours - Have a question regarding your student organization? Visit 153 MSU Wednesdays 1-4:30 p.m. to get individualized assistance.

Applied Investment Management (AIM) Association StockTrak Competition - Invest virtually against your peers in our StockTrak competition for your chance at $500 in prizes.
Undergraduate Student Commencement Speaker - Commencement speaker applications are being accepted from undergraduate students graduating this spring. Application Deadline: March 21.

VP for Enrollment Management & Student Affairs Search - Candidates on campus Feb 14, 21 and 22. Students are invited to Open Sessions at 11 a.m., LC 135. Candidates' vitae available two days prior.

The Collage December Newsletter - The slightly delayed Dec. 2022 issue features professor of CSIT Donna DeMarco and senior Professional Writing major Eva Labram.

Save the Date: Disney College Program - Tue. Feb. 21. Learn about the Disney College Program and how you may be able to earn academic credit for interning at the "Happiest Place on Earth." 11 a.m. MSU 250.
Events
Wed. Feb. 8
Writing Your Resume and Cover Letter Workshop - 1 p.m. Learn the basics on how to write your resume and cover letter to best market your skills and obtain that interview. Via Zoom.

Thu. Feb. 9

Freedom From Smoking & Vaping Information Sessions - Health Center Wellness Room, 4:30-5:30 p.m. End your relationship with smoking/vaping. Email Freedom From Smoking facilitator.

Spill The Tea at Tea Time, Thursdays at Boxwood - Weekly, noon. Join us at the Center for weekly tea, coffee, or juice and conversation. Stay after the Allies meeting or visit and enjoy some fellowship.
Thursdays Open Collegiate Recovery Meeting - We support students who seek or are curious to live a substance-free lifestyle, 7-8 p.m. in the Health Center.

Senior Kick-Off - 7 p.m. Receive info to successfully find employment. Walk away with the knowledge, resources and enthusiasm to finish strong at KU! Via Zoom.

Soft Skill: What Employers Want - 1 p.m. Receive info to successfully find employment. Walk away with the knowledge, resources and enthusiasm to finish strong at KU! Boehm 130.
Fri. Feb. 10

LGBTQ+ Book Club - 4 p.m. Join us for the book club here at the Center at Boxwood. We will be starting with Juliet Takes a Breath. Books will be provided for you.

Celebrate Lunar New Year with the Chinese Student and Scholars Association (CSSA) - Join us, from 5-9 p.m. in MSU Multipurpose Room, for our celebration. There will be good food, games, prizes and a stunning performance! Friends and staff are invited to participate.
Clay Club Project Night: "Puppies" - Abby Foreman - 6:30-8:30 p.m. Sharadin 108. Come sculpt puppy-like creatures, a favorite around the studio. We'll fire them for you to glaze on April 7.

Mon. Feb. 13

Honors Club Meeting - Join us for our bi-weekly Honor's Club meeting (6:30 p.m. in Honors Hall or Zoom) to discuss/plan upcoming events in Honors.
Movement Monday at Boxwood House - 1-2 p.m. Join us at the Women's Center for some light stretching and mindful movements to center yourself at the start of the week.
Choosing a Major - 2 p.m. Explore myths and facts about majors and careers and how you can narrow down options to make the best decision for your future!

Tue. Feb. 14

40% off Stuff a Bag for your Valentine - Stop in KU Campus Store on Valentine's Day to stuff a FREE tote and get 40% off any of the apparel and gift that fits inside. In-store only promotion | excludes other sales and discounts | while supplies last | exclusions apply.
Love Yourself Tuesdays at the Health Center - Spend Valentine's Day with us; create Valentines for yourself, friends or family. Decorate a cupcake. Health Center 1-3 p.m. FUN time.
Pleasure Kits Available at the Health Center - Students can select from sexual health supplies, including internal condoms, external condoms, dams, lube, sweets and abstinence kits. While supplies last.
I ❤ U: Valentine Make & Take - 11 a.m. MSU 218. Join Student Involvement and KU Activities Board (KUAB) for a fun Valentine's Day themed make and take featuring candy heart pillows to stuff for someone special.

IT's on Us: Love Letters - 12 - 3 p.m. in Rohrbach Library Lobby. Join us to honor survivors for Valentine's Day. We will write letters of support to be posted to our social media.

Maximizing Tutoring and Professor Office Hours - AF 203 - 11 a.m. Learn how to access helpful resources.

Successful Interviewing - 11 a.m. Jobs are WON in interviews. Find out what you must do before, during, and after your interview. Gain an advantage over the competition! Via Zoom.

GoinGlobal: Searching in the US and Abroad - 11 a.m. Learn about this internship and job search tool with over 16 million listings from the U.S. and around the world.

Kisses (Chocolate) and Careers - 2-4 p.m. Have a "sweet" resume review in Stratton 113. Bring a hard copy of your resume and get some feedback while enjoying some Hershey Chocolate Kisses.

Wed. Feb. 15

Speed Meeting - Have a floating time and try speed-friending. 6-7:30 p.m., South Dinning Rm 1. speed-friending and root beer floats. Enter to win a "Friends Basket."

Ujima Conference 2023 - Theme this year is Reimagining Cultural Authenticity. Keynote speaker is Cornell William Brooks, 18th President & CEO of the NAACP. Check website for schedule.

Writing Your Resume and Cover Letter - 2 p.m. Learn the basics on how to write your resume and cover letter to best market your skills and obtain that interview! AF 201.