Student Success Center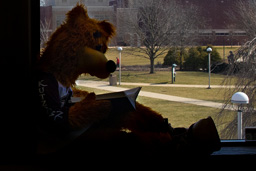 textbook reading tips & tricks
Check out the SQ4R reading system. SQ4R is designed to help students study their textbooks and apply reading and note taking skills.
Talk About It Tuesday is a weekly online meeting combining success tips and a space for first-year students to dialogue about their experience on campus. Join us on
Zoom: https://kutztown.zoom.us/j/94071460914
Meeting ID: 940 7146 0914
The Student Success Team is available to assist students with academic success strategies such as time management, test-taking and test anxiety, note-taking and textbook reading, especially in an online environment. Contact us at success@kutztown.edu.
STUDENT SUCCESS WORKSHOPS
All Student Success Workshops will be offered via Zoom. All attendees must use their KU email accounts and have their name displayed. The Zoom link for all workshops is: https://kutztown.zoom.us/j/97466499527
Meeting ID: 974 6649 9527
If you are unable to attend a workshop and need to complete it to meet a university requirement (e.g., Financial Aid, UEC Petition) you must contact success@kutztown.edu.
TOPIC

DAY

DATE

TIME

Successful Test Taking Strategies & Anxiety Management

TUES

9/22/2020

11 AM

Becoming a Resilient Golden Bear

TUES

9/29/2020

11 AM

Kick Chaos to the Curb: Time Management Strategies to Help You Succeed at KU

TUES

10/6/2020

11 AM

Be SMART about your Goals &

Success Strategies

TUES

10/13/2020

11 AM

Growth vs. Fixed Mindset

TUES

10/20/2020

11 AM
KU SUCCEED
KU Succeed is an academic recovery program for students that are no longer in good academic standing (Academic Warning or Probation). The program was designed to help students to return to good academic standing by providing a framework for academic success. This framework includes skill-building seminars, mentoring, and educational and personal advising.
The KU Succeed program strives to increase the retention and graduation rate of participating students by focusing on the needs of individual students and offering academic support, specialized advising, and other services. KU Succeed seeks to provide academic services and guidance to support skills and attitudes that have been proven beneficial to students in their pursuit of excellence at KU.
If you have any questions contact R. Chad Brown, Assistant Director for Retention & Student Success at cbrown@kutztown.edu.