Bear Essentials
Nov. 9, 2022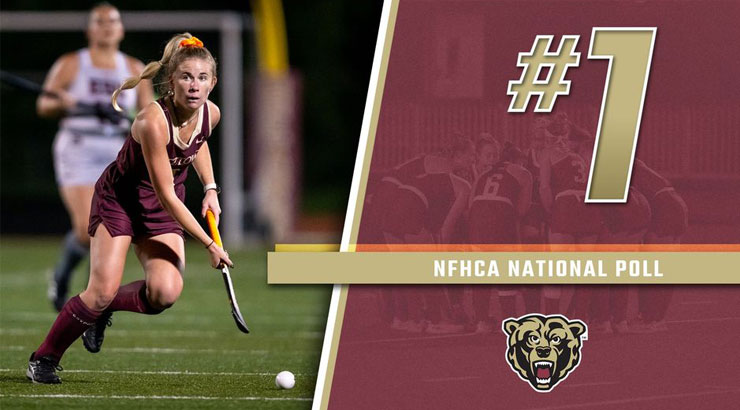 Field Hockey Earns No. 1 National Ranking
For the first time since 2007 and for just the second time in program history, the Kutztown University field hockey team is on top of NCAA Division II field hockey, earning the No. 1 ranking in this week's National Field Hockey Coaches Association poll. Kutztown will host the PSAC playoffs at Andre Reed Stadium, Nov. 18 and Nov. 20.
Veterans Awareness Week - Come out and participate in our events as we honor U.S. Military service members, veterans, and their families.
Enrollment and Certification Form - Reminder to submit your form for the Spring 2023 semester if you are using military benefits. This must be completed every semester.
Events
Wed. Nov. 9

Open Hour With Provost - 3 p.m. in Starbucks, McFarland Student Union. Students are invited to drop by and chat with the Provost, Dr. Lorin Basden Arnold, during her open office hour.
Writing Your Personal Statement - Learn the factors that go into applying to graduate school and writing the critical admission essay/personal statement at 6 p.m. via Zoom.

The Real Deal about Grad School - A Day in the Life of a Grad Student. Gain insight from KU grad students and faculty about what to expect in grad school. 7 p.m. via Zoom.

Thu. Nov. 10
Pack 4 an Impact Packing Party – At 4:30 p.m. in MSU 223 we will be packing period products that will be brought to a shelter. There will also be a presentation about period poverty.
Hot Chocolate, Chocolate Covered Pretzels - Join the Well-Being Committee at 1:30-3 p.m. at Sharadin Art Building for some sweet treats! Stick around to learn about our upcoming Get Lit 3.0 event.
One Hour Sweatpants Sale - There will be a sweatpants sale for one day and one hour only 11 a.m. to noon at the Campus Store and 7-8 p.m. at Dixon Marketplace.
The Washington Center for Internships - Find out more about interning in Washington, D.C. and the Washington Center at 11 a.m. via Zoom.

Career Development Mini-Workshop Marathon - Successful Interviewing 6 p.m.; Internship & Job Search Strategies 6:30 p.m.; Soft Skills: 7 p.m. via Zoom.
De-Stress and Decompress - Want a space to chat with other students or just hang out? Join us in the Fireside Lounge, MSU 205, from 11 a.m.-12 p.m.
Fri. Nov. 11
Study Abroad Information Session - Come visit us in MSU 116, the Mini-Auditorium from 10 a.m. - 11 a.m. to learn more about the study abroad process.
Feminist Friday - "All Hands on Deck!" Learn to play gin rummy, enjoy some tasty mocktails and wind down from the week with the Women's Center. 2 p.m. in Boxwood House.
Soft Skills: What Employers Want - Employers want you to have soft skills. What are soft skills you ask? Communication, professionalism, critical thinking and many more at via Zoom.

Women's Soccer NCAA Playoffs - Follow the NCAA Division II women's soccer playoffs, as KU plays Frostburg State at 12 p.m. in Erie, Pa. (Live Video | Live Stats)
Sat. Nov. 12
LGBTQ+ Weekly Book Cub - Join us at the LGBTQ+ Resource Center for the Weekly Book Club at 2 p.m. in Boxwood House.
Mon. Nov. 14
KU Print Center Open House - You don't want to miss out on experiencing the new machines, products, and staff! Join us in room 106 Academic Forum for info, snacks and gifts!
Bear Essentials Food Pantry Donation Drive and Raffle - Every five items donated to MSU 281 will be equivalent to one raffle entry. Looking for items such as deodorant, soap, toothpaste, boxed and canned foods.
Kutztown University NAMI Connections Meeting - NAMI Connection is a recovery support group program that offers respect, understanding, encouragement, and hope.
Graduate School Fair - Join us 1 - 3 p.m. for sessions with over 50+ registered schools about their graduate programs. Go to Handshake accounts then go to events. Please register for sessions.
Mini-Workshop Marathon - Writing Your Resume & Cover Letter 6pm; Designing Your Career Path 6:30 p.m.; Soft Skills: What Employers Want 7 p.m. via Zoom .
Tue. Nov. 15
Kutztown Study Abroad to Japan - Come discuss the possibility of a Summer 2024 study abroad program in Tokyo and Kyoto. Student input designing the program is needed. All majors welcome.
Get Stuffed on Savings Sale - Get stuffed on new apparel at KU Campus Store before fall break! Save 40% on apparel and gift, in-store and online. One day only, excludes other discounts.
GoinGlobal: Searching in the U.S. and Abroad - Learn about this internship and job search tool with over 16 million listings from the U.S. and around the world at 11 a.m. via Zoom.
Finances and Future Employment - Compensation is more than salary alone. Learn about forms of non-monetary compensation, the hidden costs of employment at 11 a.m. via Zoom.
Wed. Nov. 16
Open Hour with Provost - 11 a.m. in Old Main concourse. Students are invited to drop by and chat with the Provost, Dr. Lorin Basden Arnold, during her open office hour.
Study Abroad Information Table - Come visit us outside the Cub Cafe from 11:30 a.m.-12:30 p.m. to learn more about study abroad.
Harry Potter Trivia Night - Join us at 6 p.m. in MSU 183 to win your own Harry Potter themed prizes, make your own Harry Potter Stuff-a-plush Wizard Bear and play some trivia.
Designing Your Career Path - Learn to access the latest career info & resources and discover the value of career exploration in making informed career decisions at 3 p.m. in AF 101.

Day of Gratitude at Boxwood House - Join us 11 a.m. - 4 p.m. to take time out to express thanks and appreciation for those who support and inspire us, to celebrate ourselves and all we've accomplished this semester.
Men's Basket Ball vs Jefferson - 7 p.m. Keystone Arena.
Get Lit 3.0 - Join the Wellness committee from in a day full of fun activities, events, and celebration of Dr. McCargo.