Bear Essentials
Sept. 7, 2022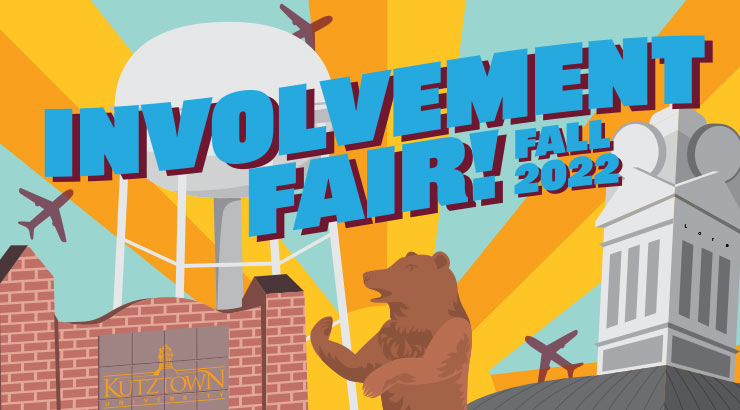 Involvement Fair - Sept. 8
Trying to get more involved on campus? Looking for more opportunities? Join us for the fall Involvement Fair! Taking place Thursday, Sept. 8, 4-7 p.m. in MSU 218
Spirit Court Nominations Open Sept. 12 - The Homecoming Spirit Court nomination window will run from Sept. 12-16. Student organizations can nominate one student to the court.
Find a #lytleduck - Be on the lookout Sept. 9-19 for #lytleducks around campus. Find one? Bring it to the Lytle Carnival on Sept. 20 and grab a prize!
JCPenney SUIT-UP Event - Save the date! Sunday Sept. 18, 2022- 4–7 p.m. at JCPenney at the Lehigh Valley Mall. Get up to 50% off professional clothing. Bring KU ID.
Events
Wed. Sept. 7

Coffee, Cookies and Careers - 11 a.m. - 1 p.m. Meet the Career Development Center staff on the Alumni Plaza. Let us introduce you to the services and resources we have to offer.
Open Hour with Provost - 3 p.m. in Old Main concourse. Students are invited to drop by and chat with the Provost, Dr. Lorin Basden Arnold, during her open office hour.

Is Your Major Right for You? - 3 p.m. Explore myths and facts about majors and careers and how you can narrow down options to make the best decision for your future. Stratton 116.

Senior KickOff - 7 p.m Walk Away with the knowledge, resources, and enthusiasm to finish strong at KU. Via Zoom.

Multicultural Center Diversity and Dessert - Join us for a fun Open House to kick off the semester!

Women's Center & LGBTQ+ Resource Center Open House - Join us at Boxwood House 3-6 p.m. The campus community is invited to tour our centers, meet our staff, and see all we have to offer at this festive event.

Walk with Wynnie - Meet at the president's patio at 5 p.m.
Its On Us: Take the Pledge - 3-6 p.m. at Boxwood House. Take the pledge and meet the E-Board at the Women's Center Open House.
Thu. Sept 8
Return to Campus - Meet faculty and staff, 11 a.m. - 1 p.m., Lawn area between Boehm, Library and MSU.
Plans for Success: Syllabus Mapping - 11 a.m. RL 28 - Come to the Library for expert help on how to plan for each of your classes based off it's syllabus.
First Allies Meeting of the Semester - 11 a.m. in Boxwood -Allies is a KU student club that seeks to advocate,educate, increase awareness, & provide a safe support network to the KU LGBTQIA+ Community.
Senior Kick Off! - 11 a.m. SR Kick-Off! Receive info and support you need to find employment/grad school success via Zoom!

Creating Your Personal Brand -What does your brand say about you? Learn how to create a brand during your college years that will appeal to future employers! 11a.m. via Zoom.
Coffee Break at Boxwood - Noon - Join the LGBTQ+ Resource Center for weekly coffee and conversations. Stay after the Allies meeting or stop in for a visit and enjoy some fellowship.
Fri. Sept. 9

Multi-Cultural Greek Council: STOMP - Join us at the Multicultural Center for a BBQ at 6 p.m. then to the Dixon Amphitheater for a stomp show at 7 p.m. Follow MGC on Instagram @KutztownMGC

Feminist Friday at Boxwood House - Join us at the Women's Center (Boxwood House) at 2p.m. - this week's theme is GROW YOUR OWN WAY!
Men's/Women's Tennis vs. Scranton - 4 p.m. Keystone courts
Sat. Sept. 10
Men's/Women's Tennis vs. Scranton - 11 a.m. Keystone courts
Football vs. California (Pa.) - 12 p.m. Andre Reed Stadium (Stats | Video | Audio)
Women's Soccer vs. Mansfield - 1 p.m. Keystone Field (Stats | Video)
Women's Volleyball vs. Caldwell - 4:30 p.m. Keystone Arena (Live Stats | Live Video)
Field Hockey vs. Frostburg State - 6 p.m. Andre Reed Stadium (Live Stats | Live Video)
Sun. Sept. 11
Catholic Mass - Every Sunday at 5 p.m. at the Saint Christopher Catholic Newman Center, 15207 Kutztown Road (across the street from Old Main).

Mon. Sept. 12

Astrology With Anna at Boxwood House - Join the Women's Center at 4 p.m. for a fun and interactive beginner introduction to discovering yourself through horoscope and zodiac signs.
Rape, Aggression and Defense (RAD) Training - Provided by Public Safety and Police Services. Free to female students. Sept. 12, 6 p.m. in Old Main, Room 22A and Sept. 13 & 15 in Old Main, Georgian Room. You must attend all three sessions to complete the RAD program. Email dsantos@kutztown.edu or call 610-683-4860 to sign up.
Tue. Sept. 13

Thinking About Grad School - 11 a.m. Heading to graduate school in the future? Learn how to ask the important questions and choose the right program for you & your future career! via zoom.

KU Study Abroad: Belize - Take a course in tropical Belize this winter and satisfy your GenEd C1/C3 requirement. Information session: 11 a.m. in Boehm Science Center, Rm107.

Great Grades Begin with Great Notes - An important skill needed for good grades is knowing how to take good notes. Come learn about the different styles and ways to take notes in AF 203 at 11 a.m.
LGBTQ+ Book Club - 2 p.m. at Boxwood House. Join us for a weekly book club here at the Center. We will select an LGBT author and themed book to enjoy and discuss together.

Its On Us - 5 p.m. to 8 p.m. in MSU 223 - Peer Educator Training.