Rental Vehicle Reservation - Pick Up at Enterprise Branch Location
Kutztown University is tax exempt, applicable taxes will be removed. Damage Waiver and Supplemental Liability Protection are included in the price. You must be 21 years of age or older to rent a car or minivan. You must be 25 years of age or older to rent a 12 or 15 passenger van.
Type the City, State, Airport, or Port of Call to locate the nearest Enterprise Branch Location
Enter Start month, day and time
Enter end month, day and time
Click on search button to select car rental class
Step 4
Pick a Vehicle
Click on select for approved car rental class
Step 5
Renter's Details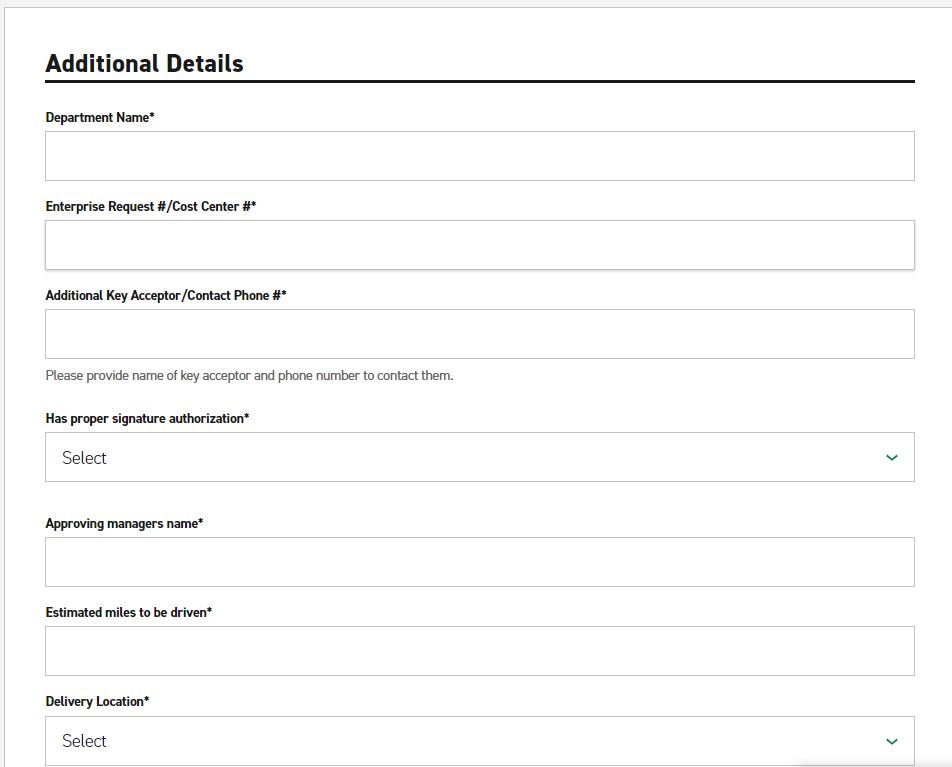 Enter main renter information
Name
E-Mail
Enterprise Rental Request Form Number/Cost Center
Department Name
This attests that you have gotten the proper signature authorization on your Enterprise Rental Request Form
Enter the name of the manager that signed your Enterprise Rental Request Form
Enter additional information now or at the time of rental
Click on Continue
Step 6
Verify Your Information and Book Your Rental
Review your reservation

Number of days reserved
Vehicle class
Total charges
Delivery to KU campus

Click on Book Now to make a reservation or click on Cancel Reservation to begin again
Step 7
Print the receipt and attach to your Enterprise Rental Request Form

Important Information about your Rental

MILEAGE IS UNLIMITED IN THESE STATES: PA, OH, WV, NY, NJ, DE, MA, CT, VT, NH, ME, VA, NC, SC, IL, KY, IN, MI. TRAVEL OUTSIDE OF THESE STATES IS 200 MILES FREE PER DAY WITH .25 ADDITIONAL MILES, FOR THE ENTIRE TRIP. MONTHLY RENTALS ARE CAPPED AT 3000 FREE MILES PER MONTH.
ALL DRIVERS MUST BE 21 YEARS OF AGE OR OLDER.
THERE WILL BE NO CHARGE FOR ADDITIONAL DRIVERS WHO ARE KUTZTOWN UNIVERSITY EMPLOYEES OR ARE THE SPOUSE OR DOMESTIC PARTNER OF THE RENTER.