Awards & News
congratulations Sasha-Lee '19!
Sasha-Lee Hayward '19 has been hired as an analyst within Goldman Sachs' Executive Office division in Dallas, TX. What an accomplishment! Congratulations Sasha-Lee!
congratulations hanna '20!
Hanna Templin '20 has landed a post grad job doing Reverse Engineering Consulting within Wells Fargo's Fixed Income divisions with a concentration on Asset Backed Securities in their NYC office. Congratulations to Hanna!
thank-you to our retiring faculty!
The Department of Business Administration announces the retirement of Dr. Keshav Gupta. Dr. Gupta joined the faculty in 1991. When he arrived, he found that the finance curriculum needed major revision. He quickly revamped the curriculum and since then has worked tirelessly with his colleagues on regular updates to ensure that the curriculum keeps pace with changes in the job market. Also during his nearly 30 years at KU, Dr. Gupta has served as an adviser to the FMA-affiliated Finance Club. He enjoyed working with students and helping them prepare for a successful job in finance. During his tenure at KU, Dr. Gupta served as chair to the Department of Accounting and Finance and later to the Department of Business Administration. His colleagues will miss hearing his pearls of wisdom during faculty meetings, as he had unparalleled attention to detail, and was always looking for ways to improve the functioning of the department to the benefit of all faculty and students.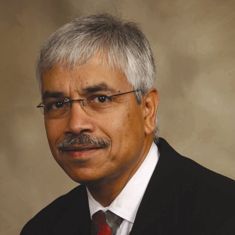 The Department of Business Administration announces the retirement of Professor Dave Wagaman. Professor Wagaman graduated in 1980 from Kutztown University with an accounting degree. After completing his masters in taxation at Drexel and a two-year stint at Deloitte as a tax accountant, Professor Wagaman joined the KU faculty in 1984. During his 36 years at KU, he cultivated and maintained an overflowing Rolodex of contacts, as he prided himself on helping his students network and find terrific job opportunities, often with one of the big four accounting firms. Each year as adviser to the Accounting Club, Professor Wagaman organized and hosted three important networking events: a golf outing for students and alumni; Meet the Firm Night for companies looking to hire our students; and an awards banquet in the spring for graduating seniors. In 2008, Professor Wagaman received the Wiesenberger Award for Excellence in Teaching. As a tribute to everything he has done for KU and his students through the years, the KU Foundation and accounting alumni have set up "The Dave Wagaman '80 Scholarship," that will provide support for students in perpetuity.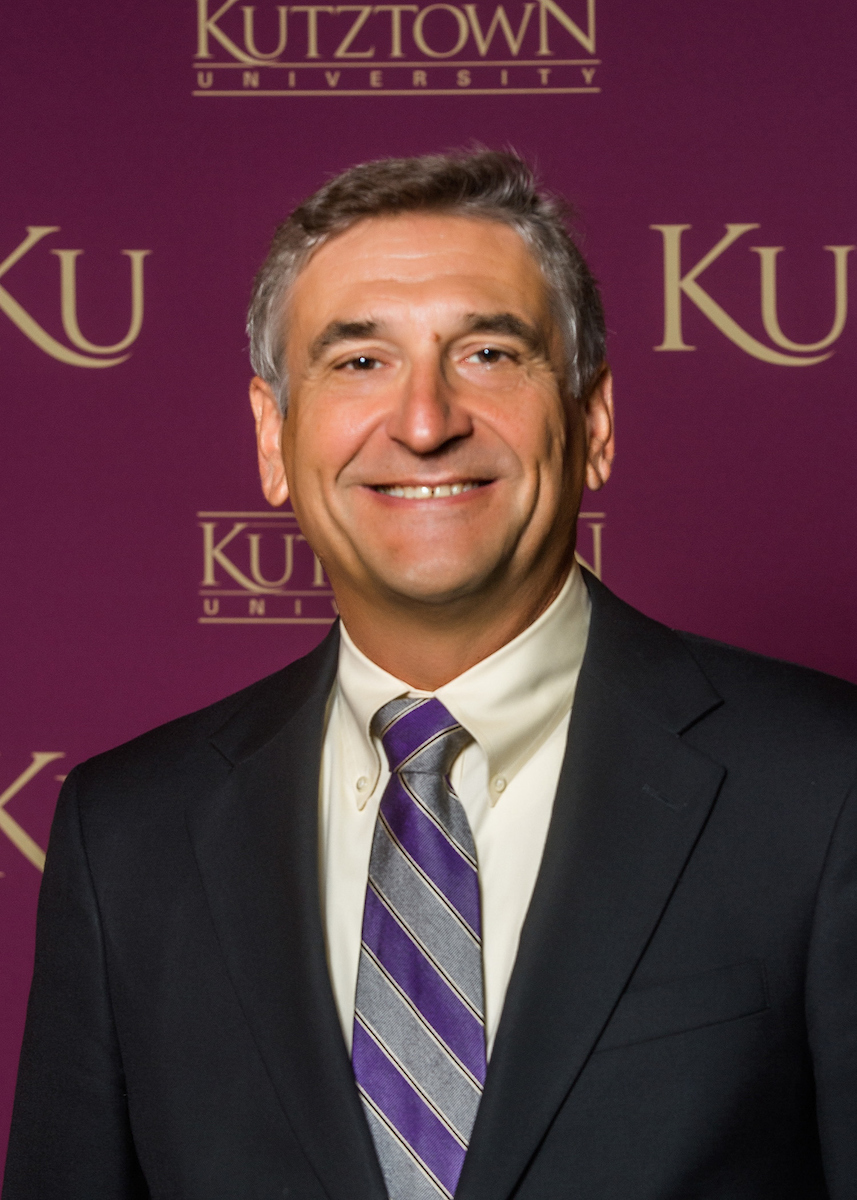 The Department of Business Administration announces the retirement of Professor Girma Zelleke, who joined the KU faculty in 1986 as a professor of economics. Faculty member Victor Massad commented: "Dr. Zelleke has a tendency to see things in an entirely different way than anyone else in the department sees them, and often raises issues that never occur to the rest of us." Dr. Zelleke was especially passionate about teaching and discussing African economics, Ethiopia in particular, and the Great Depression. After 34 years in the department his smile and dedication will be missed.
The Department of Business Administration announces the retirement of Professor Roger Hibbs, who joined the KU faculty in 1998 as a professor of management. Among his many accomplishments, Dr. Hibbs will be remembered for his leadership as department chair when the department pursued and successfully attained accreditation from the Association to Advance Collegiate Schools of Business (AACSB) in 2015. With popular support from the faculty, he returned as chair and again led the department as it pursued and successfully achieved reaccreditation five years later in early 2020. Faculty member John Walker commented, "The amount of work the faculty had to accomplish to transform the department from an average business program to an elite program was tremendous. Dr. Hibbs was a leader who could get you to work harder than you thought possible, while having a lot of laughter along the way." He also left his mark on incoming freshmen, as he took it on as his personal mission to inspire and prod students to dream big when it came to preparing for successful careers in business.
Financial Management Assoc. Student Chapter Achieves Superior Chapter Status
The KU Financial Management Association (FMA) Student Chapter has achieved the Superior Chapter designation for the 2019-2020 academic year. Of over 175 active FMA student chapters, less than 10% receive this honor each year. To earn the designation, the club completed a set of actions to encourage interaction between finance professionals, student and faculty, assisting in the professional, educational and social development of students interested in finance, banking and investments. The KU chapter is led by Hanna Templin, a Business Finance student who graduated this spring, and co-advised by Dr. John Walker and Dr. Keshav Gupta, both of the College of Business. View the certificate here.
The Finance Club hosts Jonathan Quezada of PPL

On March 2, 2020 Jonathan Quezada, from PPL Corporation, visited the Finance Club to discuss his transition out of college along with his journey into corporate finance.
(L-R) Phil Houseknecht, Nicole Garza, Stephen Steele, Evan-Eric Longino, Jonathan Quezada, Dr. Gupta, Hanna Templin, Kelly Slattery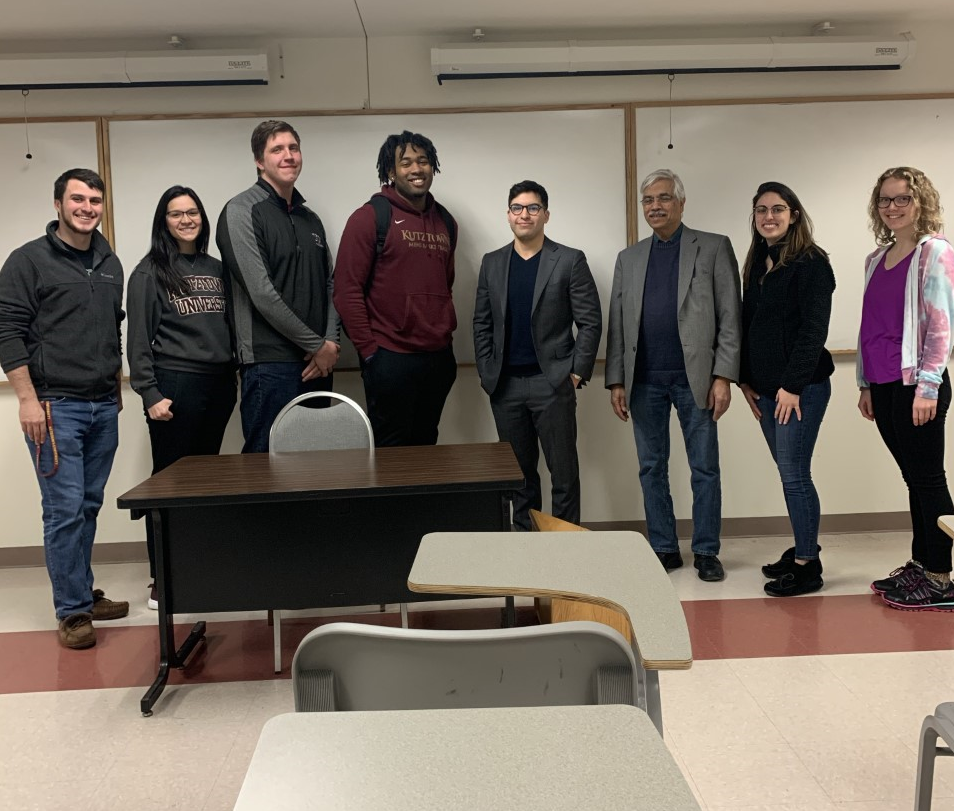 Fostering Future Supply Chain Professionals
On Monday, March 2, 2020 68 people (16 professionals, 6 faculty & Staff, 11 MBA students, and 35 undergraduate students) gathered in the McFarland Student Union building to provide the opportunity for students to learn about supply chain management and make connections with local supply chain professionals. This event was hosted by the Supply Chain Management Club and the Council of Supply Chain Management Professional's (CSCMP) Lehigh Valley Roundtable.
The Accounting Club hosts Lisa Frye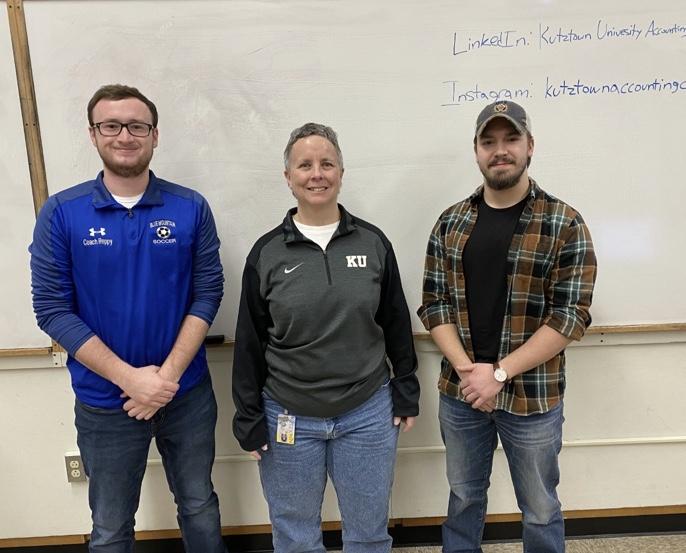 Kyle Reppy, Dr. Lisa Frye, Chris Waller.
On February 25, 2020 Dr. Lisa Frye, Chair of The Computer Science Department at Kutztown University, explained to the Accounting Club how to obtain an Information Technology minor as well as smart Computer Science courses to take as electives for Business students. The meeting concluded with Kyle Reppy and Christopher Waller discussing their experience with the IT minor and how it has paid dividends in obtaining internships and job opportunities.
The PFP Club visits

Milestone Financial LLC
On February 20, 2020, students enrolled in the Personal Financial Planning Capstone course, visited Milestone Financial LLC. and learned about career tracks in financial services from David S. Coult, CFP®, CLU®, ChFC®, CPFA, President of Milestone Financial Associates, LLC and Justin Miller (KU '10), CFA®, Chief Investment officer of Milestone Financial Associates, LLC.
KU's AMA hosts Sarah Ryland Raley, CEO of Social Seed Media LLC
On February 18, 2020 Sarah Ryland Raley, CEO of Social Seed Media LLC, provided valuable insight to Kutztown University's American Marketing Association. She discussed her career history along with the critical lessons she has learned being the CEO of her own company.
(L-R) Hannah Marx, Dylan Drager, Sarah Raley, Travis Stroup, Nicki Wolf.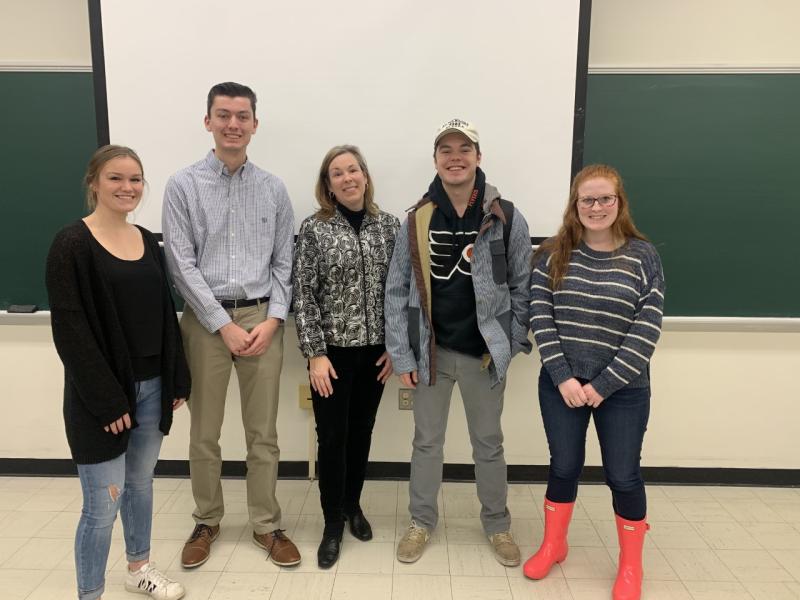 Featured Speaker- Scott Hartman of EY
On February 13, 2020 The College of Business and Accounting Club were excited to host the first COB Featured Speaker event of the semester. Scott Hartman is a Managing Director at EY. Scott talked to students about corporate vs. public accounting, the different services in public accounting, as well as different skillsets and mindsets to help set students up for success. Thank you for coming, Scott!
Top Row (L-R) Dr. Greg Kaufinger, Vince Sciortino, Prof. Dave Wagaman, Kyle Reppy, Jack Morgan. Bottom Row (L-R) Michael Pallanti, Matthew Achey, Scott Hartman, Jimmy Galiato, Philip Houseknecht, Chris Waller.
The Finance Club Hosts Jenith Jacob of Hamilton Lane
On February 6, 2020 the Finance Club hosted Jenith Jacob from Hamilton Lane, a private markets solutions provider, to discuss an overview of the private markets, as well as career guidance and the importance of internships.
(L-R) Nawaraj Panthi, Evan-Eric Longino, Stephen Steele (marketing officer), Jenith Jacob (guest speaker from Hamilton lane), Kelly Slattery, Hanna Templin, Dr. Keshav Gupta
The Accounting Club Hosts Shirley Claude of Surgent CPA Review
On February 2, 2020 The Accounting Club hosted Shirley Claude from Surgent CPA Review who provided valuable study and success tools.
Top Row (L-R) Michael Pallanti, James Galiato, Vince Sciortino, Kyle Reppy, Alex Vedral, prof. Dave Wagaman, Phil Houseknecht. Middle Row (L-R)Dr. Greg Kaufinger, Matthew Achey, Chris Waller. Bottom Row: Shirley Claude.
Featured Speaker- Chris Pruitt of East Penn Manufacturing
On November 21, 2019 Chris Pruitt, CEO and President of East Penn Manufacturing, shared the amazing history of Deka Batteries as it became East Penn Manufacturing Co., the largest single-site and privately-held battery company in the United States. Chris shared with students how important the founding family's values still are in creating one of the only manufacturing facilities to consistently win Forbes Best Places To Work in PA Award.
(L to R) Back Row: KU President Hawkinson, Chris Pruitt, Dean Carroll, Jack Gottlieb, Prof. Dave Wagaman. Front Row: Alyssa Riess, Philip Houseknecht, Matthew Achey.
Featured Speaker- Mike Rabinovitz of Hershey company
Mike Rabinovitz, the Senior Brand Manager at Hershey Company, delivered a candy filled talk on November 14, 2019. In addition to the bag of Hershey candies on every seat, Mike tossed 2 pound Reese's cups and Kitkat bars to audience members drawing delighted laughter while giving useful real-world advice about what a successful career path can look like post college. Mike, a former student of Dr. Therese Maskulka, emphasized that being a good fit in your job is often more rewarding then just the paycheck.
The finance club hosts Dirk Scheepers
On November 12, 2019 Dirk Scheepers, a 2010 KU alumni from the MBA, Finance and International Business programs, came to speak to the Finance Club about his experience while working in NYC and abroad. Dirk held positions as a bond broker and works with fixed income for multinational corporations based out of Europe. He also talked about bond yield spreads and the importance of investing at an early age.
Back row: Stephen Steele, Evan-Eric Longino, Dirk Sheepers, Dr. Walker, Dr. Gupta. Front row: Anees Mobin, Hanna Templin, Trever Smith
L to R: Hanna Templin, Dirk Scheepers, Chris Waller, Dr. Gupta
The marketing club hosts Krista Berardelli
Krista Berardelli 19', Marketing Coordinator for Lehigh Valley Airport, was a speaker at the American Marketing Association Club on October 24, 2019. She is a Kutztown alumni and the former president of KU AMA. She discussed her experience with AMA, career tips, what her job is like and what career opportunities are currently available at the airport.
(L to R back row) Hannah Marx, Nicki Wolf, Dr. Massad, Krista Berardelli, Dylan Drager. (L to R front row) Kayla Mills, Jenna Getz
COB research workshop 10/16/2019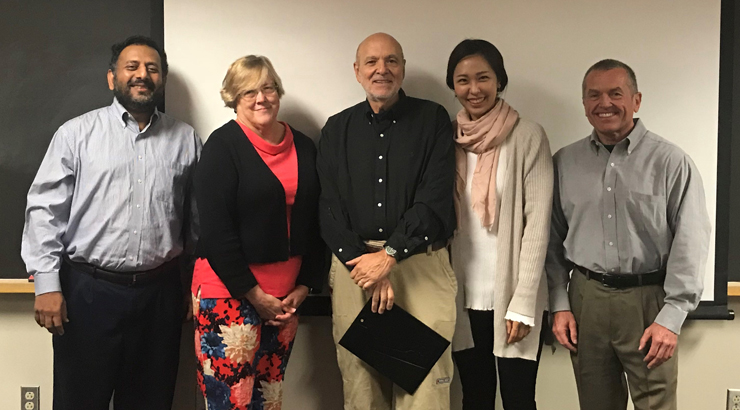 Drs. Victor Massad and Feisal Murshed present a workshop titled "Where Do Kutztown Students End Up After They Graduate? A Look at LinkedIn Data."
(L to R) Dr. Feisal Murshed, Dr. Therese Maskulka, Dr. Victor Massad, Dr. Eun Kang, Prof. Gerard Kelly
KU Alumni Allison Geist presents at conference
Allison Geist, operations support manager at NFI, asks the crowd who feels affected by the driver shortage. (Eleanor Lamb/Transport Topics)
Allison Geist '17, a KU College of Business alumni, graduated at the top of her Supply Chain Management minor class as well as earning her BSBA in Management & Marketing. After graduation, she became Operations Support Manager at NFI, a leading international third-party logistics provider. Allison presented at the Women in Trucking conference in Dallas, TX and was featured in a Transport Topics article. Dr. Gary Chao says "This is very encouraging. I will let my students know the trucking industry is not just for men."
Featured Speaker- Galen Woleslagle of GEODIS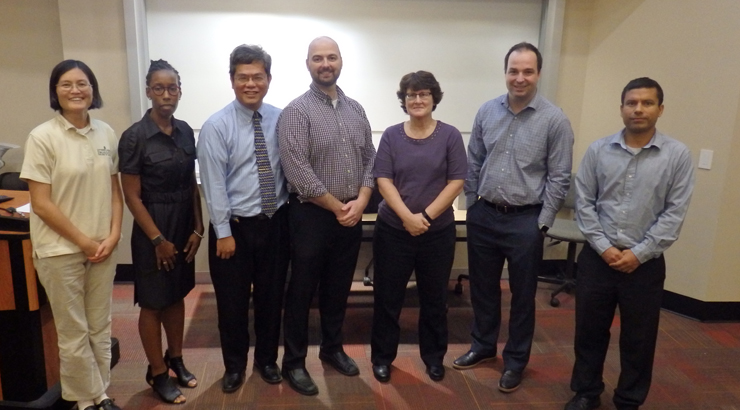 Galen Woleslagle, Featured Speaker
(L to R) Dr. Quin Geng, Assistant Dean Paige M. Brookins, Dr. Gary Chao, Galen Wolslagle, Assistant Dean Kim O'Neill, Dr. Muratcan Erkul, Dr. Rajeev Kumar.
On September 26th, 2019, Galen Woleslagle, the Director of Operations at GEODIS, a worldwide transport and logistics leader, presented Traits of Successful Leaders: Real World Advice For You to College of Business students and faculty.
During his presentation, Galen talked about warehousing and distribution, introduced GEODIS, discussed what makes good leadership, gave advice on how to grow as a leader and finished by answering questions from the audience.
Galen's tips to new graduates: set goals for yourselves, strive to learn everything, lead people efficiently and do not be afraid to ask questions.
COB research workshop 9/5/2019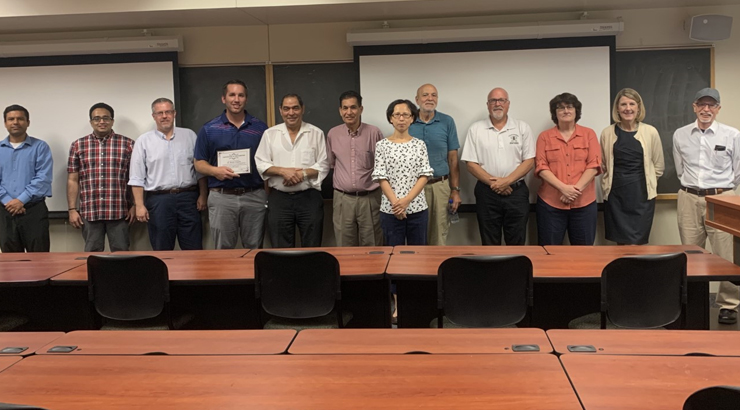 Dr. Brad Congelio, of the Sports Management Department, presents "Perhaps More Than Games: Using eSports as a Tool of Recruitment and Retention in Higher Education."
(L to R) Dr. Rajeev Kumar, Dr. Shyaam Thiruvadi, Dr. Greg Kaufinger, Dr. Brad Congelio, Dr. Mostafa Maksy, Dr. Abdul Sraiheen, Dr. Emma Hao, Dr. Vistor Massad, Dr. Scott Bradshaw, Assistant Dean Kim O'Neill, Prof. Elizabeth Rogol, Dr. Norm Sigmond