Bear Essentials
Sept. 21, 2022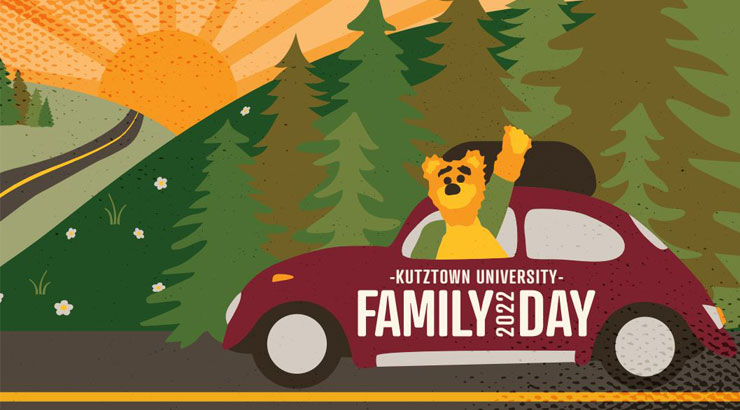 Family Day 2022!
Join us Sat. Sept. 24 in celebrating a day full of fun activities and events for students, parents, siblings and other family members.
Pick up your parking permit - Anyone that wishes to park a vehicle on campus MUST have a permit! Bring vehicle registration & driver's license.

Undergraduate Commencement Speaker - Commencement Speaker applications are being accepted from undergraduate students graduating this fall. Application deadline: Oct. 17.

Chancellor Visit - State System Chancellor Dan Greenstein will visit Thu. Sept. 29. An open forum will be held for the campus community 11 a.m. in 183 McFarland Student Union.
Request a Tutor - Tutoring Request Forms are available on your MyKU account under Academic Services. Email tutor@kutztown.edu if you have any questions.
Student Promotion from PSECU - Join PSECU to earn up to $250. It's free to open a checking and savings account. Visit the link for full rules and application.
Get Your KU Presents! and Football Tickets - Use your KU login, create an account & access discounted tickets to KU Presents!, a FREE TICKET to each regular season Football home game and more!
Employee of the Month - Now is the time to submit nominations for the September Employee of the Month.
Military and Veterans Career Certificate - For more information, visit our website.
Events
Wed. Sept. 21
Getting Centered: 8-Week Wheel Throwing Workshop - 6:30-8:30 p.m. Learn to create thoughtful pottery with Victoria Baron, Sept. 19 - Nov. 14. Cost: $125. Contact kuclayclub@gmail.org to sign up.
Open Hour With Provost - 3 p.m. in Old Main concourse. Students are invited to drop by and chat with the Provost, Dr. Lorin Basden Arnold, during her open office hour.
Study Abroad Information Session - Come visit us in MSU 116, the Mini-Auditorium from 11 a.m.-12 p.m. to learn more about the study abroad process.
Designing Your Career Path - Learn to access the latest career info & resources and discover the value of career exploration in making informed career decisions at 1 p.m. Via zoom.

Women's Soccer vs. West Chester - 7 p.m. Keystone Field (Live Stats | Live Video)
Thu. Sept 22
Council of Trustees Meeting - Committee meetings at 1:30 p.m.: Academic and Student Affairs 323 MSU, Finance, Property and Audit 322 MSU, Human Diversity 325 MSU, University Relations and Advancement 324 MSU. Plenary Session at 3 p.m. in MSU 250.
Coffee Break at Boxwood House - Join the LGBTQ+ Resource Center at 12 p.m. for weekly coffee and conversations. Stay after the Allies meeting or stop in for a visit and enjoy some fellowship.
Build a Buddy, Plant Day - Drop-In Wellness, 1-4 p.m., Health Center (Beck) Room 119, supplies provided.
Fall Fest - Kick off the Fall when you stop in KU Campus Store to spin the wheel for discounts and prices. Fall Fest is from 10 a.m. - 2 p.m. | Excludes other sales and discounts | In-store only.
Successful Interviewing (With Clark Associates) - 11 a.m. Jobs are WON in interviews. Find out what you must do before, during, and after your interview. Gain an advantage over the competition at 11 a.m. in AF 102.

Bearchella – 6 p.m. on the DMZ. Live performances, free food, yard games and photo booth. Rain location: South Dining Hall Room 1.
LGBTQ+ Resource Center Bisexual Visibility Week - Join us at Boxwood House 11 a.m. to 1 p.m. for our Bisexual Visibility Celebration including face painting, snacks, music and crafts.
Choosing a Major - Explore myths and facts about majors and careers and how you can narrow down options to make the best decision for your future at 11 a.m. Via Zoom.
Fri. Sept. 23

Gender and Sexual Minorities Conference Last Chance Call for Proposals - We are accepting program proposals until Friday, Sept. 23 for the Gender and Sexual Minorities Conference to be held on Oct. 7 at KU via Engage.
Feminist Friday at Boxwood House - Join us at the Women's Center (Boxwood House) at 2 p.m. - This week's theme - How To Be An Advocate.
Mental Fitness, Plant and Upcycle - MSU 218, 5-7 p.m.; bring a used mug/container and choose a plant, while supplies last.
Wisdom Drumming-Remo Health Rhythms - MSU 218, 7-9 p.m., Drumming Together, Synergy to Empowering, Instruments available for use.
Sat. Sept. 24
Family Day - Join us for a fun day of activities for the whole family. Featuring a large variety of events that you can pick and choose from.
Kick for Tuition Sign up - Stop by the KUSSI table in the MSU from 10 a.m. – 11:30 a.m. to sign up for the Kick for Tuition. One lucky family member will be selected to kick a field goal during halftime of Kutztown's Family Day football game for a chance to win a free semester of tuition for their KU Student. Must be present at MSU table for the drawing at 11:45 a.m. Event sponsored by KU Campus Store.
Family Day Sale - Shop our buy more, save more sale on apparel and gift while the whole family is on campus. $10 off $49 | $20 off $99 | $40 off $199. KU Campus Store hours 8 a.m. – 4 p.m. | Includes clearance | In-store only.
Football vs. Shepherd (Family Day) - 12 p.m. Andre Reed Stadium (Live Stats | Video | Radio) - Avoid the lines! Use your KU login, create an account & access a FREE TICKET to each regular season football home game.
Heemet Fescht - 11 a.m. - 4 p.m. at the Pa. German Cultural Heritage Center. Treat yourself to live music, traditional crafts, folklife demonstrations, hearth cooking, live animals, children's activities and much more.
Men's Tennis vs. Frostburg State - 1 p.m. Keystone Courts
Women's Tennis vs. Frostburg State - 1 p.m. Keystone Courts
Mon. Sept. 26

Soft Skills: What Employers Want - Employers want you to have soft skills. What are soft skills you ask? Communication, professionalism, critical thinking and many more. 3 p.m. via Zoom.
Tue. Sept. 27
Alive! Mental Health and Suicide Prevention Fair - 11 a.m. - 3 p.m. in MSU 218. IMAlive and Kutztown organizations will be hosting interactive tables and stations that focus on educating and discussing our mental health.
Maximizing Tutoring and Office Hours - Need help with a class? Come learn how to meet with your professors and sign up for a free tutor in AF 203 at 11 a.m.
Writing Your Resume & Cover Letter - Learn the basics on how to write your resume and cover letter to best market your skills and obtain that interview! 11 a.m. Via Zoom.
Wed. Sept. 28
Why Overturning Roe Matters: Panel Discussion Zoom - Join Women's Center via Zoom for the informative panel discussion on what happened when Roe was overturned & what it means for those seeking abortions in Pennsylvania.
Study Abroad Information Table - Come visit us outside the Cub Cafe from 11:30 a.m.-12:30 p.m. to learn more about study abroad.
Opportunity House Serving Lunch - Volunteer to serve lunch to the residents of Opportunity House from 10:30 a.m. to 1 p.m. Transportation provided.
Using Social Media in Your Job Search - Learn how to use Linkedin and other social media sites to boost your career prospects. 3 p.m. Via Zoom.