ARTIST SESSIONS
Strategies for Developing Narratives
Josh Miller
"Interactive Media as Narrative:- Gallery tour and teaching techniques."
As we curated the current gallery exhibition, we wanted to include pieces that focused on telling a story using various software tools, with the goal of creating a finished piece in diverse mediums. Consequently, projects range from projection to infographics, to physical artifacts, and more. This talk will contain a walkthrough of the current gallery, with background on the work and the process used to create the work. We will then explore the software and techniques that students can use to create similar interactive projects.
Cara Cotellese
"Constructing Narratives through the Lens of Electronic Media."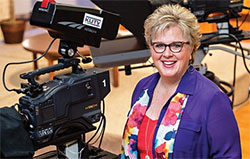 Creating a story using video is much like painting a picture. Video affords the producer a palette of tools including light, focus, angle and sound. Understanding and using these tools in terms of storytelling allows for endless possibilities. This session will showcase an exercise "Make It Scary" where students are asked to take an everyday action such as doing laundry and shoot the "story" of that action normally and shoot it again in a way that will make that action . . . . scary. This exercise focuses on the use of baseline production techniques and opens students' minds to deeper visualization in storytelling. Clips from horror movies and student projects will be part of this presentation.
Scott Meier
"Exploring Projector Mapping in Media Arts and Live Performance."
Projector mapping gives control of multiple video streams by using layers and flexible masking. Control of light can be used to design sophisticated multimedia installations utilizing LCD projectors and audio-visual software. This presentation will include live performance utilizing multiple projectors and surround sound. After which, discussion and demonstration will illuminate processes used to conceptualize and create the performance materials. The demonstration will include an example of a basic set-up and the creation of a mapped projection. There will be an opportunity to discuss possible creative applications.
Cayse Cheatham
"Teaching Animation to Kids"
Animation uses a convergence of disciplines that we teach our students in classes outside of art. Writing, animation is all about the story that is by most standards more important than the art. Math, film moves at 24 fps and the animator must use math to sync up the actions to the sound track. Science, in the physics of motion. How and why things move is a very important concept to understand when animating. And writing code when animating for games or the web. I personally believe that nothing motivates someone more than the desire to learn. Animation can provide that desire.
David Rogers
"3D Software For the High School Art Room"
3D software is a highly versatile visualization tool that can be used to great effect in developing concepts and finished artworks in the areas of sculpture, architecture, furniture, jewelry, product design, two-dimensional design and theater to name a few. The finished rendered image whether still or moving provides the designer and viewer with a clearly articulated design and the freedom to easily try multiple variations in form and materials, something a clay or cardboard mockup could not accomplish. Unfortunately, 3d software has a reputation of being expensive and difficult to learn so I will be covering a powerful software that is provided free to educational institutions and students and learning platforms that will support every step of the learning process.
Leigh Kane
"Visionaries in Hollywood"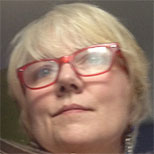 Mainstream moving-making is continuously re-invented and re-invigorated by the imaginative innovations of avant-garde filmmakers. David Lynch, Jane Campion, Todd Haynes, Michel Gondry and Miranda July began their careers making art and experimental films before finding success in Hollywood. We'll look at clips from their edgy, early work and find connections in their well-funded film industry productions.