Undergraduate Research & Creativity (UGRC)
WHY Undergraduate Research and Creativity? (UGRC)
"Undergraduate research has given me the opportunity to connect classic literature to a relevant issue today. Presenting at conferences has given me additional confidence."
Noel Fedeli, Secondary Education German
2019 Association of American Geographers Annual Meeting
Marie Smoyer presents at the Association of American Geographers Annual Meeting in 2019.
Special Education Students Present Poster at CEC 2021
Special Education majors Rebecca Deller, Maggie McFadden, and Madison Dailey (supervised by Professor Kyleigh Ivory) present their poster titled "A Review of Educational Supports for Students with Chronic Health Conditions Requiring Extended and Frequent Hospitalization" at the 2021 Council for Exceptional Children Virtual Conference.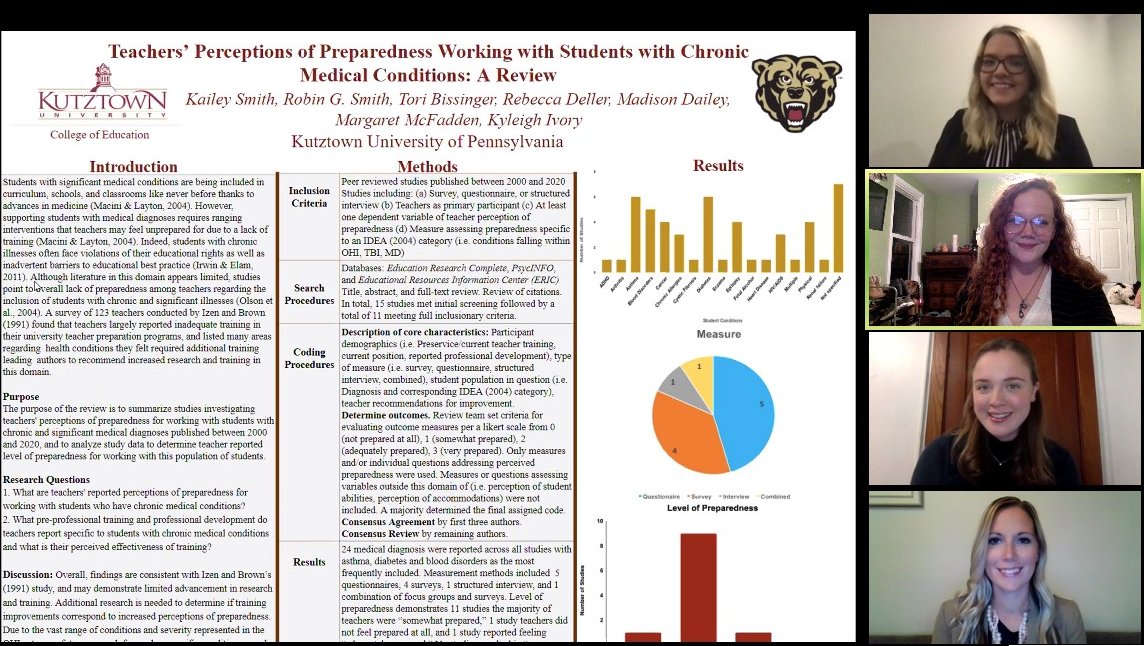 Students Present Poster at TASH Conference
Special Education majors Kailey Smith, Robin Smith, and Tori Bissinger (supervised by Professor Kyleigh Ivory) present their poster titled "Teachers' Perceptions of Preparedness Working with Students with Chronic Medical Conditions: A Review" at the 2020 TASH Conference.
Students Exhibit Original Work at the Eckhaus
Eckhaus is a student-run art gallery. Students work with the Kutztown community to present, local, regional, international, faculty, alumni, and student work in all mediums.
Analyzing DNA by gel electrophoresis
A student loads DNA samples on an agarose gel as part of a project to create modified apoptosis (programmed cell death) proteins.
KU English Student Takes Top Prize
Ariel Jennings was awarded the "Best Paper" Prize at the LVAIC Women & Gender Studies Conference for her paper "Bitches Be Crazy: Searching for Diversity in the Domestic Thriller."
Kutztown University Archaeology Field School
Tabitha Martinez (l) and Dani Cannon (r) identify an artifact discovered while excavating in the Stoddart Mansion at Stoddartsville, a 19th-century milling village in northeast Pennsylvania that is the current site of the Kutztown University Archaeology Field School.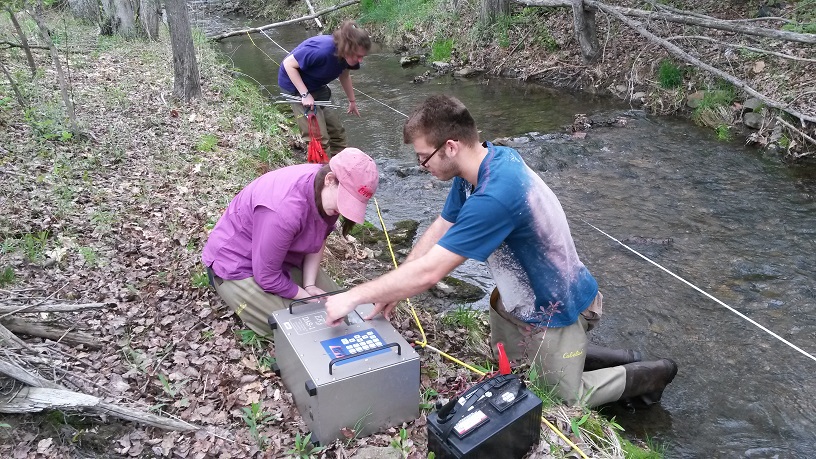 Resistivity Survey of West Creek in Schuylkill Watershed
KU undergraduate students Sebastien Treciak, Alexandra Racosky, and Emily Snyder set up a resistivity survey line in West Creek of the Schuylkill Watershed to pinpoint zones of seepage that will be targeted by local watershed groups for remediation efforts against the large scale abandoned mine drainage problems that exist in that area.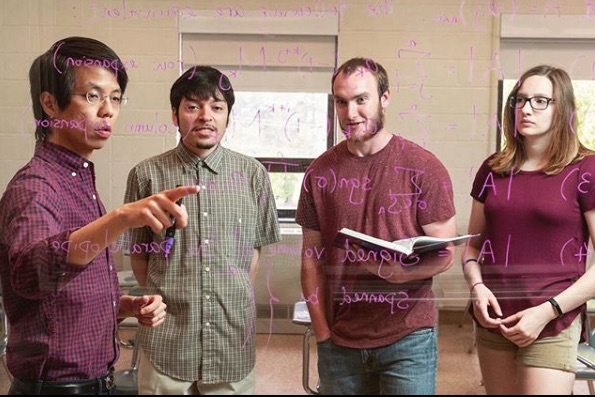 Dr. Wong Champions Undergraduate Research
Dr. Tony Wong, associate professor of mathematics, consistently works with students on developing research ideas that students go on to present at regional or national conferences.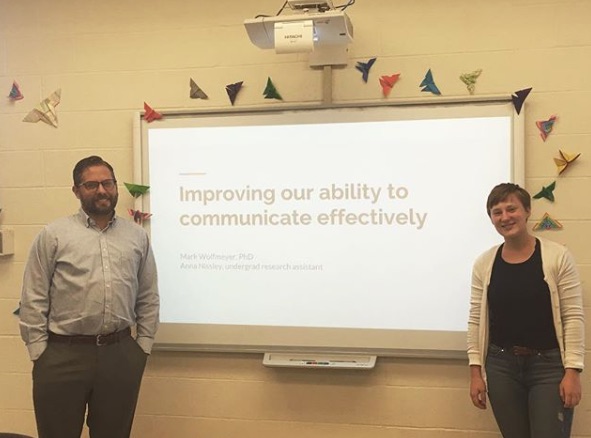 Student/Faculty Research Team
Dr. Mark Wolfmeyer mentored Anna Nissley, Secondary Education Spanish, on her presentation at the American Educational Studies Association.
Researching Gender Bias in the Middle School Classroom
James Durham and Jenna Plump, Middle-Level Education, discuss their research with their faculty mentor, Carol Watson. The team is investigating gender bias in the middle school classroom with an emphasis on student voices.
Student Advocates for Undergraduate Research
Victoria Salazar, BS Chemistry BA German, speaks to students in classes about the value of participating in undergraduate research and creativity conferences.
Student Researches PA German Cartoon
Erica Cohen Hamilton, Anthropology, is conducting original research on a Pennsylvania German cartoon, Pumpernickel Bill, that ran in the Morning Call newspaper.
Fedeli Wins Honorable Mention Prize
Noel Fedeli, Secondary Education German, presented at KUs Council on Human Diversity Conference and then went on to present at the Lehigh Valley Association of Independent Colleges German Studies Conference, where she won an honorable mention prize for her project #metoo .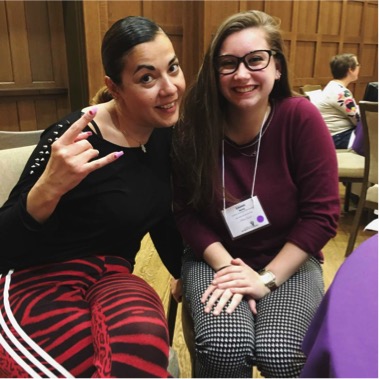 Student Interviews Controversial Turkish-German Rap Artist
Lauren Verna, Secondary Education German, had the opportunity to meet and interview rap artist Lady Bitch Ray aka Reyhan Sahin, at the Women in German conference at the University of the South.
2018 AMERICAN ASSOCIATION OF GEOGRAPHERS MIDDLE STATES DIVISION
Emily Cantor presents at the American Association of Geographers Middle States Division Annual Meeting in 2018.