For Faculty
The CDC looks forward to working with you to address the career development needs of all Kutztown University students!
Your role as a faculty member is an important one. Your support and encouragement will continue to be important as students commit to their chosen majors, explore career options through externships (job shadowing) and internships, make decisions about graduate/professional school and begin the job search process.
How You Can Help:
Emphasize the importance of career planning and development beginning in the first year.
Help students connect with the CDC through participation in scheduled events and classroom presentations.
Emphasize the importance of 1) good grades and 2) related experience (part-time job, volunteer work, job shadowing, research experience and internship) 3) taking advantage of CDC resources, services, and special events. See Schedule of Events.

Refer students who express concerns about choice of major or career to the CDC for assistance.
Partner with the CDC when working with employers to provide students with access to available internship and job opportunities in accordance with The National Association of Colleges and Employers (NACE), Principles for Professional Practice.
Incorporate one of the Career Readiness certificates into your course curriculum. Below is a video of how one KU professor uses our certificates.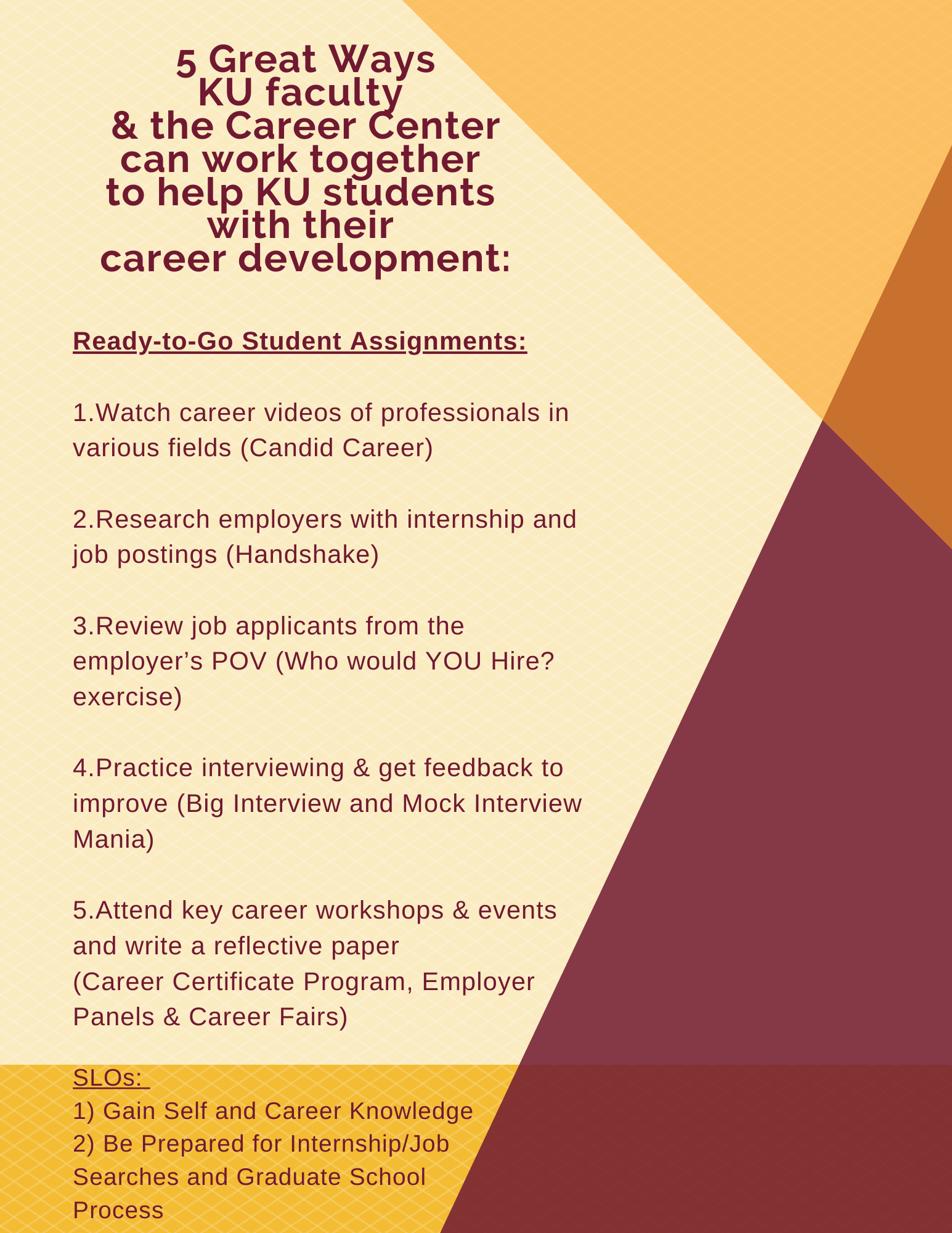 If you're interested in Handshake and how students use it, please check out the below video from our Assistant Director, Chad Ganley, on Handshake.
If you would then like to set up a test account to experience the value and help spread the word about Handshake to your students...
Register a student account on https://kutztown.joinhandshake.com/register - Edit the name of the account so it is clear to employers this is a staff account (ex. "Albus (University Staff) Dumbledore")
Complete your profile- Keep your representative student population in mind to see the most relevant postings. Handshake will start to recommend jobs and data for any student account based on their profile details (major, etc.)
A team member from our office will then approve your registration request- from there you can then explore thousands of opportunities that are tailored to your students' interests!