2023 Chambliss Student Academic Achievement Award Winners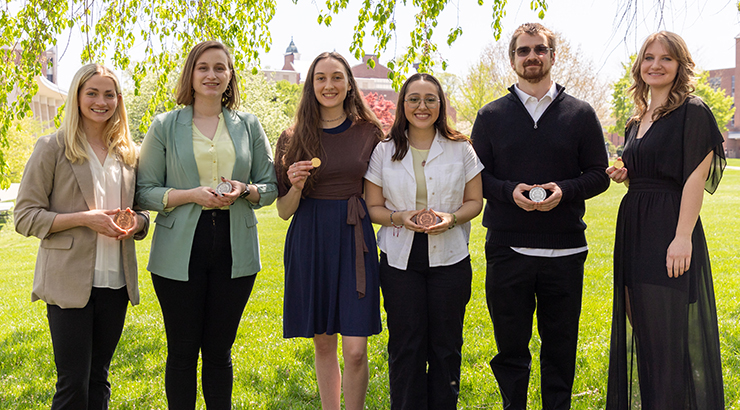 (L to R): Gracie McKee, Corinne Deichmeister, Lauren Murphy, Emelly Tiburcio, Zachary Raup, Emma Smith.
KUTZTOWN, Pa. – Kutztown University presented the Chambliss Student Academic Achievement Awards to six accomplished students Friday, April 21. Students who received awards were nominated by staff and faculty members for meeting one or more of the six areas of achievement: successfully completed research projects, high-quality original artwork, high-quality artistic performances (music, chorus, drama, etc.), original writing in literature or meritorious writing in other fields, noteworthy achievements in athletics, and outstanding service to the KU community.
The Academic Achievement Awards were established in 2004 through a donation provided by Dr. Carlson Chambliss, KU professor of astronomy from 1970-2003. The purpose of the awards is to recognize the exceptional individual achievements of a select group of KU graduating seniors. Specially designed coin medallions of gold, silver and copper were presented to the students.
Lauren Murphy - Gold
Lauren Murphy is a physics major on an astronomy track graduating in May from Plymouth, Mass. She was awarded the Chambliss Academic Gold Medal for successfully completed research project. Murphy began work on her projects in Fall 2020. She has been involved in numerous astrophysics research projects, yielding two peer-reviewed papers and two presentations at a national conference. She has worked on an exoplanet discovery project funded by the National Science Foundation using the C.R. Chambliss Astronomical Observatory on KU's campus and served as a research assistant at the MINVERA-Australis/Mt. Kent Observatory in Australia during the summer of 2022.
Murphy's research is in collaboration with NASA's Transiting Exoplanet Survey Satellite mission and the TESS Follow-up Observing Program working group. Her work contributed to the discovery of eight new exoplanets orbiting nearby bright stars, resulting in a co-authorship on more than two peer-reviewed publications. She presented her research contributions as lead author at the American Astronomical Society's 241st meeting this past January. In addition, Murphy has received several honors including being selected to participate in the National Science Foundation research program, elected and serves as president of KU's chapter of the Society of Physics Students, awarded a research grant from the KU Undergraduate Research Fund and recognized as a "stand-out student" by the College of Liberal Arts and Sciences. For more than three years, she has fulfilled the role of student planetarium assistant at KU, during which she has given countless public presentations. Murphy aspires to pursue a career in an astronomy-related field by earning a graduate degree.
Emma Smith - Gold
Emma Smith is a communication design major graduating in May from Martinsburg, Pa. She was awarded the Chambliss Academic Gold Medal for original artwork of high quality. Smith is a talented scholar who possesses versatile design skills, with a particular emphasis on interactive storytelling across media. Smith has been an asset to the Department of Art and Design, holding multiple positions that contribute to its smooth operation and recruitment efforts. She has held multiple roles within the team, serving as a social media coordinator, Sharadin print lab worker and online tutor for her peers. She provided guidance on topics like coding, design and motion graphics. Smith has achieved several academic honors and awards during her time at KU, including being on the Dean's List from 2019 to 2022. She has also been awarded the College of Visual and Performing Arts Dean's Excellence Scholarship in 2023 and the Golden Bear Platinum Scholarship from Fall 2019 to Spring 2023, as well as being a member of the Honors Program.
Her creative work has been recognized through various platforms, including being featured in the AIGA Philadelphia Locally Sourced Publication and the Essence Fine Art and Literary Magazine. National and international recognition includes two honorable mentions from Graphis, a prestigious annual design publication; a National Gold ADDY Award from the American Advertising Federation for UX/UI Design; a Best in Show ADDY Award for Animation from the AAF Greater Lehigh Valley, a Gold ADDY Award for cross-platform campaigns; and a silver ADDY Award for cross-platform campaigns. Other work has also been recognized by the University and College Designers Association and AIGA Flux. Smith has actively pursued every opportunity for travel with KU and was selected to travel abroad at other universities. She spent several weeks with the KU London Program and traveled with students and professors around Italy to study fine art and art history. She plans to travel with the KU faculty-led program to Ireland this summer. Her drive to explore new places and cultures has enhanced the quality of her projects and bolstered her professional goals. Smith's achievements are essential in shaping her aspirations to be a constantly evolving and dynamic individual.
Corinne Deichmeister - Silver
Corinne Deichmeister is an art and design major and art history minor graduating in May from Whitehall, Pa. She was awarded the Chambliss Academic Silver Medal for original artwork of high quality. Deichmeister has won numerous accolades for her award-winning design work, showcasing a thoughtful and conceptual approach. Deichmeister has successfully managed her academic and extracurricular responsibilities, including founding and presiding over the KU Image Making Club and serving as the acting vice president of the KU American Institute of Graphic Arts student chapter. She has also collaborated with the assistant director of University Marketing to create marketing materials, while excelling as the head monitor in the 2D IDEA lab and hosting workshops.
Deichmeister has been named a runner-up in the Creative Quarterly Summer 2023 competition, a finalist in the 2022 AIGA Flux Competition and has received several honorable mentions, including the UCDA Poster Moving Forward Competition and Graphic New Talent Annual. She is currently interning with Meris, Inc., a marketing firm located in Bethlehem, Pa., and plans to pursue a career in communication design while continuing her artistic pursuits in image making and printmaking.
Zachary Raup – Silver
Zachary Raup is from Danville, Pa., and graduated summa cum laude in December with degrees in physics and astronomy. He was awarded the Chambliss Academic Silver Medal for successfully completed research project. As a transfer to KU, Raup was immediately recruited by Dr. Phillip Reed to join a research program funded by a National Science Foundation grant on exoplanet discovery. He worked at the C.R. Chambliss Astronomical Observatory as an active member of the TESS Follow-Up Observing Program working group, confirming the TESS exoplanet transit signals for three new TESS Objects of Interests. This allowed TESS to expand on the observations to more costly instruments that can measure the masses of planet candidates. Raup presented his findings as the lead author at the 241st meeting of the American Astronomical Society in Seattle in January 2023. He also worked as a research assistant with Dr. Robert Wittenwyer at the USQ and the MINERVA-Australis/Mt. Kent Observatory in Australia, where he built a working spectrograph for one of their auxiliary telescopes and participated in a project to refine the orbital parameters of known exoplanets using new TESS data.
Being chosen to take part in a research program funded by the National Science Foundation and receiving a research grant from KU's Undergraduate Research Fund is a significant achievement for Raup. Upon graduation, he remains focused on continuing graduation while working as a biomedical lab technician.
Gracie McKee – Copper
Gracie McKee is a business administration marketing major graduating in May from Gilbertsville, Pa. She was awarded the Chambliss Academic Copper Medal for noteworthy achievements in athletics. The records of KU's women's swimming team show that McKee has been one of the most outstanding swimmers the school has seen in recent years. A standout student-athlete, she has set school records in three individual events and is listed in the school's top-10 for four other events and one relay. At the PSAC Championships in February, McKee became KU's first PSAC champion since 2010, winning the 200-yard backstroke. In addition to these achievements, she earned a silver medal for the 100-yard backstroke and a bronze medal for the 100-yard butterfly during the same championship meet.
McKee has earned multiple academic awards and accolades, demonstrating her commitment to excellence in both academics and athletics. She has been recognized as a two-time PSAC Scholar-Athlete. Additionally, she received the D2ADA Academic Achievement Award and has been named to the Dean's List four times. McKee's commitment to achieving personal and team goals makes her a valuable asset, both in and out of the pool. Her outstanding academic achievements complement her impressive athletic accomplishments, embodying the ideal of the student-athlete. She plans to use an extra year of eligibility due to COVID-19, swim in her final season next year and begin her graduate studies in the fall.
Emelly Tiburcio - Copper
Emelly Tiburcio is from Sinking Spring, Pa., earned a Bachelor of Science in chemistry in May 2022 and will earn her second bachelor's degree this May as a physics major on the astronomy track. She was awarded the Chambliss Academic Copper Medal for successfully completed research project. While most students in this field were focused on exoplanet work, Tiburcio expressed interest in studying a particular type of binary star system. The project builds upon work done by renowned expert on Algol-type binary stars, Dr. Mercedes Richards. Tiburcio studied the KU Cygni system, a long-period Algol-type binary system, and found that its accretion disk can vary significantly over a short timescale. She used the C.R. Chambliss Astronomical Observatory to collect data and her presentation of her findings at the American Astronomical Society meeting generated a great deal of interest. She was subsequently offered a position in the graduate program at Louisiana State University to continue her research. The findings from Tiburcio's work will likely be referenced for years to come.
Tiburcio also received funding from the National Science Foundation and was granted a research award from the KU Undergraduate Research Fund, a prestigious distinction. She aims to pursue a graduate degree and establish a career in a field of science connected to astronomy.