Drezek Named KU Chief of Police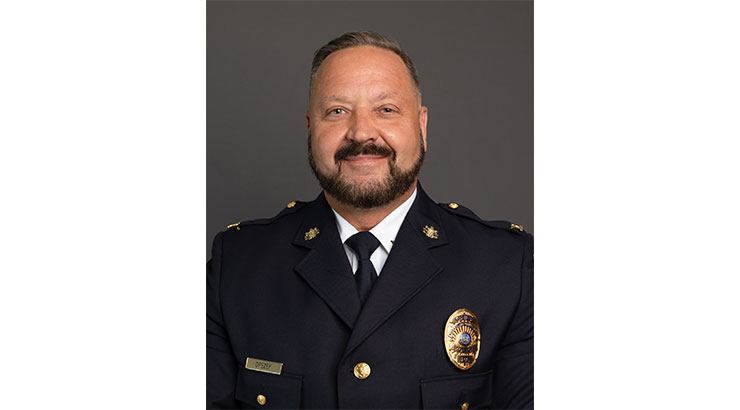 KUTZTOWN, Pa. – David Drezek has been named chief of police at Kutztown University following a nationwide search. Drezek served as the university's interim chief since January and was KU's deputy chief since 2018.
"I am pleased with the experience David brings to the position and his dedication to the mission of KU as an institution of higher learning," said Dr. Kenneth S. Hawkinson, Kutztown University president. "Dave has strong support from many members of the university community, which made him an ideal candidate for the position."
Drezek, a law enforcement veteran with 29 years of service, replaces longtime chief John Dillon, who retired after 32 years at KU. The appointment makes Drezek the fourth chief of police at Kutztown University since the university's police department was established in 1979.
"I am humbled and honored to be selected as chief," Drezek said. "I look forward to working with the campus community and all stakeholders and building on the continued progress of delivering a professional department with its foundation rooted in respect for all."
Drezek joined Kutztown University Public Safety and Police Services in June 2018. He has held command level, executive leadership roles in both municipal and campus law enforcement. He previously served the Town of North Providence (Rhode Island) in numerous law enforcement roles over his 21.5-year career. His experience includes assignments in Investigative Unit, Uniform Patrol and Support Services with his partner K9 Ikarus. He retired holding the rank of Detective Lieutenant, where he earned a high level of loyalty from staff. Prior to his appointment at KU in 2018, Drezek also served as a Lieutenant for the Worcester State University Police Department (Massachusetts), during which he managed the day-to-day operations of the Second Watch Division.
"We are very happy to appoint David to the permanent position of Kutztown University's chief of police," said Jesus Peña, vice president for Equity, Compliance and liaison for Legal Affairs. "Dave has shown a strong commitment to KU since he joined the force as deputy chief in 2018 and has maintained the quality and service we expect in his role as interim chief. I know that he will carry that tradition of excellence forward as the university's permanent chief of police."
Drezek holds a bachelor's and is completing his master's degree in criminal justice studies from Roger Williams University. He is a graduate of the prestigious Northwestern University School of Police Staff and Command #471, FBI-LEEDA Trilogy Series and the Penn State POLEX Executive Development Program. Drezek is the co-chair of the KU Emergency Management Team and sits on multiple KU committees. He is an ALICE Instructor and holds multiple FEMA certifications. Drezek is deeply committed to the advancement of the policing profession and his professional memberships include the Berks County Police Chiefs Association, International Association of Campus Law Enforcement Administrators and International Association of Chiefs of Police (IACP).
Drezek is a resident of Blandon, Pa. He is the proud father of Madison and Marissa Drezek, who both attend the University of Rhode Island.