Mishra Named KU Employee of the Month for February 2023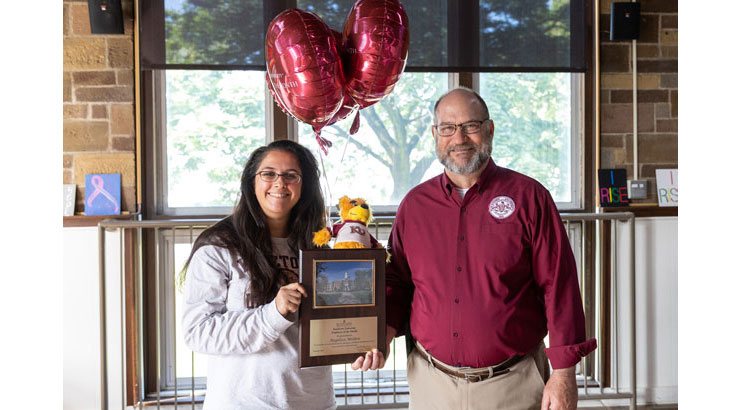 KUTZTOWN, Pa. – Congratulations to Angelica Mishra, assistant to the associate dean, Office of Inclusion & Outreach, on being named Kutztown University Employee of the Month for February 2023.
Mishra received nominations from Jerry Schearer, Bilal Salaam, Melinda Quiñones-Arias, graduate students, and Amanda Garcia. Their nominations read:
"Angelica interacts with so many people around the university and it is always in a professional way. Whether she is helping a student, seeking answers about a policy or financial issue, or helping to plan a program she treats everyone with respect, kindness and enthusiasm. She works with students, staff, faculty, as well as parents, PASSHE staff and public partners of the MCC. Everyone comments how friendly and helpful she is.
"Angelica has been the glue holding together so many projects, mostly behind the scenes. In addition to the administrative and fiscal tasks associated with my office - she also helps support the Multicultural Center with those tasks along with student employment and many other things. She supports anyone who uses the MCC for events and activities by being sure they have the space, resources and staffing needed. She has also helped behind the scenes for many projects like a huge update and enhancement to the DIVERSITY WORKS @ KU webpage, assisting with the Get Inclusive DEI training for students, support with events like the Diversity Conference, FDI open house, Diversity Council events and much more. She has stepped in to help the Veterans Center with many of their administrative and fiscal needs when without administrative support. Especially since taking on the role of interim assistant vice president and dean of students, I could not do what I do for the CDO side of things without Angelica. She deserves recognition for all the behind the scenes things she does to support the many DEI efforts on this campus.
"Angelica made the move to Kutztown without knowing much about KU. But since arriving, she had become part of the fabric of the KU family. She fully exemplifies the Golden Bear Rule; she is dedicated to the success and the mission of Kutztown University, the office of Chief Diversity Officer and the Multicultural Center. Therefore, I highly recommend and nominate Angelica for Employee of the Month." -- Jerry Schearer, chief diversity officer, interim assistant vice president and dean of students.
"Angelica embodies the vision and mission of Kutztown University unlike anyone else I've seen as building manager. She's resilient, caring and empathetic. She has the temperance to deal with people from all walks of life and transcends her position to lead when necessary and does so with a warm, welcoming and positive attitude. If there was one individual I'd want to meet first on campus, it would be her. Her upbeat spirit and personality are rivaled by her work ethic and attention to detail. It is with great pleasure and honor that I nominate Angelica for employee of the month. The job she continues to do in the absence of the director of the Multicultural Center should be applauded and recognized. I thank her for being a part of my journey at Kutztown University. She may not yet know how special she truly is and the impact she has on others, but I think this would be a great start." -- Bilal Salaam, athletic diversity and inclusion officer.
"I have worked with many phenomenal people; Angelica is at the top of this list. When hired, we (Jerry and I) knew she would be an excellent addition to our department. Moreover, she is one of my most trusted colleagues. She is a support to all. Angelica is the best representation of dedication, kindness, empathy and talent. I could not have asked for a better person by my side, running the Multicultural Center. Her importance in creating a positive environment for students and our professional staff is immeasurable. I am inspired by her selfless nature and her calm strength. She makes the MCC a more inclusive and inviting place to work. Thank you, Angelica. You are a star." -- Melinda Quiñones-Arias, director of Multicultural Services, Multicultural Center.
"Angelica Mishra, the assistant to senior associate dean/chief diversity officer and office manager in the MCC goes above and beyond acting in her professional role. She is personable, empathetic and an engaging leader. The welcoming face of the Multicultural Center, Angelica's kindness has no bounds. Anyone who enters the building during her office hours will be welcomed with her engaging smile and willingness to assist. Angelica amplifies the diversity not only in the center but across the campus with multicultural competence and her pursuit for ongoing learning and professional development. She is able to balance her professional duties while continuing to advocate for students, staff and topics that she is passionate about. Angelica is a resilient leader and helps to lead the staff at the Multicultural Center while taking on roles to ensure that the students are heard, safe and advocated for. She gives full support to the programs facilitated by the center and other organizations. There is no one award enough to recognize Angelica Mishra's accomplishments and contributions, however, she is all deserving of employee of the month." -- Abdiel Cruz, Mirialy Valle and Emonie Reviere, Multicultural Center graduate assistants.
"Since my time in the MCC serving as the acting director, Angelica has been instrumental in the seamless transition in Melinda's absence. Angelica is always readily available to assist with anything that arises, she always displays such positivity, and has an immeasurable ability to make each and every person who walks through the doors of the MCC feel welcomed and appreciated." -- Amanda Garcia, acting director of the MCC.
Nominations are collected from students, faculty and staff, and the Employee of the Month is selected by the Human Resources Advisory Council. A winner will be selected each month, and out of the 12 monthly winners one will be selected as Employee of the Year. The Employee of the Month will receive a plaque, reserved parking and a $100 monetary gift sponsored by President Hawkinson.
For more information on the award or to nominate someone, please visit the KU human resources website.