Schuck Named KU Employee of the Month for November 2022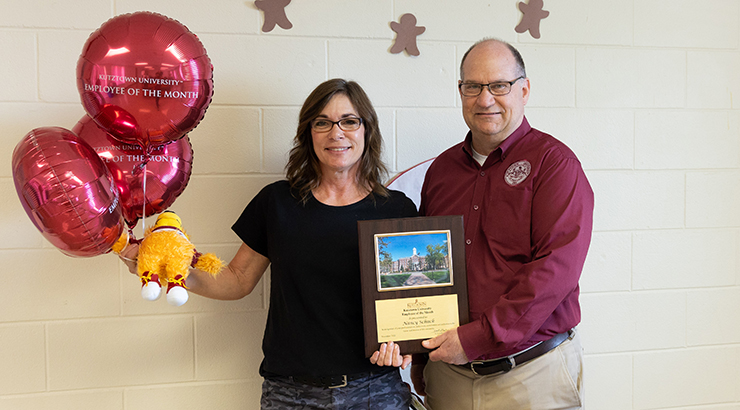 KUTZTOWN, Pa. – Congratulations to Nancy Schuck, custodial worker, Facilities, on being named Kutztown University Employee of the Month for November 2022.
Schuck's nomination from students Matthew Coleman and Heather Staab, and graduate student and resident director Athalie Fogal, reads:
Matthew Coleman
"Nancy constantly goes above and beyond. She's basically Bonner Hall's "mom away from home!" She brings a level of enthusiasm to her job every day."
Heather Staab
"I've lived in Bonner Hall for two years and Nancy is literally the backbone of this residence hall. She deals with so much tomfoolery, but without her, we would have a very different building. She brings such a positive attitude into the hall every single day and is super kind to all of us."
Athalie Fogal
"Nancy works tirelessly to maintain Bonner Hall, one of the largest traditional residence halls on campus. Every day she comes into the building with a smile on her face and she interacts with staff and residents alike with kindness and good humor. We have had some major predicaments in Bonner Hall this year, but Nancy has never complained and instead works with me to seek out solutions to the problems. She is incredibly passionate about this hall after working here for 17 years and she loves the residents and staff that spend their time here.
Without Nancy's hard work and dedication, Bonner Hall would be unrecognizable. She is truly the backbone of the building and serves as a positive presence with staff, residents and even parents."
Nominations are collected from students, faculty and staff, and the Employee of the Month is selected by the Human Resources Advisory Council. A winner will be selected each month, and out of the 12 monthly winners one will be selected as Employee of the Year. The Employee of the Month will receive a plaque, reserved parking and a $100 monetary gift sponsored by President Hawkinson.
For more information on the award or to nominate someone, please visit the KU human resources website.