KU Council of Trustees Issues Resolution for KU Foundation at Thursday's June Meeting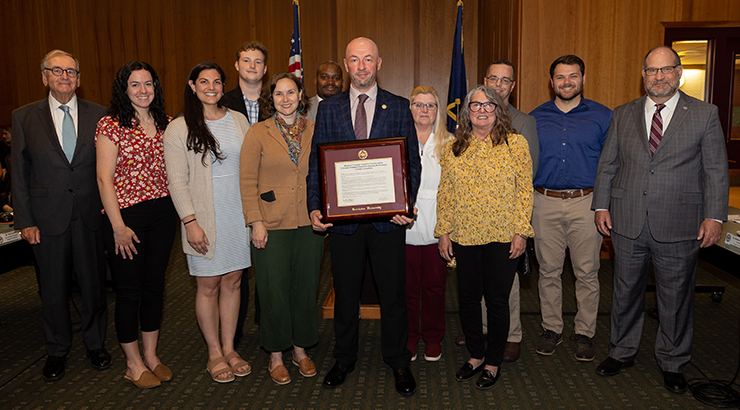 KUTZTOWN, Pa. – The Kutztown University Council of Trustees issued a resolution honoring the Kutztown University Foundation to highlight the Council's June board meeting Thursday afternoon.
The resolution states:
Whereas: Under the leadership of executive director, Alex Ogeka, and foundation board chair, Scott Dorn, the Kutztown University Foundation recently completed their first comprehensive fundraising campaign "Together, We're Golden" in school history, and;
Whereas: the foundation exceeded their fundraising goal and raised nearly $47 million, and;
Whereas: the foundation funded significant capital improvements on campus during the campaign to include the DeLight E. Breidegam Building: Headquarters of the Pennsylvania German Cultural Heritage Center, the Fred and Martha '02 Hafer Scanning Electron Microscope Laboratory, the C.R. Chambliss Astronomical Observatory, the Wells-Rapp Center for Mallet Percussion Research, the Nancy Jean Stump Seiger '54 Botanical Research Center, and other important projects, and;
Whereas: the foundation funded and constructed the Hampton Inn & Suites Kutztown, one of the highest rated Hampton hotels in the world and serves the university, community and regional businesses, and whose fundamental purpose is to raise funds to support our students, and;
Whereas: the foundation met its goal of 10,000 hours a year in "engagement hours" on the part of alumni and friends of the university, and;
Be it Therefore Resolved, that: the Kutztown University Council of Trustees, and the president of Kutztown University, jointly recognize the exceptional service and contributions rendered by the Kutztown University Foundation, and its leaders, and by this resolution express our deep gratefulness for their selfless devotion to our students and university.
RESOLVED, this 8th day of June in the year 2023.
In other business, the KU Council of Trustees:
* Approved meeting minutes from April 27, 2023.
* Approved internship agreements with Syvo; Burns Engineering, Inc.; Alliance for Sustainable Communities; Winifred and Bramble; Minsi Trails Council; SkyIT Services; Capital Area IT; Lantek; A Soft Place to Land; West Bradford Township; Tulpehocken Area School District; Delaware Water Gap National Recreation Area; Fogelsville Active Learning Center; Emotional Wellness; New Enterprise Stone and Lime; Barn Nature Center; Kinetic Physical Therapy; Makoshika State Park; Law Offices of Christine Holman; Lehigh County District Court; Somerset County Prosecutor's Office; Pan American Mental Health Services, Inc.; HTM Studios; Children's Home of Reading; and Ott Consulting.
* Approved Letters of Understanding with West Chester University and Higher Education Council of Berks County.
* Approved 2023-24 E&G Budget.
* Approved 2023-24 Winter Study Abroad program fees.
* Approved 2023-24 Council of Trustees meeting schedule.
The KU Council of Trustees next public board meeting is scheduled for 3 p.m., Thursday, Aug. 3, 2023.