Kutztown University Names Dr. Matthew Coley First-Ever Executive Director and Curator for the Center for Mallet Percussion Research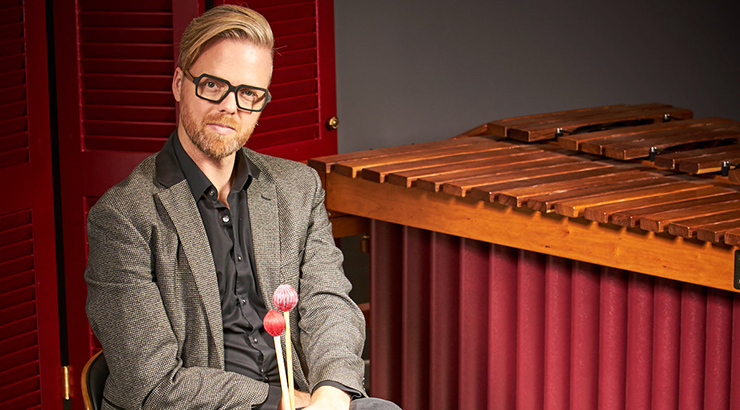 KUTZTOWN, Pa. – Dr. Matthew Coley has been named the executive director and curator for the Center for Mallet Percussion Research at Kutztown University. Coley brings more than a decade of arts administration experience to KU's newly constructed Wells-Rapp Center for Mallet Percussion Research.
The facility will be home to KU's growing collection of music, photos, and artifacts, along with the rare and valuable vintage collection of mallet percussion instruments that have been acquired over three decades.
Coley will be responsible for the day-to-day operations of the Center for Mallet Percussion Research, including the organization of new collections, maintaining records and cataloging acquisitions in the Past Perfect Collection Management System. He will serve as the audio technician for performances, including live streaming, assists with philanthropy efforts and works with the College of Visual and Performing Arts.
"I am honored and so grateful that KU and the visionary individuals that made the (Center for Mallet Percussion Research) possible have entrusted me with the opportunity to be the first executive director and curator," Coley said. "There is no other position in the world like this in our field and this is most certainly a one-of-a-kind organization. I have a deep connection with the mission of the (Center for Mallet Percussion Research), coming from founding Heartland Marimba, and am looking forward to furthering the art form through the activities at the Center."
Coley has been the executive director, co-artistic director and performer for Heartland Marimba since 2014, which includes spring and fall national tours. He provides community and education outreach programming, a concert series and university residencies. Prior to KU, Coley served as a personnel manager for the La Crosse Symphony Orchestra and the orchestra manager for the Dubuque Symphony Orchestra. He also spent six years as an instructor of Percussion at Iowa State University (2009-15).
Coley has earned three music degrees in percussion performance: his bachelor's from the University of North Texas in 2001; and his master's (2003) and doctorate (2013) from Northwestern University.
Learn more about Coley and his performance background at www.hearMatthewColey.com and www.HeartlandMarimba.com.