Art and Design Professor Receives Grant for New York City Artwork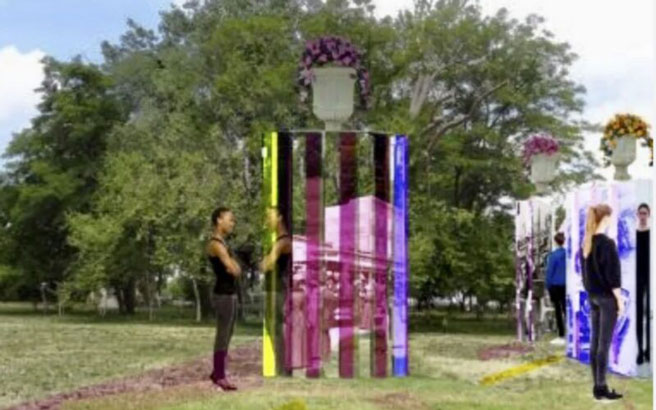 KUTZTOWN, Pa. – Kutztown University professor Rose DeSiano, Department of Art and Design, has been selected by New York City Parks as the recipient of the Highland Park Art Grant. DeSiano will receive an award of $25,000 to create her proposed artwork, "Public Continuum," to be displayed in Highland Park on the border of Brooklyn and Queens from Summer 2023 to Summer 2024.
The Highland Park Art Grant supports the creation of one new, temporary artwork by a New York City-based emerging artist in Highland Park. The resulting artwork will transform Lower Highland Park into an art destination, with supporting events and programs.
"Public art has the power to spark conversations, beautify public spaces and forge new connections among neighbors and visitors," said NYC Parks Commissioner Sue Donoghue. "Bringing new public art to New Yorkers through our Art in the Parks program is one of the many ways we work to enhance our greenspaces across the city. I congratulate Rose DeSiano on her selection and am so excited to see the installation when it opens this summer."
DeSiano's winning proposal is based on the Praxinoscope and Zoetrope, 19th century devices of wonder that transform still photographs into moving images. Three seven-foot-tall rainbow-colored, luminous sculptures in the form of "eternal remembrance columns" will be placed in a triangular formation at the corner of Highland Boulevard and Jamaica Avenue in Lower Highland Park. The surface of the sculptures will host colorful plexiglass panels and reflective mirrors adorned with historic photographs of Highland Park and the surrounding neighborhood. The photographs are interrupted by mirror panels that, when viewed from a distance, reflect back the park's landscape and engage the viewer in an interactive moment of immersive optical intrigue and history.
DeSiano lives in New York City and is a professor of Art at Kutztown University of Pennsylvania. Her artwork, which brings together photography and sculpture into a public art practice, examines cultural symbolism and the collective consciousness, seeking to resurface lost or undiscussed topics of history. DeSiano's work has appeared in numerous publications, and her gallery artwork has been exhibited in solo shows and featured in several group museum exhibitions. Commissioned by multiple cities, her photo-sculptures have appeared in New York City, San Diego, and Cleveland and have received awards, including the Uniqlo Parks Grant and the FLOW.17 Public Art Award.
Art in the Parks
For over 55 years, NYC Parks' Art in the Parks program has brought contemporary public artworks to the city's parks, making New York City one of the world's largest open-air galleries. The agency has consistently fostered the creation and installation of temporary public art in parks throughout the five boroughs. Since 1967, NYC Parks has collaborated with arts organizations and artists to produce over 2,000 public artworks by 1,300 notable and emerging artists in over 200 parks.