Kutztown University to Host Fitness Clinic, Competition and Art Walk at Keith Haring Fitness Court May 4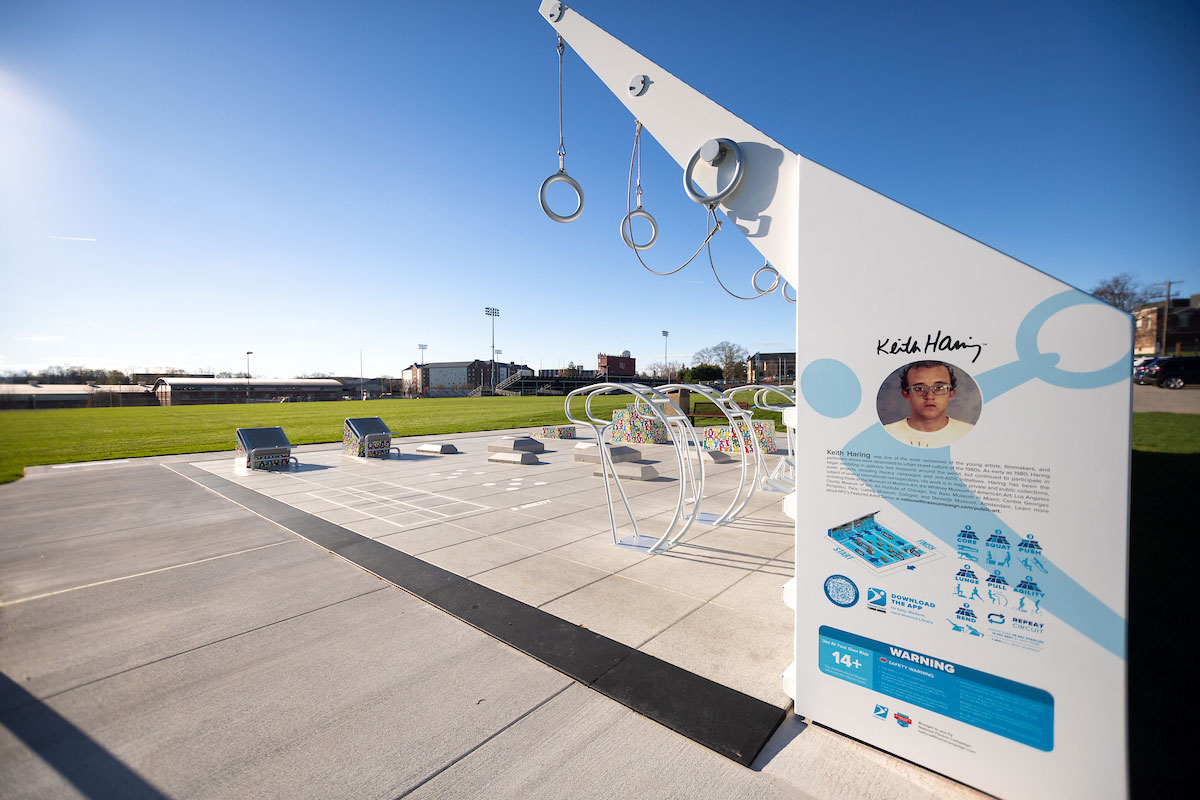 KUTZTOWN, Pa. – Kutztown University sport management students and faculty are leading the charge to provide the campus and local communities exercise clinics and competitions 11 a.m., Thursday, May 4, at the Keith Haring Fitness Court. Community members are welcome to attend the open fitness clinic 11 a.m. to noon, a competition of local organizations noon to 1 p.m., followed by art walk celebrating Haring's work, led by the Kutztown Community partnership.
Keith Haring Day marks a celebration surrounding Haring's birthday, May 4. The goal is to bring awareness to Haring, the Fitness Court and provide the community with exercise leadership.
The Keith Haring Fitness Court was dedicated October 2022, on the corner of Baldy Street and Normal Avenue, on the KU campus. In collaboration with the Keith Haring Foundation, Outdoor Fitness Court and the National Fitness Campaign, the Fitness Court features a 32'x35' outdoor bodyweight circuit training system with 30 pieces of body-weight fitness elements, including seven full-body circuit training stations and a body-weight training wall.
Kutztown Community Partnership is a community-driven non-profit organization dedicated to the economic revitalization and preservation of Kutztown. The Partnership serves as a liaison to build community, to forge positive relationships and to foster cultural and economic collaboration in the historic college town. Kutztown Community Partnership envisions Kutztown as an inclusive community that welcomes all our best efforts: to get an education, to do business and to live well at every stage of our lives.
The Keith Haring Fitness Court is an incredible opportunity for the Kutztown community to pay reverence to one of its native sons, as Haring was born and raised in Kutztown, Pa. Despite his worldwide fame, Haring always stayed true to his roots and would often refer to himself as "Keith from Kutztown." Haring went to Kutztown High School and his legacy lives on throughout the borough of Kutztown. To recognize and honor the love he had for his hometown, Haring gifted the 'Untitled (Figure Balancing on Dog)' to Kutztown Park in the early 90s, where the sculpture remains today. More of his iconic art can be found on a floor mural in the New Arts Program building nestled right on Main Street, where it is preserved under coats of polyurethane.
Haring was a legendary activist and artist who revolutionized pop art through his graffiti-like pieces full of abstract lines and colorful flairs. His 1980s illustrations grew out of the New York street culture and has become a widely recognized visual language to many. A celebrated advocate for the LGBTQ community, Haring established the Keith Haring Foundation in 1989. Its mandate is to provide funding and imagery to AIDS organizations and children's programs and to expand the audience for Haring's work through exhibitions, publications and the licensing of his images.
Haring also gifted a 1984 drawing of the Nativity scene to Kutztown's St. John's United Church of Christ, where he was baptized as an infant. Haring lived next door and went to what used to be the Kutztown Middle School but was purchased in 1979 to become the home of the Kutztown Area Historical Society. Located at 212 S. Whiteoak Street, the Historical Society features original Haring art drawn on several chalkboards that are protected under plexiglass. His elementary art can also be found lingering in the halls of the buildings of the Kutztown School District. In November 2021, Haring's niece, Yenna Hill, designed a mural on the side of Young One's Records building, located at 26 S. Whiteoak Street in Kutztown. The mural was then painted by community members, student artists and some of Haring's family members.