Ice Hockey to Compete at 2023 National Championship Tournament this Weekend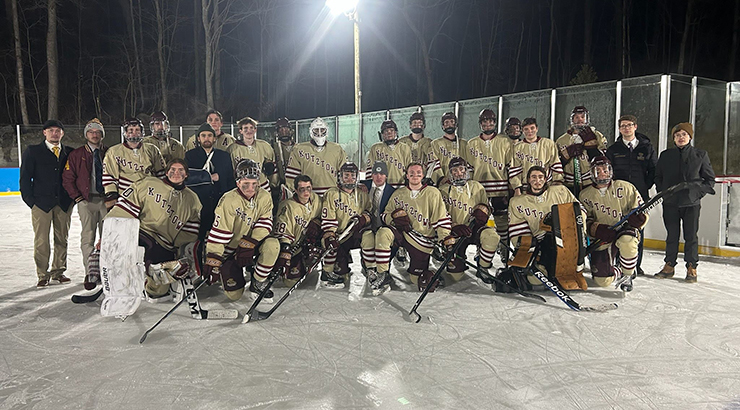 KUTZTOWN, Pa. – The Kutztown University men's ice hockey Division II club team is one of 32 teams that qualified for the Amateur Athletic Union (AAU) College Hockey National Championship (formerly the CHF Federation Cup). KU is the 20th-ranked team in the tournament and will play March 10-12 at Ice Line Quad Rinks in West Chester, Pa.
KU will compete in Pool E with No. 5 Farmingdale State, No. 12 Delaware and No. 28 Georgia Tech. The Golden Bears schedule is as follows:
1 p.m., Friday, March 10, vs. Delaware, Rink 4.
6 p.m., Saturday, March 11, vs. Farmingdale, Rink 4.
8 a.m., Sunday, March 12, vs. Georgia Tech, Rink 4.
Black Dog Hockey will stream all of the games at http://www.bdehockey.com/login-aau.php.
The KU ice hockey club has 37 players and eight student volunteers (managers, scorekeepers, etc.) on its ice hockey teams. The DII team that qualified for the AAU National Championship has 21 players. The DIII team has 16 players and completed its season Feb. 18.
The club had six players selected to represent KU at the Delaware Valley College Hockey Conference (DVCHC) All-Star game Saturday, March 4, at IceWorks in Aston, PA.
The club is hosting a "Recruit Skate" for prospective players at Body Zone Saturday, April 15. The event is geared toward high school seniors who have already applied for admission and been accepted.
Stay up to date on KU ice hockey by following the team's Twitter page at www.twitter.com/kutztown19. For more information, contact icehockey@kutztown.edu.