Fall 2022 Commencement Set for Dec. 17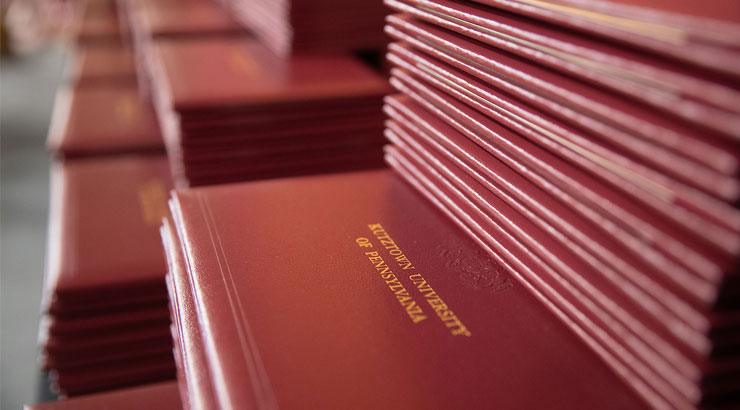 KUTZTOWN, Pa. – More than 410 students will be awarded degrees during Kutztown University's fall commencement Saturday, Dec. 17, at O'Pake Fieldhouse. Dr. Kenneth S. Hawkinson, university president, and Dr. Lorin Basden Arnold, provost and vice president for Academic Affairs, will preside.
KU's graduate ceremony for master's and doctoral degree candidates is scheduled for 9 a.m., followed by the undergraduate ceremony at 1 p.m.
Each ceremony will feature a student and faculty speaker. Emily Willow, art education, will serve as the graduate student speaker, with Dr. Juliana Svistova, associate professor of social work, as Saturday morning's faculty speaker. Abigail Cosgrove, art history, will serve as the undergraduate student speaker, with Dr. Nancy Zimmerman, associate professor of modern languages, as Saturday afternoon's faculty speaker.
An honorary doctorate, Doctor of Public Service, will be conferred upon Norman A. Inkpen Jr. '70 during the afternoon ceremony.
Kutztown University will provide complete coverage, including live video, photos and more, of its commencement ceremonies. A special thank you to students and professors from the Department of Cinema, Television and Media Production for teaming with the Marketing and Communications office to provide Saturday's live coverage. Further information on commencement coverage can be found on the commencement coverage website.
Graduate Ceremony
Emily Willow '15 of West Chester, Pa., graduates with a Master of Education in art education. Willow graduated from KU with a Bachelor of Science in art education in 2015. While working toward her master's degree, she began to look at education and art through a more political lens and her projects reflected current events such as the COVID-19 pandemic, Black Lives Matter movement, election stresses, immigration issues and LGBTQIA+ and women's rights.
Willow is a high school art teacher in Penn-Delco School District, Aston, Pa., and has taught at Sun Valley High School for the past five years. At Sun Valley, Willow teaches foundations of art courses, AP art and design and a Peer Buddy art class that combines students who have a variety of disabilities with general education students to create friendships and share their love of art. She plans to work at Sun Valley until she retires, many years down the road.
Willow aims to inspire students to not only create art, but to love the process, see art in the world around them and make art a part of their lives forever. She hopes her students will pursue an art career and has influenced past students to apply to KU, many of whom have already been accepted.
Dr. Juliana Svistova, associate professor of social work, is a community engaged, interdisciplinary scholar in the fields of social work, disaster studies, social policy and public health/education.
Svistova's scholarship is centered around community development and participatory approaches to social change in the local and global environments. She has particular teaching interests in social work practice with communities and organizations, community building, international social work and social development and qualitative research/research methodology. She has more than a dozen published works relating to these subjects and has spoken at prestigious conferences for more than a decade, allowing her to stay connected with current events while simultaneously bringing new insights to her instruction at KU.
Born in Latvia, Svistova earned her master's and Ph.D. in Social Work from the University at Albany, State University of New York.
Undergraduate Ceremony
Abigail Cosgrove of Scranton, Pa., graduates magna cum laude with a Bachelor of Arts in art history and a minor in history.
While at KU, Cosgrove served as a campus ambassador for the Pennsylvania State Employees Credit Union, as well as a campus tour guide, where she communicated the vision, mission and culture of KU to prospective students and families. In the spring, she interned at the Archivio Digitale Boncompagni Ludovisi, an organization that aims to scan and disseminate rich, new archival material to scholars for study and publication. Cosgrove transcribed documents, conducted research and published her findings.
This past fall, Cosgrove interned at KU's Pennsylvania German Cultural Heritage Center, where she had the opportunity to immerse herself in the culture that surrounds the university. She assisted in creating virtual exhibits and in-person exhibits, and worked with the Heritage Center's diverse collections.
Cosgrove was the recruitment chair and chapter president of Theta Phi Alpha Sorority, and a general member of the Kutztown University Presidential Ambassadors.
After graduation, Cosgrove will continue her education at KU to pursue a Master of Education in Student Affairs in Higher Education. She aspires to become an admissions counselor.
Norman A. Inkpen Jr. '70, whose life was transformed by KU, has dedicated his time and money by giving back and paying it forward to ensure students have every chance to graduate and create the lives they envision for themselves. He has generously given to the university for more than 30 years and most recently established two endowed scholarships: one to benefit KU's diverse student population and the other to assist with student retention.
Inkpen has served on the Kutztown University Foundation (KUF) board of directors since 2015. In 2017, he accepted the role as chair of the foundation's Together We're Golden campaign committee. He has volunteered countless hours to the KUF board and his drive, innovative spirit and selflessness make him a valued member to the entire Kutztown University community.
For these reasons, Inkpen was chosen to receive the KUF Inaugural Founders Award for Philanthropy – the highest recognition given to a recipient who has consistently gone above and beyond to invest in the vision of the foundation through philanthropic support, exceptional volunteer service and/or civic leadership.
Dr. Nancy Zimmerman, associate professor of modern languages, has taught at Kutztown University for more than two decades. Zimmerman's passion for diversity in language and culture began when she was young, living in Puerto Rico. Her parents purchased a retirement home there, which allowed her to explore and experience island life.
Zimmerman has taught all levels of Spanish, including oral and written communication for Spanish-speaking heritage learners, film, translation, walking the Camino de Santiago de Compostela, syntax, children's literature in Spanish and advanced composition and conversation.
She has won prestigious awards including the Pennsylvania State Language Association Frank Mulhern Leadership Award for her outstanding impact in the world language profession. Zimmerman also was awarded the North East Council for Teachers of Foreign Language the Sans Inc., Mead Leadership Fellows Program, for a bilingual children's book she wrote.
Zimmerman received her undergraduate degree at Millersville University. She earned her master's degree in Spanish language and literatures from the University of Delaware, followed by her doctorate from The Pennsylvania State University in 2011.
For more information, visit https://www.kutztown.edu/events/commencement.html.