Alumna to Represent Team USA Speed Skating in Four Countries, Two Continents for ISU World Cup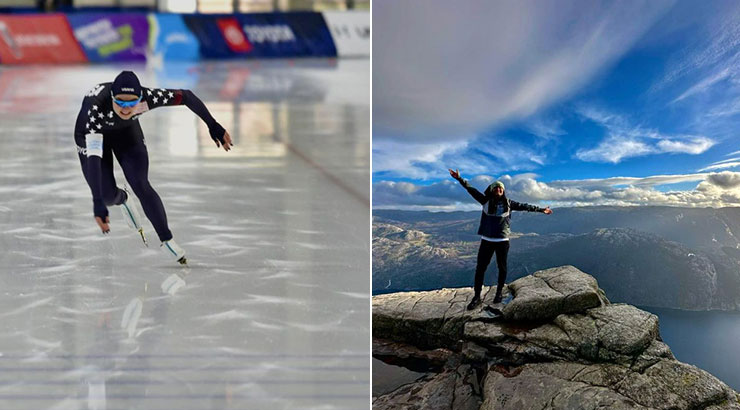 KUTZTOWN, Pa. – Kutztown University alumna McKenzie Browne '19 will represent Team USA at the 2022-23 International Skating Union (ISU) World Cup for speed skating. Brown will compete in six events this winter, beginning this weekend, Nov. 10-12, in Norway, followed by events in the Netherlands, Canada and Poland.
This is Brown's first time on the World Cup circuit. She'll aim to improve and gain great experience as she aspires to qualify for an individual spot at the World Championships and ultimately the 2026 Olympics.
Browne will race in the 500m Friday, Nov. 11, in Norway. She will then travel to the Netherlands for the second event Nov. 18-20. Speed skating will take Browne to Calgary, Canada for two events Dec. 8-17, and Poland for two events Feb. 9-18, 2023.
A Coopersburg, Pa. native, Browne currently lives in Salt Lake City, Utah as she trains with Team USA. She has been skating on ice for four seasons and has an extensive and successful history with competitive inline speedskating.
Browne's goal is to make the 2026 Olympic team. She grew up as an inline speedskater, where she trained most of her life in the Lehigh Valley. She first began skating at Bethlehem Skateaway in 2003 and has since won 13 national titles. Browne also competed in track cycling from 2015-19, before making the full switch to long track speedskating. She has raced at the Velodrome in Trexlertown and competed at the USA Olympic Trials in January in Milwaukee, Wisconsin, placing placed sixth in the 500m and eighth in the 1000m.
Browne knew she wanted to switch to the ice when she saw several of her inline skating friends make the Olympic Team in 2018. After that, she decided that once she graduated from KU in 2019, she would make the move to Salt Lake City. That was the start of her ice-skating career.
Browne's speedskating career has taken her to Argentina, Belgium, Canada, Colombia, China, Italy, the Netherlands, Norway, Poland, South Korea, Spain and Taiwan.
Learn more about the ISU Speed Skating World Cup online. A full calendar of events, with results, is available at https://live.isuresults.eu/events. Previous results for Browne can be found on her ISU profile.