KU Student and Cancer Survivor Throws First Pitch at World Series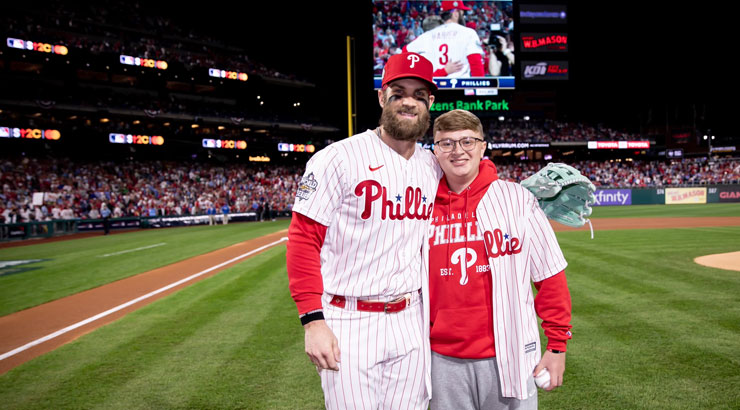 Kutztown University student Luke Theodosiades poses with the Phillies' Bryce Harper after throwing the ceremonial first pitch at the World Series on Nov. 2, 2022. (photo courtesy of the Philadelphia Phillies)
Philadelphia - Kutztown University sophomore Luke Theodosiades was recognized at Wednesday night's Game 4 of the World Series in Philadelphia. Luke, a pediatric cancer survivor, threw out the first pitch at Citizens Bank Park, as a special invited guest of Major League Baseball and the Stand Up to Cancer organization.
Luke and his family then watched the game alongside First Lady Jill Biden.
Luke, a Phillies fan from Ridley Township, was diagnosed with leukemia as a seventh grader. After successful treatments, Luke has been cancer-free ever since and is studying early elementary education at KU.
Luke's story was featured on WFMZ, as well as Philadelphia news outlets FOX29, CBS3 and 6ABC. Watch the first pitch.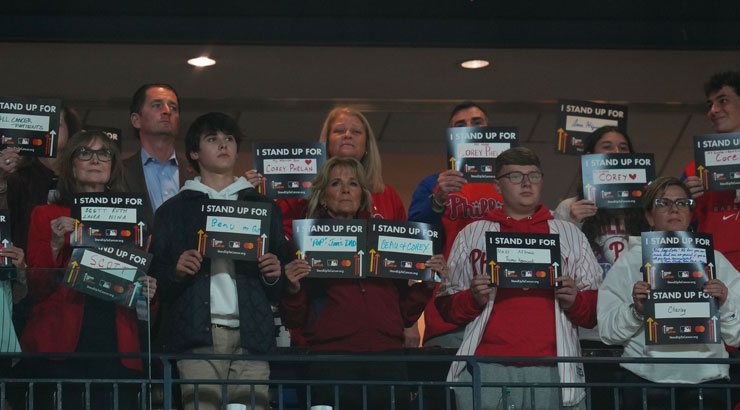 Luke and the First Lady
First Lady Jill Biden, middle front, with Luke Theodosiades, front, second from right, holding Stand Up to Cancer signs during Game 4 of the World Series, Nov. 2, 2022. (photo courtesy of the Philadelphia Phillies)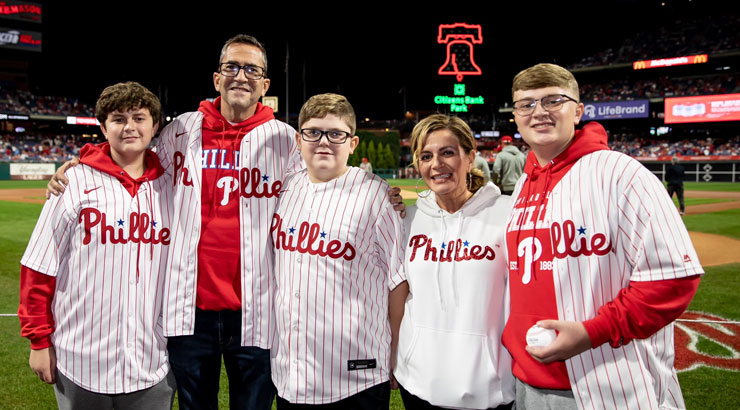 Theodosiades Family
Luke Theodosiades, right, with his family on the field at Citizen's Bank Park prior to Game 4 of the World Series on Nov. 2, 2022. (photo courtesy of the Philadelphia Phillies)