Schearer to Serve as Interim Assistant VP and Dean of Students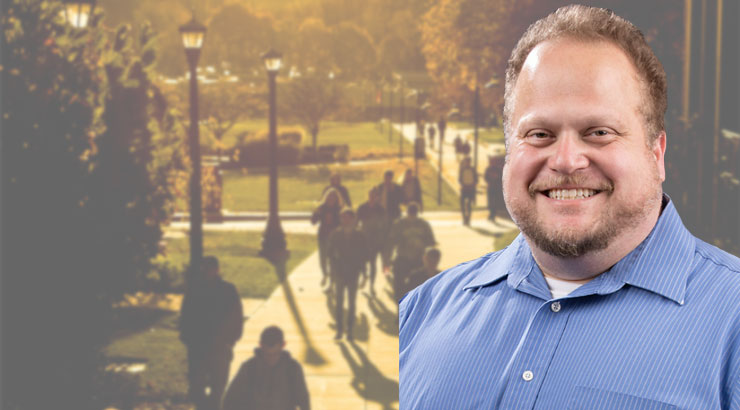 KUTZTOWN, Pa. – Jerry Schearer will serve as interim assistant vice president and dean of students at Kutztown University, effective immediately. Schearer has been at KU since 2008, most recently serving as KU's senior associate dean/chief diversity officer.
"Kutztown University is a great place to serve students and I've been privileged to do so in various positions," Schearer said. "I'm honored by President Hawkinson's and Vice President McCargo's confidence in me through this appointment. I look forward to continue working with my outstanding colleagues and students as we continue to make Kutztown a great place to learn and belong."
The appointment was announced today by Kutztown University president Dr. Kenneth S. Hawkinson. Schearer will serve as interim assistant vice president and dean of students while Dr. Donavan McCargo fills his role as interim vice president for Enrollment Management and Student Affairs. Schearer will continue his role as chief diversity officer while in the interim role.
"Jerry's experience in student affairs will help to leverage existing efforts to support KU students," McCargo said. "I look forward to collaborating with Jerry as we continue to strengthen our retention, recruitment and student success efforts."
Schearer has overseen the four inclusion centers on campus: LGBTQ+ Resource Center, Multicultural Services, Women's Center and Veteran Services. Schearer is actively involved in the Kutztown community, serving as a volunteer with Friend, Inc. and the Kutztown Community Partnership, where he served on the board, including four years as president. Schearer is also an adjunct instructor at Reading Area Community College.
Prior to KU, Schearer served in various student affairs positions from 1995-2008 at Salem International University (W. Va.), including the final three years as dean of students and director of Student Development. Schearer was also an adjunct instructor at Fairmont State University (W. Va.) for six years.
Schearer holds a Master of Arts in educational leadership from West Virginia University. He earned his bachelor's degree from Salem University in youth and human services/non-profit management.