Richman Named KU Employee of the Month for May 2022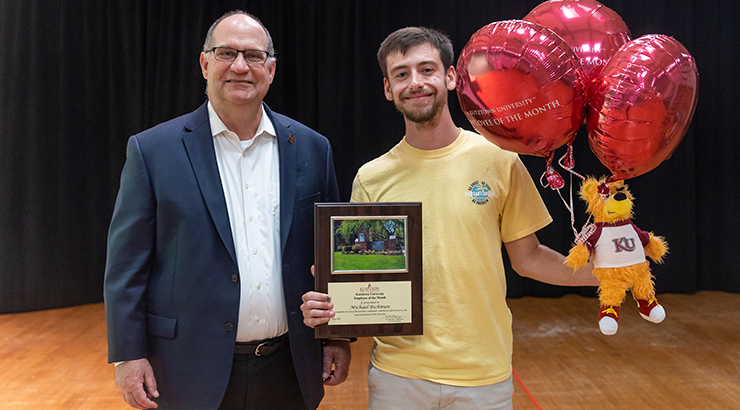 KUTZTOWN, Pa. – Congratulations to Michael Richman, electronic system technician, Visual and Performing Arts, on being named Kutztown University Employee of the Month for May 2022.
Richman's nomination from Michael Johnston, department chair, Cinema, Television and Media Production, reads:
"Michael Richman has been nothing short of brilliant. Michael had the unenviable position of replacing Barry Peterson – a 40-year superstar at KU and CTM. Michael immediately jumped into his new role and made his own superstar status known.
When COVID-19 hit during Mike's first semester, he immediately transitioned the CTM equipment room into an industry-standard COVID-19 safety/protocol equipment room. Michael and I worked together to create new policies and procedures to ensure that students could still take out equipment for instruction and that all equipment was disinfected and available for a contactless pickup. Mike handled the entire situation like a true professional.
The CTM department has also been fortunate to have received SMART funding and workforce development money. As a result, Mike converted four neglected spaces into professional Davinci Resolve Color Correction Suites. He researched all the equipment with the faculty and installed all the equipment by himself. The rooms are both amazing and professional grade because of Mike's hard work and dedication.
He did the same when we renovated our neglected audio booths. As a result of Mike's work, students are always in those spaces working and learning. Mike has dedicated a great deal of his time to mentoring student workers and improving their working conditions. He is currently replacing all the old shelving with new shelving and step ladders and rearranging the space for safety and the best professional practices.
Mike has accepted every task handed to him and his dedication and hard work is remarkable."
Nominations are collected from students, faculty and staff, and the Employee of the Month is selected by the Human Resources Advisory Council. A winner will be selected each month, and out of the 12 monthly winners one will be selected as Employee of the Year. The Employee of the Month will receive a plaque, reserved parking and a $100 monetary gift sponsored by President Hawkinson.
For more information on the award or to nominate someone, please visit the KU human resources website.