Council of Trustees Approve Fall 2021 Graduates, Present Spirit Award, Recognize Athletics at Thursday's December Meeting
KUTZTOWN, Pa. – The Kutztown University Council of Trustees approved the candidates for degrees in preparation for KU's 2021 fall commencement to highlight the Council's December board meeting Thursday afternoon.
More than 475 students will be awarded degrees during Kutztown University's fall commencement Dec. 17-18. Dr. Kenneth S. Hawkinson, university president, and Dr. Lorin Basden Arnold, provost and vice president for Academic Affairs, will preside. For more information, visit https://www.kutztown.edu/commencement.
President Hawkinson presented the Golden Bear Spirit Award to Mr. Kraig Piper for his commitment to the sense of identity and community shared by members of the KU family through his unwavering dedication as a university volunteer. Specifically, his time given as a greeter to KU students, faculty, staff and visitors; his work with Connections and Admissions; his support of Golden Bear athletic teams; and above all, his desire to help everyone he meets to "Have a Great Day."
The Golden Bear football and women's soccer teams were recognized for their success. Both teams were selected to compete in and host NCAA Championship events. The KU football team won the Pennsylvania State Athletic Conference (PSAC) Championship, won an NCAA playoff game and hosted the NCAA national quarterfinals. The KU women's soccer team won the PSAC East regular season title and won 17 of its 20 games this season.
In other business, the KU Council of Trustees:
* Approved minutes from Nov. 4, 2021 meeting.
* Approved three new internship agreements with Birdsboro Family Practice (biology), Kutztown Fire Department (criminal justice) and York Police Department (criminal justice).
* Approved an affiliation agreement with KU's College of Education and the Rose Tree Media School District, Media, Pa.
* Approved an affiliation agreement for graduate assistants and use of a facility as a placement site for the Muhlenberg School District, Reading, Pa.
* Approved a letter of understanding with Mansfield University (Elementary French 2 offered at KU Spring 2022).
* Approved the audit report of financial statements.
* Approved the summer study abroad fees.
* Approved a certification of university external financial support.
* Approved 2022-2023 auxiliary fees.
The KU Council of Trustees next public board meeting is scheduled for 3 p.m., Thursday, March 24, 2022, 250 McFarland Student Union.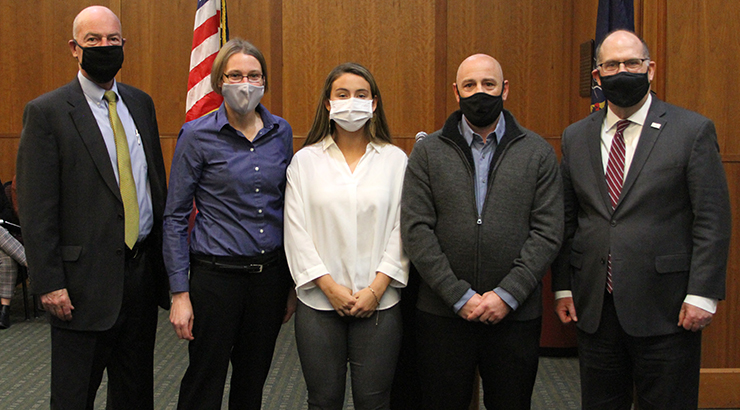 Members of women's soccer team recognized.
Members of KU football team recognized.