KU Holds Second Creative Royale to Support Students' Sober Choices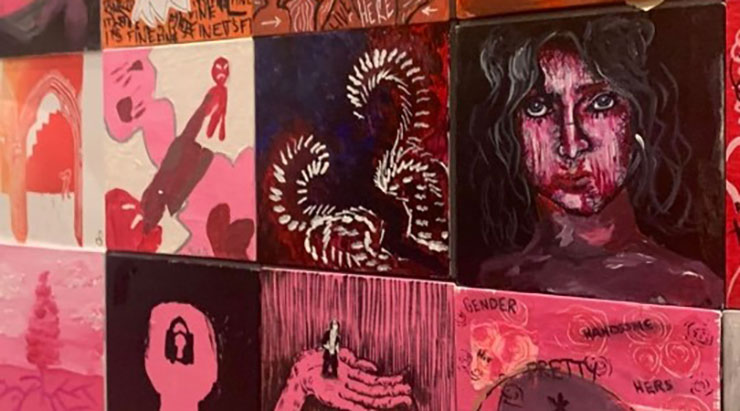 KUTZTOWN, Pa. – Kutztown University held the second annual Creative Royale Nov. 18 at the Sharadin Art Building. This was an evening filled with artists creating art, music and entertainment. 85 individuals competed against time and each other, to create two pieces of art that illustrated how students cope with stressors and manage their mental well-being and sober choices.
Students across various art majors were given a kit of art supplies, where they raced against the clock to complete a prompt that depicted areas of personal stress and sources of personal support. Student artists majoring in art education, applied digital art, studio art and communication design created two six-inch square monochromatic "tiles" to represent these areas and together, the tiles made up a snapshot of what students identify as stressful and where they find support, in a colorful installation called "Chomadata." The art was arranged by color with pink (the color representing 'self') in the lead as causing the most stress, while orange ('friends') and green ('hobbies') stood out as the best sources of support. Red ('family') was featured equally in the stressors and supports categories. Yellow ('school') and purple ('the world at large') both showed up in the stressor column.
As the talented student artists competed in classrooms throughout the second floor of Sharadin, they were accompanied by music provided by the KUR DJ crew as well as members of the Essence Magazine Club, Sam Winship, Molly Heller and Matt Bandy. The Essence Magazine Club members offered 'poems-on-the-spot' where the student artists would suggest a word or two and the members would bring to life their poems that they typed out on vintage typewriters. These poems were printed on index cards and some of them found their way into the art objects on display.
There were six categories of awards given out at this event. The winners of the second Creative Royale included Aubrey Kirkland and Kim Conmy for the Caricature Awards. Kirsten Shaw for the Best of Show Award, Rebecca Hoffer for the Team Funky Award, Talis Boltz for the Best Concept Award and Mya for the Amos Lemon Burkhart Award.
One of the participants, Hallie Smith, stated, "This was the most fun activity I have taken part in since being at Kutztown. Even though we are all art majors, we usually don't have time to make art that is just for us, for fun. It was a great way to de-stress."
Professor Ann Lemon, who helped to create the event, said, "Emotional awareness is a way to strengthen mental health. Simply spending some time reflecting on sources of stress and support is a small, simple way to build resilience. Statistics show that the upcoming holiday season and end-of-semester-rush is a time when many students may turn to substance use to alleviate stress, when in reality, other sources of support work much better."
KU's Director of Health Promotion and Alcohol and Other Drug Services and one of the Creative Royale's judges, Frances Cortez Funk, spoke to the event, "Many thanks to professor Lemon for her passion as she does this interactive display in the community. To have our own in Kutztown is pretty epic. The second Creative Royale was made possible by Communities Talk Grant, Art and Design Department, Health Promotion and Alcohol and Other Drug Services, Amos Lemon Foundation and most of all, Kutztown University students."
In addition to Cortez Funk, the other judges included John Gurney, a character artist and instructor of illustration in the communication design department, and Dane Burkhart, president of the Amos Lemon Burkhart Foundation.
The event was sponsored by a grant from SAMSHA as part of their "2021 Communities Talk: Town Hall Meetings to Prevent Underage Drinking," and extra art supplies were donated by the Amos Lemon Burkhart Foundation.
The result was a messy, inspiring, energized "throwdown" between some of the most talented artists around. The "Chomadata" installation was on display until Sunday, Nov. 28, and will be translated digitally in a permanent exhibit on amoslemon.org.