Kutztown University Launches Undergraduate Certificate in Cybersecurity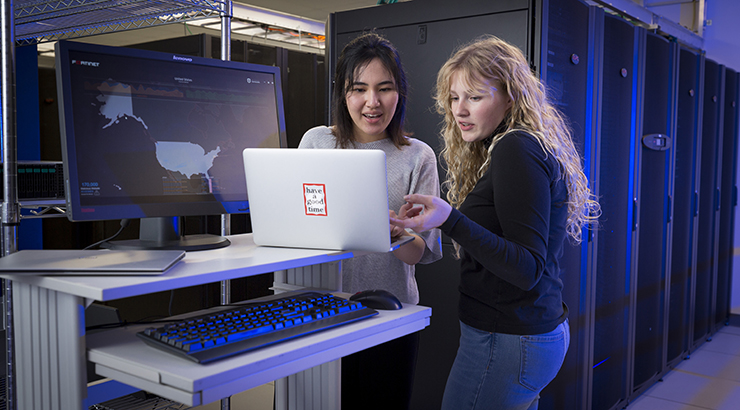 KUTZTOWN, Pa. – A new short-term certificate program in cybersecurity at Kutztown University prepares students to prevent and defend threats to cyberspace and information technology. With more than 34 billion connected devices expected by 2025, Kutztown University's new sub-baccalaureate certificate, including courses in criminal justice and computer science, begins this fall to address the growing need and demand for cybersecurity.
KU's 18-credit program is unique in its ability to apply concepts of information security, the gathering and preserving of cyber evidence, along with analyzing cybercrimes through the criminological lens of analyzing human behavior and social systems. The program can be completed in as few as three semesters.
Students will learn about the cybersecurity threats and strategies used to defend against persistent cyberattacks that could be dangerous and costly. Students will also learn about proactive ways to stop or mitigate cyberattacks. Technology advances is an important driver of criminal activity.
Cybersecurity threats could lead to great losses, including financial, identity and corporate reputation. At the individual level, cybersecurity involves antivirus software, software and hardware updates, knowing how to avoid phishing e­mail, malicious websites and compromised networks that are occurring with greater frequency because of the increase in personal and business internet use.
Security professionals must become familiar with firewalls, Virtual Private Networks and a variety of other defenses. At the broader, societal level, cybersecurity involves complex critical infrastructure, including the power grid, communications and transportation. An emerging challenge within criminology is that criminal activity increasingly involves technology, transcending the traditional geographical and social intersectionality of offenders and victims.
For more information, contact KU's Department of Criminal Justice at kremser@kutztown.edu or 484-646-4241.