Peffley Named KU Employee of the Month for January 2021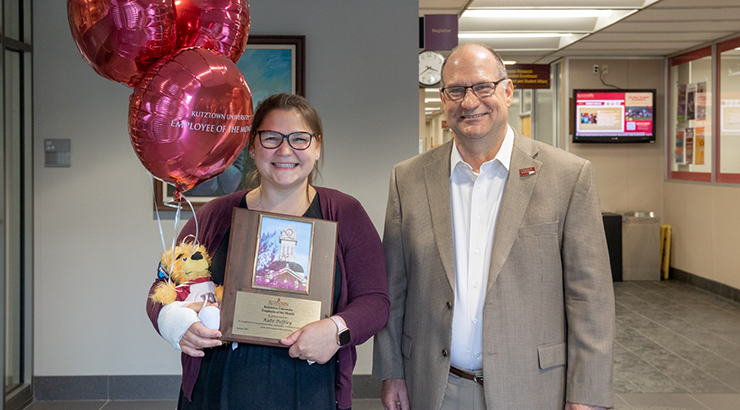 KUTZTOWN, Pa. – Congratulations to Kate Peffley, administrative assistant to the Registrar and Veterans Affairs certifying, on being named Kutztown University Employee of the Month for January 2021.
Peffley's nomination from Alexis Wise, Office of the Registrar, reads:
"Kate has taken on additional duties of managing the Veteran's Affairs students. She has also helped to manage the tasks of two fellow co-workers for months, all with grace and a smile. Without her, our office would not be the same.
Despite her ever-growing list of responsibilities, Kate is always willing to lend a hand to her co-workers and problem-solve with a student or staff member. She is truly selfless. Though it is not her job, she assists in the Registrar's Office email inbox, helps to manage the front desk and signs into the general office phone to help field incoming phone calls on crazy days (of which there are many), just to name a few. She is detail-oriented and meticulous in completing all of her work, always making sure to get things done correctly.
Kate has a hunger to learn and grow each and every day. She is always ready for a challenge. She is always trying to solve any problems she comes across on her own and only seeks assistance when she has exhausted all other options. She is the go-to in the office for questions such as "what office should this go to?" and "who should I call about…" If she doesn't know the answer, she figures it out. I know that I can always count on Kate.
Kate has a special bond with her veteran students. She knows a large majority of them by name as soon as they walk through the door. And they know her too, which goes to show just how much she cares. Oftentimes, she knows detailed information about the student without having to ask or look it up. She attends luncheons and other events that she doesn't need to attend just to go bond with the students and be around to answer any questions. She truly knows the ins and outs of the funding that students can receive.
Kate is such an important, special part of the Registrar's Office. She keeps us all up-to-date on important information, is incredibly knowledgeable and has an unparalleled desire to help everyone and anyone possible."
Note: November/December 2020 recipients will be presented at a later date due to scheduling conflicts.
Nominations are collected from students, faculty and staff, and the Employee of the Month is selected by the Human Resources Advisory Council. A winner will be selected each month, and out of the 12 monthly winners one will be selected as Employee of the Year. The Employee of the Month will receive a plaque, reserved parking and a $100 monetary gift sponsored by President Hawkinson.
For more information on the award or to nominate someone, please visit the KU human resources website.