Rivera Named KU Employee of the Month for April 2021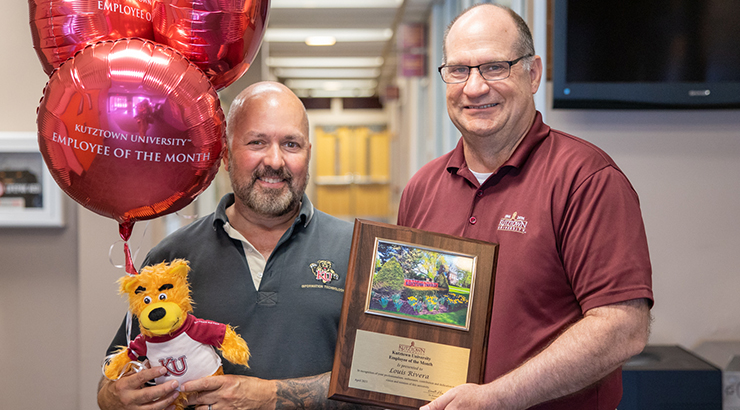 KUTZTOWN, Pa. – Congratulations to Louis Rivera, coordinator of desktop services, Information Technology, on being named Kutztown University Employee of the Month for April 2021.
Rivera's nomination from Lisa Brennan, administrative assistant, Academic Affairs, reads:
"This past March, I had several issues with my work computer and working remotely. Lou was instrumental in helping resolve the issues. He cleared some space on my work computer once previously. He ended up having to do it again to resolve further issues I was having after others in IT were not able to do so. He contacted me twice that day to let me know what he was doing to resolve it and told me he would keep an eye on it going forward to make sure the issue was completely resolved.
This is not the first time Lou has helped me or my supervisor with computer issues. We have called on him on several occasions and he would come in person to assess and resolve the problem. He is always very kind and professional. It is easy to see he truly cares about making things better, enabling all employees to be able to work and to complete their tasks. I think Lou deserves to be recognized for his efforts. He understands how important it is to be able to complete your work and he does everything with a smile! He does follow up and you know you can count on him."
Note: recipients will be recognized in order of presentation, due to scheduling conflicts.
Nominations are collected from students, faculty and staff, and the Employee of the Month is selected by the Human Resources Advisory Council. A winner will be selected each month, and out of the 12 monthly winners one will be selected as Employee of the Year. The Employee of the Month will receive a plaque, reserved parking and a $100 monetary gift sponsored by President Hawkinson.
For more information on the award or to nominate someone, please visit the KU human resources website.