Kutztown University Summer Chamber Music Festival Slated for July 3-10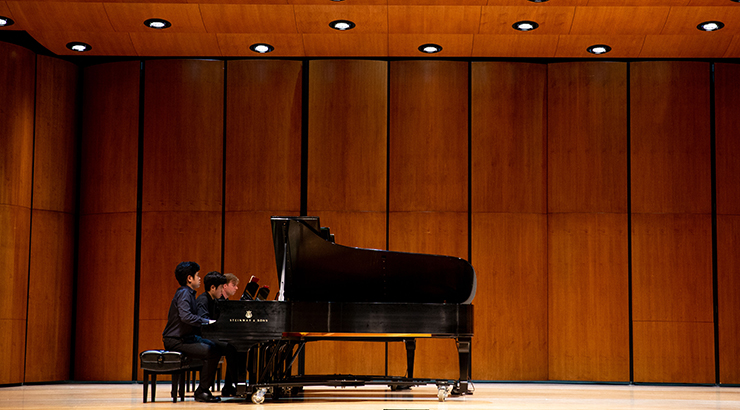 KUTZTOWN, Pa. – Kutztown University is excited to reopen the KU Summer Chamber Music Festival July 3-10. Talented students from around the world join forces for one week for a fully-immersive musical experience, working with the festival's renowned roster of devoted musicians and pedagogues.
Concerts and workshops are free and open to the public. The festival will also be streamed online.
The Summer Chamber Music Festival will offer one week of intensive study to ambitious high school and college age musicians, including daily private lessons and chamber music coaching. It is open to piano, strings, winds and percussion, with faculty from The Juilliard School, Manhattan School of Music, University of Pennsylvania, Kutztown University, the New York City Ballet Orchestra and other prestigious institutions.
Participants will have the opportunity to work on solo repertoire, learn and perform works from the core chamber music literature and receive instruction on audition preparation. In addition to the intensive chamber music experience, students will have the opportunity to participate in many seminars and workshops, addressing aspects of performance anxiety, body alignment and entrepreneurship.
Founded in 2010 by pianist Maria Asteriadou, the Kutztown University Summer Chamber Music Festival features an intensive and comprehensive approach to learning the core chamber music repertoire for strings, piano, percussion and winds. The festival's mission is to provide opportunities that go far beyond the traditional summer music camp experience, creating a stimulating environment for musical and personal growth through and international exchange of talent and ideas.

Nurturing the love of great music and developing the young artists of the future, KU's Summer Chamber Music Festival allows emerging musicians to experience the Art of Chamber Music with internationally acclaimed artists.
For more information, call 610-683-4550 or visit http://www.kusummermusicfestival.com/.

2021 Concert and Workshop Schedule
All concerts and workshops listed below are free and open to the public.
CONCERTS

Monday, July 5, 7:30 p.m.
Schaeffer Auditorium
Opening Night: Back on stage
Works by: Schumann, Casella, Piazzolla, Brahms
Performed by Festival faculty: Kurt Nikkanen, Peter Isaacson, violins; Amadi Azikiwe, viola; Patrick Jee, cello; Manuel Figueroa, bass; Janet Axelrod, flute; Aileen Razey, clarinet; Maria Asteriadou, piano

Tuesday, July 6, 7:30 p.m.
Outdoor concert
North Lawn behind Schaeffer Auditorium, next to Golden Bear Plaza
Feel the music, breathe the air
Works by: Haydn, Dvorak, Bruch, American Standards
Performed by festival faculty and students

Wednesday, July 7, 7:30 p.m.
Schaeffer Auditorium
Around the World on 88 keys
Works by: Bach, Mozart, Chopin, Liszt, Scriabin, Rachmaninoff and more
Performed by festival students

Thursday, July 8, 7:30 p.m.
Outdoor concert
North Lawn behind Schaeffer Auditorium, next to Golden Bear Plaza
Sounds of Sunset
Works by: Vivaldi, Beethoven, Dvorak, Schulhoff, Gliere, Piazzolla
Performed by festival students
Friday, July 9, 7:30 p.m.
Schaeffer Auditorium
Friday Night Live
Works by: Beethoven, Weber, Dvorak, Moszkowski, Schubert
Performed by festival students

Saturday, July 10, 2 p.m.
Schaeffer Auditorium
Grand Finale
Works by: Haydn, Mendelssohn, Glinka, Reinecke, Lachner, Enescu, Shostakovich, Piazzolla
Performed by festival students
EVENTS AND WORKSHOPS

Sunday, July 4, 7:30 p.m.
Alumni Plaza
July 4 celebration with pizza, ice cream, games and more!
Festival faculty and students
Monday, July 5, 1 p.m.
Georgian Room, Old Main
Releasing the Artist Within You
Session 1
With John Thomas Dodson
Open to the public

Tuesday, July 6, 3 p.m.
Schaeffer 14G
Tone and Intonation
Learning to listen inside and across the musical notes
A workshop with Daniel Sponenburg
Open to the public
Wednesday, July 7, 1 p.m.
Georgian Room, Old Main
Releasing the Artist Within You
Session 2
With John Thomas Dodson
Open to the Public
Thursday, July 8, 3 p.m.
Old Main 145
Piano Improvisation
A workshop on learning piano improvisation skills (For pianists only)
Session 1
With Colin Shecktor
Friday, July 9, 1 p.m.
Schaeffer 13G
The 21st Century Artist
With Aileen Razey
Open to the Public
Friday, July 9, 3 p.m.
Old Main 145
Piano Improvisation
A workshop on learning piano improvisation skills (For pianists only)
Session 2
With Colin Shecktor
All programs are subject to change