Pennsylvania German Cultural Heritage Center Director Wins Cultural Honor Award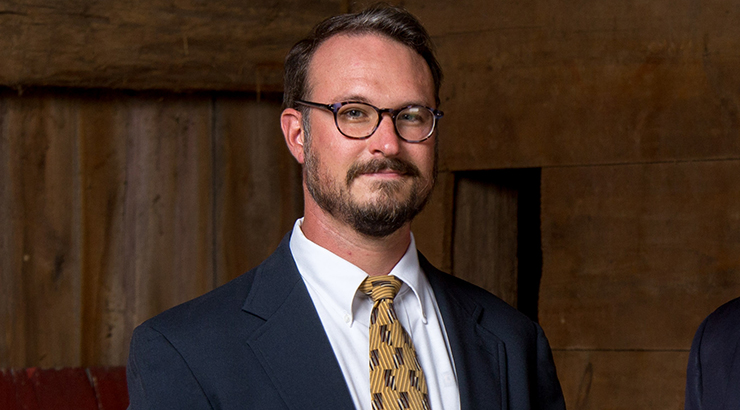 KUTZTOWN, Pa. – Patrick Donmoyer '09, director of the Pennsylvania German Cultural Heritage Center, has won the American Folklore Society's Archie Green Award that recognizes and honors his contributions as a local cultural leader.
"I humbly accept this recognition from the American Folklore Society on behalf of Kutztown University and the Pennsylvania Dutch culture, among both of whom I am grateful to find a sense of purpose and pursue meaningful work for the benefit of the community," Donmoyer said.
Donmoyer has been at KU since 2009 and has served as acting director of the Heritage Center from 2011-17, before becoming director in 2017. Donmoyer is a proud KU alumnus, where he conducted research at the Heritage Center as an undergraduate. Highlights of his time at the Center include the establishment of the Heritage Center's annual publication series, which has released nine volumes since 2012, as well as guest curating numerous collaborative cultural exhibitions in the region.
The Pennsylvania German Cultural Heritage Center and the Kutztown University Foundation have recently announced their $2.4 million project to build a new headquarters for the Heritage Center at KU to house and showcase the Heritage Center Library's collection. This newly-renovated facility will include a 3,100 square-foot library and reading room and a 1,000 square-foot area of space dedicated to the archives and special collections management. In addition, there will be offices for staff and the Heritage Center's Advisory Committee boardroom. This state-of-the-art facility will be open to students, faculty, visitors and the public, where individuals will be able to view the world-class collection of research books, manuscripts, photographs, artifacts and documents.
The American Folklore Society's Archie Green Award is a way for the field to recognize and honor local cultural leaders and workers outside the Society's membership who have made significant contributions to the expressive life of their own communities. This award is given at the time of the Society's annual meeting to a person, group or organization from the community or region in which the meeting will take place. Recipients' contributions to their community may include (but are not limited to) art making, mentoring, teaching, advocating, program- or institution-building and the like.